Accelerated CMR using zonal, parallel and prior knowledge driven imaging methods
Journal of Cardiovascular Magnetic Resonance
2008
10:29
Received: 19 May 2008
Accepted: 05 June 2008
Published: 05 June 2008
Abstract
Accelerated imaging is highly relevant for many CMR applications as competing constraints with respect to spatiotemporal resolution and tolerable scan times are frequently posed. Three approaches, all involving data undersampling to increase scan efficiencies, are discussed in this review. Zonal imaging can be considered a niche but nevertheless has found application in coronary imaging and CMR flow measurements. Current work on parallel-transmit systems is expected to revive the interest in zonal imaging techniques. The second and main approach to speeding up CMR sequences has been parallel imaging. A wide range of CMR applications has benefited from parallel imaging with reduction factors of two to three routinely applied for functional assessment, perfusion, viability and coronary imaging. Large coil arrays, as are becoming increasingly available, are expected to support reduction factors greater than three to four in particular in combination with 3D imaging protocols. Despite these prospects, theoretical work has indicated fundamental limits of coil encoding at clinically available magnetic field strengths. In that respect, alternative approaches exploiting prior knowledge about the object being imaged as such or jointly with parallel imaging have attracted considerable attention. Five to eight-fold scan accelerations in cine and dynamic CMR applications have been reported and image quality has been found to be favorable relative to using parallel imaging alone.
With all acceleration techniques, careful consideration of the limits and the trade-off between acceleration and occurrence of artifacts that may arise if these limits are breached is required. In parallel imaging the spatially varying noise has to be considered when measuring contrast- and signal-to-noise ratios. Also, temporal fidelity in images reconstructed with prior knowledge driven methods has to be studied carefully.
Keywords
Reduction FactorParallel ImagingCine ImagingCoil ArraySpatiotemporal Resolution
Introduction
The use of Magnetic Resonance (MR) methods in the cardiovascular realm continues to gain impact. A number of clinical indications have already been identified with Class I rating, including the assessment of global ventricular function and mass and the detection of acute and chronic myocardial infarction and myocardial scar [1]. A range of further applications have been indicated [2]. For example, recent results from a multi-vendor, multi-center clinical trial showed high diagnostic performance of myocardial perfusion MR imaging [3] compared with nuclear scintigraphy, suggesting that this method will have an important future role in clinical practice.
The technological development in cardiovascular MR (CMR) has been enormous with considerable innovations refining existing or even enabling new applications. A key driving factor for this innovation process has been the challenge to image in the presence of considerable object motion as it is found in the heart. Satisfying competing demands on total scan duration, image quality and spatiotemporal resolution has been a core motivation. With many CMR applications being performed during a breathhold, improving spatiotemporal resolution for a given, tolerable scan duration is of great importance. Improved spatiotemporal resolution allows discerning finer details of object structure and dynamics. Also, on a fundamental level, spatial and temporal resolutions determine image quality as the degree of partial volume artifacts, image fidelity of dynamic features and motion induced image distortions are affected.
In general, the relative discomfort due to lengthy breathholds, or in case of free-breathing acquisitions the overall scan duration, are considered drawbacks of CMR over other imaging modalities. In addition, the likelihood of image degradation due to irregular cardiac and respiratory motion tends to amplify with longer measurement times. Therefore, there has been high demand to improve the efficiency of data collection, thereby permitting improved spatiotemporal resolutions or reduced scan times or combinations thereof.
The relatively low imaging speed of MR is inherently linked to the sequential spatial encoding procedure by using time-varying magnetic field gradients. This principle leaves little freedom to reduce scan time for a given resolution and field-of-view in a conventional fashion due to constraints on the tolerable eddy currents induced in the body. A remedy to this problem is to reduce the number of encoding steps. This, inevitably, results in either reduced resolution if the density of the sampled points remains unchanged or in a reduced field-of-view if the density of sampled points is decreased. Since spatial resolution is not intended to be compromised, reduced scan time is typically traded for a reduced field-of-view. Because of the inverse relation between sampling density and field-of-view, one may refer to undersampling or reduced field-of-view methods collectively.
In some applications in which the object-of-interest is considerably smaller than the total field-of-view, scan time reduction by reducing the field-of-view and thus allowing foldover artifacts purposely is a straightforward approach and acceptable as long as the aliased portions do not fold on the object-of-interest itself. However, this strategy requires some experience in controlling foldover artifacts in particular with double-oblique scanning and only allows for very moderate reductions in scan time.
The concept of using a reduced field-of-view to shorten scan time can be refined by modifying the imaging pulse sequence such that signals from outside a desired reduced region-of-interest are suppressed or not excited [4]. This principle, which will be referred to as zonal imaging hereafter has been successfully used in a range of CMR applications [5–10].
On general grounds, however, suppression of magnetization cannot be ensured or achieved at all with any pulse sequence. Also, the amount of field-of-view reduction and thus scan time reduction is typically very limited given the extent of the object being investigated. To this end, treatment of foldover artifacts from a reduced field-of-view acquisition is required. In mathematical terms, an underdetermined problem is posed in such that a full field-of-view image is desired to be reconstructed from data acquired at a reduced field-of-view. In order to make this mathematical problem tractable, complementary spatial encoding functions are required. These are provided if the object signals are received with multiple, independent coils as proposed in first concepts in the late 1980s [11, 12]. First practical implementations of parallel imaging using a k-space formalism [13] as well as the mathematical foundations from an image-domain perspective [14] followed ten years later. Today SMASH [13], its successor GRAPPA [15] and SENSE [14] are considered true milestones in MR technology with SENSE and GRAPPA being widely available on commercial MR systems. Instrumental to parallel imaging is the availability of dedicated receive coil arrays [16, 17]. State-of-the-art systems permit the connection of up to 32-element coil arrays [18, 19] with even more channels to become available in the near future. The quest for a larger number of independent channels is directly linked to expected improvements in parallel imaging performance with increasing numbers of channels. In addition, the extended coverage of many-element coil arrays can simplify patient setup as the actual positioning of the array on the patient becomes less critical. It has been shown that many-element coil arrays can be efficiently tailored to a specific target anatomy by deriving optimal virtual coil configurations [20].
Besides using parallel imaging principles, interesting opportunities for speeding up data acquisition arise in dynamic imaging. In dynamic imaging of the heart, the object-of-interest is embedded in static or only moderately dynamic structures such as the chest wall and the liver. In addition, individual, neighboring time frames of the heart are often very similar suggesting that considerable information redundancy is present in the data. A range of methods have been proposed attempting to exploit this information redundancy on its own or in conjunction with parallel imaging principles. The assumption of information redundancy being present can be regarded as prior knowledge and, accordingly, these methods are referred to as prior knowledge driven. Several methods have been proposed exploiting prior knowledge without and in combination with parallel imaging principles. Among those methods are UNFOLD [21], k-t BLAST/k-t SENSE [22], Compressed Sensing [23] and FOCUSS [24].
It is the purpose of the article to review the concepts and applications of CMR techniques that exploit zonal, parallel and prior knowledge driven imaging methods to speed up the imaging procedure. To give structure, the paper is subdivided into a concepts section addressing zonal imaging, parallel imaging and prior knowledge driven methods separately followed by an application section presenting preclinical or clinical examples of accelerated CMR imaging including a discussion of relative advantages and limitations of each approach.
Concepts and implementation
In the following a brief review of the underlying principles of undersampling techniques is given. For simplicity and for the fact that most clinically relevant CMR pulse sequences employ rectilinear sampling, only the Cartesian imaging case is considered herein. Accordingly, imaging scan time is assumed to be directly proportional to the number of phase-encode steps. If resolution is kept constant, scan time reduction by reducing the number of phase-encode steps straightforwardly implies a reduction of the field-of-view with resulting foldover artifacts. This is illustrated in Figure
1
for a short-axis slice of the heart reconstructed from 2-fold undersampled data.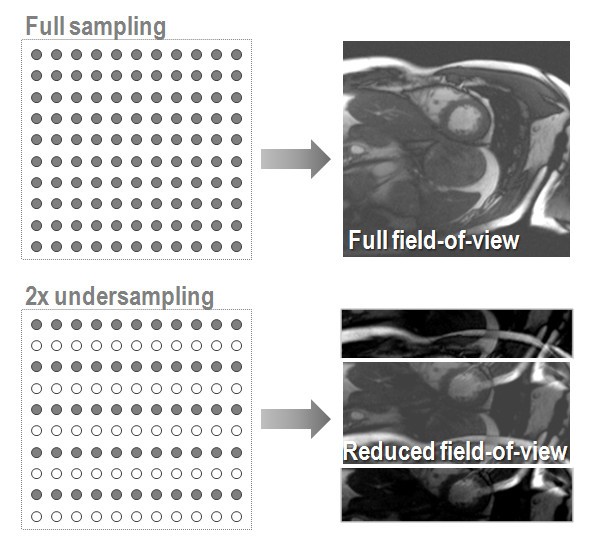 Clinical application
Parallel imaging and k-t methods that are available on clinical scanners, such as SENSE, GRAPPA, TSENSE, k-t SENSE and k-t BLAST, provide operators with flexible and important tools to optimize a range of CMR protocols. The increased scanning efficiency afforded by these methods can be used to shorten imaging times especially in patients with poor breathhold capacity with resulting improvements in image quality. Alternatively, spatial and temporal resolution as well as coverage can be increased.
Conclusion
Accelerated CMR using parallel imaging and prior knowledge driven methods are increasingly utilized to improve scanning efficiency and image quality of 2D and 3D applications. Many clinical 2D protocols make already use of these methods with net accelerations of up to four-fold for parallel imaging and up to five-fold for prior knowledge driven methods.
Speed-up techniques continue to develop. The wider availability of 32-channel MR systems will foster studies into the practical limits. Clearly, 3D imaging techniques will be at the focus according to theoretical predictions of noise amplification in parallel imaging. It is foreseen that the range of practically applicable reduction factors will extend to three to four in 2D imaging while large 3D volumetric imaging will be accelerated by up to factors of eight to ten [48]. Beyond those limits, the resulting signal-to-noise ratio will inherently set the bound. With the advent of many-element coil arrays careful considerations of coil calibration are required as individual coil elements are small with considerable changes in sensitivity as a function of space. It is likely that the resolution of calibration data needs to be improved leading to additional time to be spent thereby offsetting the initial speed-gain if auto-calibration is used. When acquiring separate calibration data as with SENSE implementations, the effect of spatial misregistration due to motion in-between the calibration and actual data is amplified prompting for some precautions or registration steps.
On the other side, a very practical advantage of using large coil arrays with their inherent coverage is the relative insensitivity to misplacement of the coil on the patient's chest. This simplifies patient setup and avoids coil re-adjustment for different target territories.
The field of prior knowledge driven methods currently enjoys vivid research activities. Several modifications to the original k-t BLAST/k-t SENSE scheme have been proposed addressing some of the current shortcomings [24, 79]. Another very interesting and potential approach uses the Compressed Sensing framework [80, 81]. In Compressed Sensing data are undersampled randomly leading to incoherent aliasing. Using iterative reconstruction methods, the aliasing can be resolved. It has been shown that such an approach is well suited for speeding up object data that are particularly sparse in the image domain itself as it is case with angiography or using a suitable sparsifying transformation [23].
Ultimately, speed-up techniques are required to provide the most appropriate balance between noise amplification and image fidelity for a given reduction factor. It is the purpose of ongoing and future research to determine the faithful range of reduction factors in combination with a suitable encoding and reconstruction strategy for all required CMR applications. It has to be a clear aim to provide unifying assessment of image quality and fidelity for all the different acceleration techniques available to allow comparisons and robust predictions.
In conclusion, parallel imaging and prior knowledge driven methods have become very valuable tools to streamline and simplify CMR exams. Their impact is expected to develop rapidly over the next years with the wider availability of multi-channel MR systems. Several methods are available which differ in their performance depending on application requiring careful considerations when setting up imaging protocols.
Declarations
Acknowledgements
The authors would like to acknowledge contributions and support from: Profs. Peter Boesiger and Klaas P. Pruessmann, Martin Buehrer and Viton Vitanis, Institute for Biomedical Engineering, University and ETH Zurich, Switzerland; Jeffrey Tsao, Novartis Institutes of Biomedical Research Inc., Cambridge, MA, USA; and Philips Healthcare, Best, The Netherlands.
Authors' Affiliations
(1)
Institute for Biomedical Engineering, University of Zurich and Swiss Federal Institute of Technology, Zurich, Switzerland
(2)
Academic Unit of Cardiovascular Medicine, University of Leeds, Leeds, UK
Copyright
© Kozerke and Plein; licensee BioMed Central Ltd. 2008
This article is published under license to BioMed Central Ltd. This is an Open Access article distributed under the terms of the Creative Commons Attribution License (http://creativecommons.org/licenses/by/2.0), which permits unrestricted use, distribution, and reproduction in any medium, provided the original work is properly cited.