Interventional cardiovascular magnetic resonance: still tantalizing
Journal of Cardiovascular Magnetic Resonance
2008
10:62
Received: 09 September 2008
Accepted: 29 December 2008
Published: 29 December 2008
Abstract
The often touted advantages of MR guidance remain largely unrealized for cardiovascular interventional procedures in patients. Many procedures have been simulated in animal models. We argue these opportunities for clinical interventional MR will be met in the near future. This paper reviews technical and clinical considerations and offers advice on how to implement a clinical-grade interventional cardiovascular MR (iCMR) laboratory. We caution that this reflects our personal view of the "state of the art."
Keywords
Transmission LineLate Gadolinium EnhancementInterventional ProcedureChronic Total OcclusionPassive Device
Multi-modal image fusion: instant gratification
Multi-modal imaging systems are intended to provide some of the best features of both X-ray (simplicity and broad array of clinical catheter devices) and MR (soft-tissue landmarks).
Hybrid X-ray MR Systems
Fahrig and colleagues at Stanford University developed a hybrid X-ray and MR system based on a double-donut MR scanner, with an X-ray source and detector mounted inside the magnet bore [158, 159]. Images can be acquired alternately from X-ray and MR without moving the patient, providing images that are automatically co-registered. Several innovations have come out of the development of this system, such as X-ray transparent aluminum MR coils [160]. This system has been used clinically for transjugular intrahepatic portosystemic shunt (TIPS) creation [121] as described above. In addition, a system based on a 1.5 T closed bore system, with the X-ray gantry mounted just outside the magnet has been proposed [161].
X-ray Fused with MR
MR roadmaps can be combined with live X-ray fluoroscopy using a conventional clinical environment and conventional catheter equipment, to provide additional anatomic landmarks and functional information to guide procedures [162, 163].
In addition to the registration of the MR and X-ray coordinate systems, the X-ray system must be calibrated to compensate for image distortions. These orientation-dependent distortions are caused by C-arm imperfections (e.g. pincushion distortions, gantry fatigue) and the influence of the MR system's main magnetic field on the X-ray image intensifier. Using two-dimensional and three-dimensional phantoms with fiducial markers at known locations, warping polynomials may be calculated which can be used for distortion correction [164, 165]. These distortions are less important using contemporary flat-panel X-ray detectors.
In order to merge MR and X-ray images, the coordinate systems of each must be aligned. The approach taken by Razavi is to use a calibration phantom, which can accommodate X-ray or MR compatible markers, to compute the transformation between MR scanner space and X-ray table space. The position of the X-ray components are tracked using infrared emitting diodes placed on the X-ray C-arm and table. An additional marker may be placed on the patient's chest to allow for adjustments to the registration to be made in case of gross patient motion [140, 162].
In our lab, registration is accomplished by placing multi-modality external fiducial markers either directly on the patient's skin or in an elastic band around the patient's torso. The markers contain a mixture of iodinated X-ray contrast and gadolinium based MR contrast, so that they can easily be identified in both imaging modalities. A three-dimensional MR T1-weighted acquisition and a set of multiple baseline X-ray projections are used to register the two coordinate systems. Using custom built software, the three-dimensional positions of the markers are automatically reconstructed from the MR and X-ray images, correspondence between the markers is established, and a three-dimensional rigid registration algorithm is used to align the MR coordinate system with the X-ray coordinate system.
Relevant anatomic landmarks (e.g. myocardial surfaces, the great vessels, cardiac valves) and treatment sites (e.g. ventricular septal defect, myocardial infarct, injection target) are segmented on MR images and can be color-coded. Two-dimensional projections of these three-dimensional contours are constructed based on the X-ray gantry orientation, registration calculations, and calibration data. These projections are overlaid on the X-ray fluoroscopy images and displayed in the angiography suite (Figure
10
). Position information from the X-ray system (c-arm angle, table position, magnification factor) is used automatically to adjust the displayed MR derived contours with the fluoroscopic images during a procedure.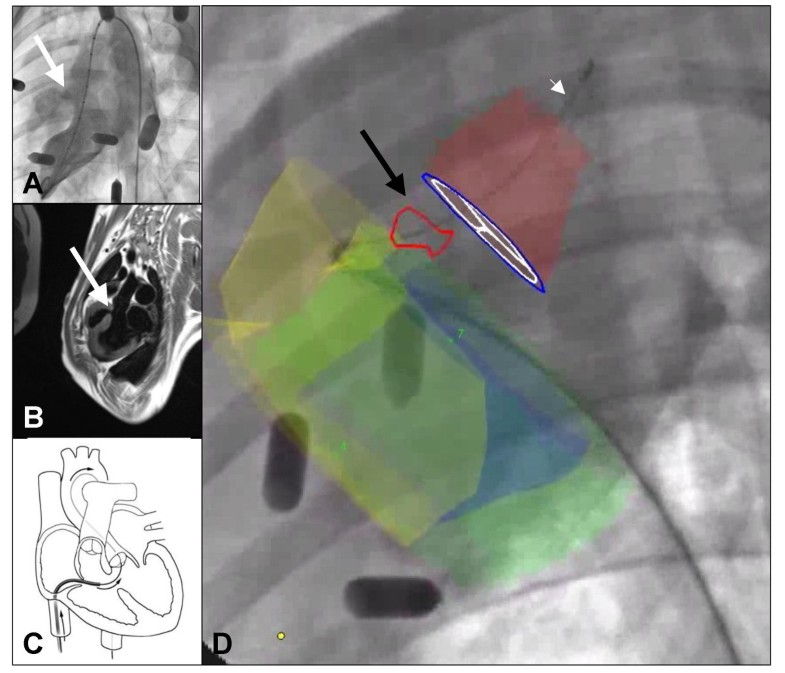 The Kings College London team uses X-ray Fused with MR (XFM) to provide soft tissue context to clinical electrophysiology procedures [162] and pediatric interventional procedures. Our lab has used XFM to guide cell delivery to infarct targets with millimeter precision, using targets such as infarct borders or zones of excessive thinning [166]. We also have used XFM to guide a novel antegrade approach to catheter-based repair of membranous ventricular defect in swine (Figure 10), which significantly shortened X-ray exposure compared with the conventional retrograde approach [167], as well as a novel approach to catheter-based mitral annuloplasty involving an intramyocardial guidewire trajectory. In patients we have used XFM to facilitate biopsy of high risk cardiac structures, and to aid in recanalization of chronic total peripheral artery occlusion [163].
A significant limitation of the XFM type roadmap approaches is that out-of-date roadmap information can be misleading or hazardous. Roadmap information can be distorted by rigid devices, by changes in the underlying tissue structure related to the intervention, and from uncorrected cardiac and respiratory motion.
Conclusion
We have outlined how and why to configure an interventional CMR facility. The incremental cost of an intermodality transportation system and of barrier doors is relatively low. Existing technology already provides excellent real-time MR imaging sufficient to guide investigational therapeutic procedures, and to care for patients in this environment. Clinical grade catheter devices remain the last persistent obstacle to widespread investigational use of iCMR.
Important competing technology is available. Electromagnetic position mapping relies on prior (roadmap) anatomic information. CT provides superb soft-tissue imaging but even newer massive detector arrays expose patients to prohibitive doses of ionizing radiation to guide interventional cardiovascular procedures. C-arm based cone-beam CT techniques create effective soft-tissue roadmaps, but radiation exposure limits the ability to inspect the impact of procedures. Three-dimensional surface and transesophageal ultrasound provides some of the functionality promised by MR with little fuss, albeit with inferior acoustic windows.
MR may prove superior because it provides single-station imaging, combining three-dimensional anatomy, biochemical characterization, mechanical function, and hemodynamics. Real-time MR provides "surgical" exposure that can revolutionize minimally invasive procedures. The mythological figure Tantalus was punished with temptation by fruits and drink eternally out of reach. Readers of reviews like this have long been tempted by fruits of MR-guided intervention. Seemingly eternally tantalizing, clinical interventional CMR is nearing our grasp.
Abbreviations
MR:

Magnetic resonance imaging
iCMR:

Interventional CMR
SSFP:

Balanced steady state free precession pulse sequence
Declarations
Acknowledgements
Supported by the Division of Intramural Research, National Heart Lung and Blood Institute, National Institutes of Health, USA.
Authors' Affiliations
(1)
Translational Medicine Branch, Division of Intramural Research, National Heart Lung and Blood Institute, National Institutes of Health, Bethesda, USA
(2)
Cardiology Division, Children's National Medical Center, Washington, USA
Copyright
© Ratnayaka et al; licensee BioMed Central Ltd. 2008
This article is published under license to BioMed Central Ltd. This is an Open Access article distributed under the terms of the Creative Commons Attribution License (http://creativecommons.org/licenses/by/2.0), which permits unrestricted use, distribution, and reproduction in any medium, provided the original work is properly cited.