Background
Trastuzumab (Herceptin), an antagonist to the human epidermal growth factor 2 (HER2) receptor, significantly decreases the rates of breast cancer recurrence and mortality by 50%. Despite therapeutic benefits, the risk of cardiotoxicity with Trastuzumab ranges from 10–15% when administered in combination with anthracyline therapy. Although serial multiple gated acquisition scans are widely used to monitor cardiac dysfunction in breast cancer patients, cardiac MRI (CMR) is becoming the gold standard for the non-invasive assessment of left ventricular (LV) systolic dysfunction in dilated cardiomyopathies.
Objective
To describe the utility of CMR in the assessment of Trastuzumab induced cardiomyopathy.
Methods
Between 2005–2006 inclusive, 160 breast cancer patients who received Trastuzamab in addition to anthracyline based adjuvant therapy were identified at a tertiary care oncology centre. Of the total population, 20 patients were identified with Trastuzumab induced cardiomyopathy based on LV ejection fraction (EF) less than 40% on either serial MUGA or echocardiography. Cardiac MRI was performed on all 20 patients using a 1.5 T scanner to determine LV volumes and systolic function. Delayed-enhancement inversion recovery CMR (DE-CMR) was performed after 10 minutes of 0.2 mmol/kg injection of Gadolinium in all patients to assess scar formation.
Results
The total population included 20 patients (mean age 42 ± 12 years, range 30 to 64 years). At the time of diagnosis of Trastuzumab induced cardiomyopathy, the LV cavities were dilated with moderate to severe global LV systolic dysfunction on CMR. The mean LVEF was 29 ± 4%. Subepicardial linear delayed enhancement was present in the lateral portion of the left ventricles in all 20 patients suggesting the presence of Trastuzumab induced myocarditis (Figure 1).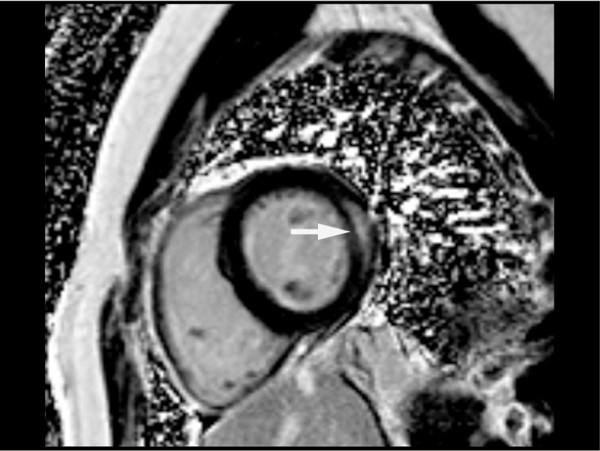 Conclusion
DE-CMR is a novel way of detecting early changes in the myocardium due to Trastuzumab induced cardiotoxicity. Future studies are required to validate identification of positive delayed enhancement using CMR as a subclinical marker for future LV dysfunction in this select population.
Rights and permissions
Open Access This article is published under license to BioMed Central Ltd. This is an Open Access article is distributed under the terms of the Creative Commons Attribution 2.0 International License (https://creativecommons.org/licenses/by/2.0), which permits unrestricted use, distribution, and reproduction in any medium, provided the original work is properly cited.
About this article
Cite this article
Jassal, D.S., Fallah-Rad, N., Lytwyn, M. et al. 2037 Delayed contrast enhancement cardiac magnetic resonance imaging IN trastuzumab induced cardiomyopathy. J Cardiovasc Magn Reson 10 (Suppl 1), A306 (2008). https://doi.org/10.1186/1532-429X-10-S1-A306
Published:

DOI: https://doi.org/10.1186/1532-429X-10-S1-A306
Keywords
Trastuzumab

Cardiac Magnetic Resonance

Dilate Cardiomyopathy

Cardiac Magnetic Resonance Imaging

Left Ventricular Volume