Background
Myocardial edema is a substantial feature of the inflammatory response in acute myocarditis. The relation between myocardial edema and myocardial mass over the course of myocarditis has not been systematically investigated in a clinical setting.
We hypothesised that the resolution of myocardial edema in the course of healing myocarditis as visualised by T2-weighted cardiac magnetic resonance (CMR) is associated with a decrease of myocardial mass in SSFP-cine imaging.
Methods
21 patients (16 male, mean age ± SD 36.4 ± 16.1 yrs.) with acute myocarditis as defined by clinical symptoms, history, ECG-changes, rise of myocardial enzymes and exclusion of coronary artery disease on X-ray coronary angiography underwent CMR (1.5 T) at day 2.6 ± 3.1 after acute onset of symptoms and 274.3 ± 279.5 days later.
For visualization of edema, a T2-weighted breath-hold black-blood triple-inversion fast spin echo technique was applied and the ratio of signal intensity of myocardium/sceletal muscle was assessed. Left ventricular (LV) mass, volumes and function were quantified from biplane cine steady state free precession images.
As a control group for interstudy reproducibility of LV mass, 11 healthy volunteers (7 male, age 31.6 ± 2.8 yrs.) underwent CMR twice within one week.
Results
In the presence of acute myocarditis, the LV mass was not overt hypertrophic but still within normal values (156.7 ± 30.6 g). A significant decrease in LV mass was observed during follow-up compared to the acute phase (156.7 ± 30.6 g vs. 140.3 ± 28.3 g, p =< 0.0001, see Figures 1 and 2).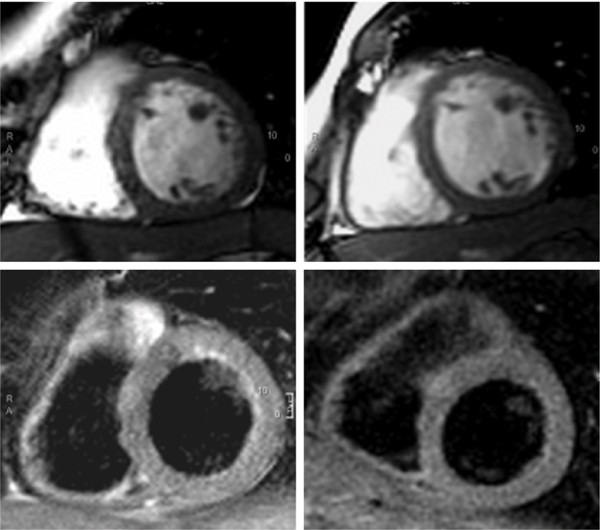 In controls, the interstudy difference of LV mass was lower than in patients (5.1 ± 2.9 g vs. 16.3 ± 14.2 g, p = 0.02) resulting in a lower coefficient of variability (2.1 vs 8.9%, p = 0.04).
The reduction of LV mass in patients parallels the normalization of initially increased myocardial signal intensity on T2-weighted images (2.4 ± 0.4 vs. 1.68 ± 0.3, p =< 0.0001).
In cine imaging, the left ventricular function (LV-EF) was within normal ranges in 18 patients (86%). LV-EF improved significantly in most patients at follow-up (59.9 ± 6.4% vs. 64.1 ± 5.3%, p = 0.015).
Conclusion
Myocardial edema in the presence of acute myocarditis is reflected by a reversible increase in left ventricular mass and by high signal intensity in T2-weighted imaging.
Rights and permissions
Open Access This article is published under license to BioMed Central Ltd. This is an Open Access article is distributed under the terms of the Creative Commons Attribution 2.0 International License (https://creativecommons.org/licenses/by/2.0), which permits unrestricted use, distribution, and reproduction in any medium, provided the original work is properly cited.
About this article
Cite this article
Zagrosek, A., Abdel-Aty, H., Wassmuth, R. et al. 224 Myocarditis: relation between myocardial edema and myocardial mass during the acute and convalescent phase. Insights from CMR. J Cardiovasc Magn Reson 10 (Suppl 1), A85 (2008). https://doi.org/10.1186/1532-429X-10-S1-A85
Published:

DOI: https://doi.org/10.1186/1532-429X-10-S1-A85
Keywords
Cardiac Magnetic Resonance

Myocarditis

Left Ventricular Mass

Steady State Free Precession

Myocardial Edema