Meeting abstract
Open Access
234 A novel in vivo marker for ischemic tissue injury early after coronary occlusion
Journal of Cardiovascular Magnetic Resonance
2008
10(Suppl 1):A95
Published: 22 October 2008
Keywords
Cardiovascular Magnetic ResonanceLate Gadolinium EnhancementCoronary OcclusionAcute IschemiaRegional Wall Motion Abnormality
Background
Early identification of acute myocardial ischemia is a diagnostic challenge. We aimed at identifying the earliest time point at which T2-weighted cardiovascular magnetic resonance imaging could visually identify acute ischemia.
Methods
We studied seven dogs with serial T2-weighted and cine imaging at baseline, during and early after transient coronary occlusion (25–35 minutes) in a 1.5 T MRI system. Late gadolinium enhancement was used to assess irreversible injury.
Results
28 ± 4 minutes after experimental coronary artery occlusion, we observed a transmural area of high T2 signal intensity (contrast to noise ratio to remote myocardium 11.0 ± 10; p < 0.0001), matching areas with new onset regional wall motion abnormalities. Late enhancement imaging performed after reperfusion did not show irreversible injury in any of the dogs (Figure 1).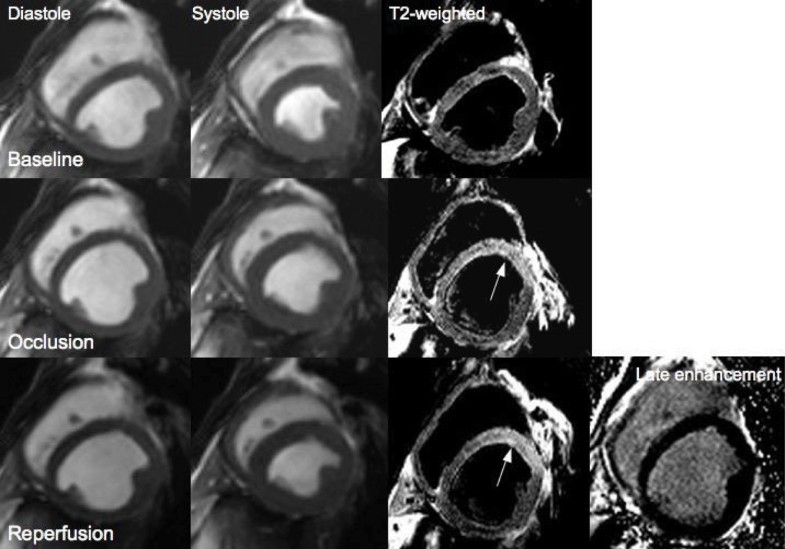 Conclusion
We provide the first preliminary evidence that T2-weighted CMR imaging represents a novel in vivo marker for ischemic tissue injury likely before the onset of irreversible injury. T2-weighted CMR may offer a novel potential means of identifying acute ischemia in acute coronary syndromes.
Authors' Affiliations
(1)
Stephenson CMR Centre at the Libin Cardiovascular Institute of Alberta, University of Calgary, Calgary, Canada
(2)
Department of Physiology and Biophysics, University of Calgary, Calgary, Canada, Calgary, Canada
Copyright
© Abdel-Aty et al; licensee BioMed Central Ltd. 2008
This article is published under license to BioMed Central Ltd.