Cardiovascular magnetic resonance in pericardial diseases
Journal of Cardiovascular Magnetic Resonance
2009
11:14
Received: 28 November 2008
Accepted: 04 May 2009
Published: 04 May 2009
Abstract
The pericardium and pericardial diseases in particular have received, in contrast to other topics in the field of cardiology, relatively limited interest. Today, despite improved knowledge of pathophysiology of pericardial diseases and the availability of a wide spectrum of diagnostic tools, the diagnostic challenge remains. Not only the clinical presentation may be atypical, mimicking other cardiac, pulmonary or pleural diseases; in developed countries a shift for instance in the epidemiology of constrictive pericarditis has been noted. Accurate decision making is crucial taking into account the significant morbidity and mortality caused by complicated pericardial diseases, and the potential benefit of therapeutic interventions. Imaging herein has an important role, and cardiovascular magnetic resonance (CMR) is definitely one of the most versatile modalities to study the pericardium. It fuses excellent anatomic detail and tissue characterization with accurate evaluation of cardiac function and assessment of the haemodynamic consequences of pericardial constraint on cardiac filling. This review focuses on the current state of knowledge how CMR can be used to study the most common pericardial diseases.
Keywords
Cardiovascular Magnetic ResonancePericarditisConstrictive PericarditisPericardial DiseaseCine Cardiovascular Magnetic Resonance
Pericardial anatomy and physiology
Although the normal pericardium is a thin, avascular, relatively inelastic, flask-shaped sac enveloping the heart, this structure is an important determinant of cardiac filling [1–3]. In most cases, evaluation of pericardial diseases extends beyond morphologic assessment, and the diagnostic challenge is to determine the impact of abnormal pericardium on cardiac filling. Anatomically, the pericardium is composed of two layers, an inner serous membrane and an outer fibrocollagenous layer [3]. The inner serosal layer, termed the visceral pericardium, is closely attached to the epicardial surface of the heart and covers a subepicardial layer of conjunctive tissue containing fat and coronary vessels. The serosal layer reflects back on itself to become the inner lining of the outer fibrous layer. Together, these layers form the parietal pericardium. The pericardium contains two major pericardial sinuses which are composed of different recesses [4]. The transverse sinus is the connection between the two tubes of pericardium that envelop the great vessels. The aorta and pulmonary artery are enclosed in one anterosuperior tube, and the vena cava and pulmonary veins are enclosed in a more posterior tube. The oblique sinus lies behind the left atrium so that the posterior wall of the left atrium is actually separated from the pericardial space. This explains why a posterior pericardial effusion is seen behind the left atrium only when it is very large. The pericardial virtual cavity normally contains between 10 and 50 ml of an ultrafiltrate of plasma [5]. The fluid is produced by the visceral pericardium and drainage of the cavity is toward both the thoracic duct and the right lymphatic duct.
The pericardium holds the heart within the anterior mediastinum, protecting it form adjacent organs. Its relative inelasticity provides constraint during diastolic filling which limits chamber dilation, particularly of the thin-walled right atrium and ventricle [2]. While acute pericardial dilation is limited because of its exponential pressure-volume relation, chronic pericardial stress, e.g. slowly accumulating pericardial effusion or left ventricular remodeling, in contrast, may occur without pericardial constriction [1, 6, 7]. As the pericardium slowly dilates, the pericardial pressure-volume relation shifts to the right, explaining why chronic pericardial effusion may become quite large without compressing the cardiac chambers [8]. The pericardium, moreover, equalizes compliance between right and thicker walled left ventricle, and produces interdependence of filling between ventricles, a phenomenon also called "ventricular coupling" (see constrictive pericarditis). Though, normally not physiologically important, ventricular coupling is exaggerated and a key diagnostic feature when intrapericardial pressure is increased (as in cardiac tamponade) or when the pericardial cavity is fixed (as in constrictive pericarditis) [2, 6–10]. Finally, the pericardium acts also as a physiological intermediate between the pleural space and heart chambers, and the respiratory changes in intrathoracic pressure are directly transmitted to the subatmospheric pericardial cavity and subsequently to the cardiac chambers. Because of its thinner wall, this interaction is more pronounced on the right than on the left ventricle.
CMR techniques
Comprehensive pericardial imaging should provide information on morphologic characteristics of the pericardium and cardiac structures, and assess the impact of pericardial diseases on cardiac function, in particular cardiac filling. Though CMR is traditionally considered together with computed tomography (CT), as the preferred imaging modality to morphologically visualize the pericardium and pericardial space, CMR can substantially aid in clarifying the intricate relation between pericardial constraint and cardiac filling. Black-blood T1-weighted spin-echo CMR, using a fast, segmented sequence, is the best approach to visualize, the heart, pericardium and mediastinum [11, 12]. Use of a small field of view and a saturation block positioned on the frontal chest wall may hereby improve pericardial visualization. Scanning in two perpendicular oriented planes through the heart guarantees optimal depiction of the entire pericardium, for instance, using a set of axial views combined with coronal or cardiac short-axis views. T2-weighted spin-echo CMR, preferably using a short-tau inversion-recovery (STIR) sequence (also called "triple-inversion" spin-echo), highly useful to depict myocardial edema [13, 14], can also be applied to detect pericardial fluid and/or edema of the pericardial layers in patients with inflammatory pericarditis. Use of paramagnetic contrast agents can be recommended in case of pericardial masses, inflammatory pericarditis, to depict concomitant myocardial pathology (e.g. myocarditis) and may be useful to better differentiate between inflammatory and constrictive forms of pericarditis. Either T1-weighted spin-echo CMR or inversion-recovery gradient-echo CMR with late enhancement (LGE CMR) is fit for post-contrast imaging [15–17].
Cine CMR, using balanced steady-state free precession (SSFP) gradient-echo sequences, is today the reference technique to quantify global and regional cardiac systolic function, and is of interest for example to rule out underlying RV or LV dysfunction in patients clinically suspected of constrictive pericarditis. Moreover, the high spatial and temporal resolution of cine CMR can be applied to exploit new applications such as the assessment of pericardial mobility, which can help in depicting a rigid pericardium in patients with a non or minimally thickened constrictive pericarditis. The availability of new real-time cine sequences enabled to study dynamic, fast-changing, physiologic events such as ventricular coupling (see below)[18]. CMR tagging techniques may be of use to detect fibrotic adhesion of pericardial layers or to diagnose myocardial involvement in constrictive pericarditis [19]. Assessment of diastolic heart function, though usually obtained with Doppler-echocardiography, can be achieved with velocity-encoded or phase-contrast CMR technique too [11, 20, 21]. Analysis of pulmonary and/or systemic venous pattern in combination with cardiac inflow patterns through the atrioventricular valves can yield findings that are classic for restrictive cardiac filling.
To conclude, improvements in CMR technology have shifted the way this technique can be applied to study the pericardium from basically a static morphologic assessment toward an integrated dynamic morphological-functional approach, raising the hope to improve diagnostic testing to the often complex and intriguing group of pericardial disorders (Appendix 1).
Normal pericardium
Normal pericardium is visible on spin-echo CMR as a thin, smooth, low-intensity curvilinear structure surrounded by high-intensity mediastinal and epicardial fat, or medium-intensity myocardium (Fig.
1
) [
22
,
23
]. The low signal of adjacent lung parenchyma and paucity of surrounding fat, may hamper the pericardial visualization over the free wall of the left ventricle [
22
]. The transverse pericardial sinus, preaortic and retroaortic recesses can be identified in the majority of patients [
23
,
24
]. Especially the superior pericardial recesses should not be mistaken for a focal aortic dissection or enlarged lymph nodes (Fig.
1d
) [
4
,
25
,
26
]. On b-SSFP cine CMR, the pericardial layers have a low signal intensity while pericardial fluid has a high signal intensity. On CMR, normal pericardium measures 1.2 mm in diastole to 1.7 mm in systole, which are larger than those found in anatomical studies of the heart, ie, 0.4–1 mm [
27
–
29
]. The overestimation of pericardial thickness on CMR is due to motion of pericardial layers, lack of sufficient spatial resolution, and chemical shift artifacts at the fat-fluid interface on cine CMR.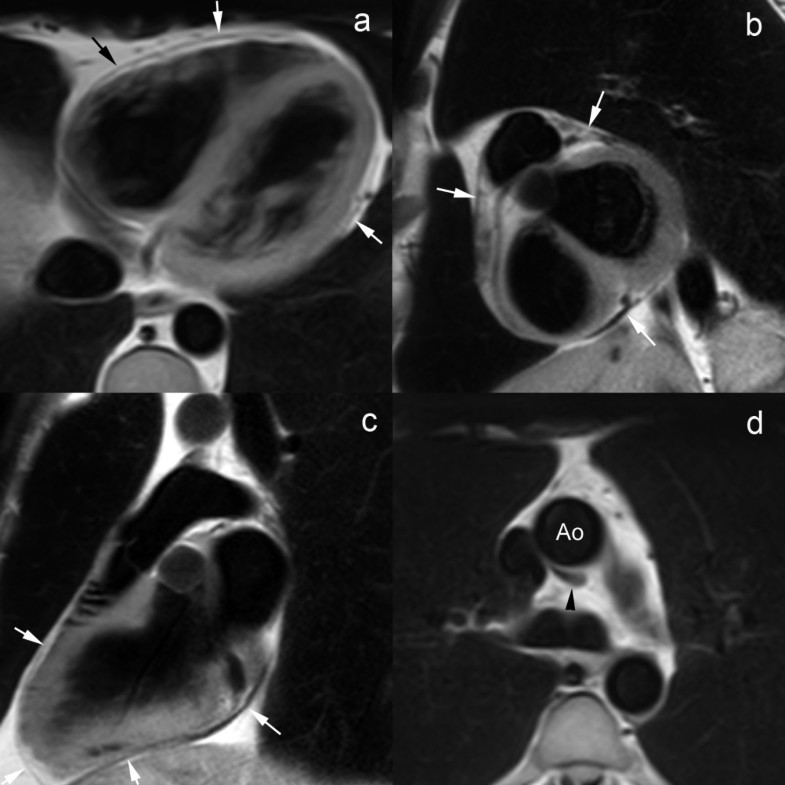 Congenital pericardial anomalies
Pericardial Cyst
Pericardial cysts are congenital encapsulated cysts implanted on the pericardium that are not connected with the pericardial cavity. They typically occur in the cardiophrenic sulcus (90%), most often right-sided (70%). On chest radiography, they present as a well-defined outpouching on the lateral heart border. On CMR, they appear as a well-defined homogeneous paracardiac structure, having the signal characteristics of water, implanted on the pericardium (Fig.
2
)[
27
]. Pericardial cysts are usually asymptomatic, though rarely they may become symptomatic when compressing other cardiac structures. Pericardial cysts should be differentiated from encapsulated pericardial effusions, and other cystic structures such as bronchogenic cysts and thymic cysts.

Pericardial Defect
Congenital pericardial agenesis is an uncommon entity, and is considered to result from an abnormal embryonic development that may be secondary to abnormalities in the vascular supply of the pericardium. Pericardial defects occur in a spectrum ranging from a small defect to total absence of the pericardium. Partial defects (large more common than small partial defects) are far more common than total defects [27, 30]. It may be associated, in at least one-third of cases, with other malformations, particularly malformations of the heart (tetralogy of Fallot, atrial septal defect, patent ductus arteriosus) or other types of abnormalities (bronchogenic cyst or hiatus hernia) [31, 32]. Cardiac structures or portions of the lung can herniate through the defect. The clinical presentation is variable. Patients are often asymptomatic, and the disease may be detected on routine chest radiograph as an abnormal left cardiac contour [33]. Symptoms occur when cardiac structures are transiently entrapped or incarcerated in the defect. Herniation of the left atrial appendage through a small defect may lead to infarction of the appendage or the left coronary artery might be compressed leading to ischaemia especially during exercise [30].
The diagnosis of a pericardial defect is not always straightforward on CMR, since in normal conditions the pericardium over the lateral side of the left ventricle, corresponding to the most frequent location of pericardial defects, is usually not well depicted because of a paucity of surrounding fat [34]. So, the diagnosis usually relies on other signs such as an abnormal location of cardiac structures with excessive levorotation or cardiac indentation at the location of the defect [35, 36]. Since herniation is often intermittent in time, positional changes such as to positioning the patient in left lateral decubitus can be helpful in diagnosing pericardial defects. Functional examination may be helpful in establishing the diagnosis of congenital pericardial defect. Whereas the normal cardiac apex is essentially stationary in the chest during the cardiac cycle, excessive mobility may be indicative of a pericardial defect [37].
Pericardial Diverticulum
Pericardial diverticulum is an exceedingly rare condition that can be congenital or acquired. It corresponds to a herniation through a defect in the parietal pericardium that communicates with the pericardial cavity [27]. Congenital diverticula result from a failure in the fusion of one of the mesenchymal lacunae that normally concur to form the pericardial sac. They typically occur in the cardiophrenic angles and have the tendency to change in size over time. CMR is helpful in reaching a preoperative diagnosis. Although it resembles a pericardial cyst, the diagnosis of a diverticulum should be suspected when a complete wall cannot be identified in all parts of the lesion [38].
Acquired pericardial diseases
Conclusion
The added value of CMR compared to the standard techniques used for assessment of patients with pericardial diseases has substantially increased in recent years, questioning whether this technique should not be considered the most appropriate non-invasive modality to study the pericardium. Strong points in favor of CMR are the integration of anatomic and functional information within a single examination, the ability for tissue characterization and to determine the presence and degree of inflammation and activity of disease, and the value of CMR to accurately assess the rest of the heart, in particular the myocardium, helpful in the differential diagnosis, which currently often remains a diagnostic challenge.
Appendix
CMR strategies to evaluate the pericardium
* Pericardial morphology (

spin-echo CMR

/

cine CMR

)

pericardial width/localization/extent

pericardial delineation

* Pericardial layer/fluid characterization (T1w/T2w spin-echo CMR/cine CMR/gadolinium-enhanced CMR)

* Pericardial function

motion pattern (cine CMR)

fusion of pericardial layers (CMR tagging)

* Cardiac morphology (

spin-echo CMR, cine CMR

)

size and shape of ventricles and ventricles

myocardial morphology (restrictive cardiomyopathy)

* Cardiac systolic function (

cine CMR

)

regional and global systolic ventricular function

* Cardiac filling (velocity-encoded CMR)

* Ventricular coupling (

real-time cine CMR

)

ventricular septal shape and septal motion patterns

respiratory-related septal shift

* Other findings (

spin-echo CMR/cine CMR/gadolinium-enhanced CMR

)

myocardial enhancement (associated myocarditis? myocardial infiltrative or storage disease?)

caval vein size

pleural fluid/ascites
Declarations
Acknowledgements
The authors would like to thank Steven Dymarkowski MD, PhD, Javier Ganame MD, PhD, and Andrew M. Taylor MD, PhD for their help in preparing this manuscript.
Authors' Affiliations
(1)
Department of Radiology, UZ Leuven, Leuven, Belgium
(2)
Department of Radiology, University of La Sapienza, Rome, Italy
Copyright
© Bogaert and Francone; licensee BioMed Central Ltd. 2009
This article is published under license to BioMed Central Ltd. This is an Open Access article distributed under the terms of the Creative Commons Attribution License (http://creativecommons.org/licenses/by/2.0), which permits unrestricted use, distribution, and reproduction in any medium, provided the original work is properly cited.