Cardiovascular magnetic resonance guided electrophysiology studies
Journal of Cardiovascular Magnetic Resonance
2009
11:21
Received: 05 June 2009
Accepted: 06 July 2009
Published: 06 July 2009
Abstract
Catheter ablation is a first line treatment for many cardiac arrhythmias and is generally performed under x-ray fluoroscopy guidance. However, current techniques for ablating complex arrhythmias such as atrial fibrillation and ventricular tachycardia are associated with suboptimal success rates and prolonged radiation exposure. Pre-procedure 3D CMR has improved understanding of the anatomic basis of complex arrhythmias and is being used for planning and guidance of ablation procedures. A particular strength of CMR compared to other imaging modalities is the ability to visualize ablation lesions. Post-procedure CMR is now being applied to assess ablation lesion location and permanence with the goal of indentifying factors leading to procedure success and failure. In the future, intra-procedure real-time CMR, together with the ability to image complex 3-D arrhythmogenic anatomy and target additional ablation to regions of incomplete lesion formation, may allow for more successful treatment of even complex arrhythmias without exposure to ionizing radiation. Development of clinical grade CMR compatible electrophysiology devices is required to transition intra-procedure CMR from pre-clinical studies to more routine use in patients.
Keywords
Cardiovascular Magnetic ResonanceCatheter AblationAtrial Fibrillation AblationAblation LesionPulmonary Vein Stenosis
Introduction
Radiofrequency (RF) catheter ablation has advanced over the last 25 years from an experimental procedure to the first line treatment for a number of cardiac arrhythmias including atrio-ventricular reentrant tachycardia, accessory pathway associated tachycardias, and typical atrial flutter [1]. These procedures are typically guided by positioning electrode catheters using x-ray fluoroscopy and using these catheters to observe the propagation of electrical activity through the heart. Successful targeting of ablation primarily to the anatomic arrhythmia substrate, as opposed to mapping and targeting ablation based on electrogram characteristics, began with recognition that common atrial flutter passes through a narrow structure known as the cavo-tricuspid isthmus [2]. By directing ablation to interrupt conduction through this region, high cure rates have been achieved with a low risk of complications [3].
The clinical indications for anatomy based catheter ablation have since expanded to more complex arrhythmias such as atrial fibrillation and scar based ventricular tachycardia [
4
,
5
]. The basis of these strategies is to target specific anatomic regions and often to create extended ablation "lines" by aligning multiple point lesions or by dragging the catheter along the endocardial surface while applying ablative energy. While the feasibility of x-ray fluoroscopy guidance has been demonstrated for these complex arrhythmias, precise targeting of ablation lesions is limited by fluoroscopy's inherently poor ability to visualize cardiovascular soft tissue anatomy. Electrospatial mapping systems, which locate the catheter tip in 3-D space relative to magnetic or electric field transmitters, were rapidly adopted to create surface maps of electrical characteristics from multiple regions of the heart and mark the location of ablation attempts so that more elaborate ablation patterns could be created (Figure
1a,b
). Electrospatial mapping, however, does not provide direct visualization of the complex underlying arrhythmogenic anatomy (Figure
2a,b
). The persistence of suboptimal cure rates, prolonged procedure and radiation exposure times, and the risk of serious complications have motivated new approaches to facilitate anatomy-based catheter ablation for complex arrhythmias.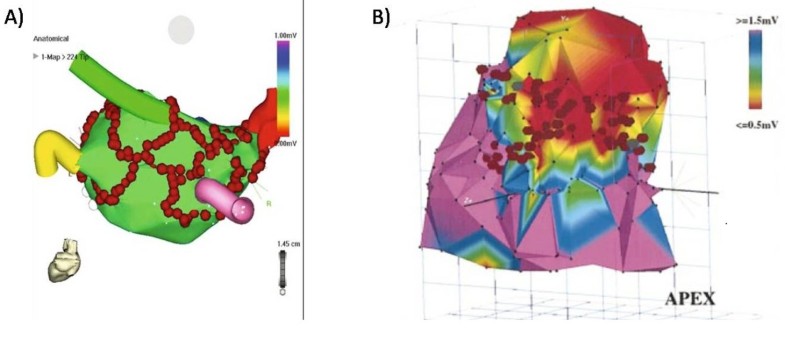 Modern imaging techniques such as Cardiovascular Magnetic Resonance (CMR), intra-cardiac ultrasound, and x-ray computed tomography (CT) are increasingly used to approach the shortcomings of current mapping and ablation systems. CMR is a particularly flexible imaging modality that offers excellent soft tissue contrast, well characterized gadolinium enhancement techniques for myocardial scar visualization, 3-D imaging of complex cardiovascular anatomy, real-time 2-D imaging along arbitrary imaging planes, and the ability to quantify cardiac motion and blood flow. This article will review the application of CMR to current clinical procedures and ongoing advances toward full CMR guidance of electrophysiology procedures.
The present: Ablation planning and guidance using pre-procedural CMR
Atrial fibrillation
CMR has been used most extensively to assist planning and guidance of atrial fibrillation (AF) ablation procedures. AF is the most common clinically relevant arrhythmia affecting 0.4% of the general population [6]. The principle morbidities related to AF are stroke due to embolization of atrial thrombus and symptoms related to poor heart rate regulation with resting heart rates commonly over 110 beats per minute. In the early 1990's surgical modification of the atria with a series of linear incisions was found to be effective at controlling AF, but a minimally invasive catheter based procedure could not replicate these results [7, 8]. It was later recognized that the triggering foci for AF frequently arise from one or more pulmonary veins (PVs) [9]. The ability to cure AF by ablating PV triggers or ablating conduction pathways exiting the PV's was promising but hampered by the risk of pulmonary vein stenosis due to injury of the vessels [8]. Electrospatial mapping technology led to the development of purely anatomic circumferential ablation strategies in which circular lesions are created further from the PV ostia to block the exit of PV triggers [4] (Figure 1a). Using this technique alone or in combination with PV isolation, a 70% to 80% success rate has been achieved [8]. However, repeat procedures are often needed to achieve this success and the success rate drops to 50% or less for the more chronic forms AF associated with ischemic, hypertensive, and valvular heart disease [8]. There also remains a 5% risk of major complications including cardiac perforation, pulmonary vein stenosis, and the rare but potentially lethal risk of atrioesophageal fistula formation [8].
In an effort to improve procedural success and reduce complications, 3-D CMR angiography (MRA) has been used to assist planning of AF ablation. Kato and colleagues used MRA to study left atrial anatomy in normal subjects and patients with paroxysmal atrial fibrillation and found that 38% of people had pulmonary vein anatomic variants [10]. Identification of these variants is important because AF triggering foci can be located within additional veins (Figure 2a). In addition, ablating near small or early branching PVs increases the risk of pulmonary vein stenosis [11]. Identification of certain anatomic variants before the procedure can also assist in catheter selection or favor using the circumferential ablation approach which is less affected by variant anatomy. 3-D imaging may also reduce the risk for complications by visualizing the relationship of the left atrium to surrounding structures including the esophagus, descending aorta, right pulmonary artery, and left circumflex coronary artery [12–15]. Knowing the location of these structures can be used to direct placement of ablation lesions to lower risk areas or guide reduction of ablation power when lesions are place close to these structures.
Scar based monomorphic ventricular tachycardia
CMR also has the potential to guide the treatment of scar based monomorphic ventricular tachycardia (MVT), a potentially lethal arrhythmia that is difficult to treat medically or with current ablation techniques. Ventricular tachycardia that results in uniform repetitive electrical activation of the heart arises from anatomically fixed arrhythmia substrate that can be targeted for ablation. Myocardial scarring due to infarction, cardiomyopathy, sarcoidosis, ARVD, or cardiac surgery is a common cause of MVT [16]. Scar related MVT typically depends on critical isthmuses of conductive tissue bounded by non-excitable scar or a valve annulus [17]. Ablating isthmus pathways can be curative but identifying the pathways using traditional mapping techniques can be difficult because these arrhythmias often lead to hemodynamic collapse. Substrate based approaches utilizing electrospatial mapping to identify reduced voltage scar border zone areas and isolated diastolic potentials within low voltage scar are now being used to identify critical portions of the arrhythmia circuit to target ablation [5, 16] (Figure 1b). Still, ablation of MVT can be arduous. In addition to requiring careful point-by-point electrical mapping of the endocardium, rhythms resulting from epicardial pathways may require additional epicardial mapping and rhythms resulting from intramural pathways may be inaccessible to electrical mapping. In addition, procedures commonly last over six hours to achieve cure rates on the order of 70% even in the most experienced hands and success rates can be considerably less in lower volume centers.
The use of CMR for assisting MVT ablation is still in the investigational stages but shows promise. Late gadolinium enhancement CMR (LGE-CMR) has been used extensively to characterize regions of scar in ischemic and non-ischemic cardiomyopathy (Figure 2b). A number of clinical studies have demonstrated the association of LGE-CMR scar characteristics such as size, transmurality, and border-zone area with the risk of MVT [18–20]. Recent work suggests that high resolution LGE-CMR can be used to more directly assist in MVT ablation planning. Ashikaga and colleagues used an epicardial sock with around 300 electrodes to obtain high-resolution electrical maps during MVT in a pig infarct model [21]. These maps were registered to very-high resolution (0.39 × 0.39 × 0.39 mm) ex-vivo LGE-CMR to assess the relationship of MVT electrical propagation to scar morphology. Detailed scar imaging revealed numerous previously unseen features including 3-D tracts of viable myocardium within scar and scar within viable myocardium that visually correlated with the MVT isthmus identified by electrical activation mapping. Ciaccio et.al. complimented these findings by computationally predicting suitable locations for MVT ablation with the use of high resolution LGE-CMR scar imaging [22]. Using a model that incorporates regional scar thickness to estimate MVT excitation wavefront propagation, the MVT circuit isthmus was predicted and shown to overlap the actual isthmus, observed by electrical mapping, by around 90%. Though these experimental studies use significantly higher resolution LGE-CMR maps than the typical 1.5 × 2.5 × 8 mm pixel resolution used clinically, methods to obtain higher resolution scar images in patients are being developed and will be discussed further below [23, 24]. Together with studies to identify safe MR imaging procedures for patients with implanted defibrillators [25] and clinical correlation of LGE-CMR scar morphology to successful VT ablation sites, the role of CMR for clinical VT ablation should be better defined in the near future.
The current use and limitations of pre-acquired 3D images for guiding ablation
The detailed anatomic information available from CMR is now being used as a roadmap for guiding placement of ablation lesions [26–30]. A number of techniques have been developed to register electrospatial mapping catheter coordinates to pre-acquired 3-D CMR and CT images. Dong and colleagues recently reported their technique in patients undergoing AF ablation [30]. They felt that 3-D imaging was helpful for tailoring ablations to the variant PV anatomy found in 47% of patients. They also noted that 3-D images of the atria helped to guide lesion placement in areas where stable catheter positioning was difficult, such as along the tissue ridge separating the left atrial appendage from the left pulmonary veins [11, 30]. However, even when guided by 3-D image roadmaps, the study noted that circumferential ablation around the PVs prevented escape of PV triggers in only 32% of patients [30]. To completely isolate PV triggers, additional electrical mapping and ablation of specific conduction pathways was required. Others have created more extensive, riskier lesions using saline irrigated ablation catheters and still report PV isolation rates of only 50 to 60% after circumferential ablation around the PVs [31, 32].
These sub-optimal results call attention to limitations of this current state-of-the-art in 3D image guided cardiac ablation. First, pre-acquired roadmap images may not correspond to the anatomy during the procedure. Changes in cardiac chamber size associated with variations in heart rate, rhythm, and volume status are not accounted for by pre-acquired imaging and could lead to catheter position registration errors [29]. Additional registration errors can result from patient motion during the exam, respiratory motion, and beat-to-beat motion of the heart, including significant motion of the PVs [33]. Second, marking attempted ablation positions and confirming reduction in the local electrogram voltage does not necessarily establish creation of a permanent ablation lesion or a continuous ablation line [30]. The electrode tissue contact area and electrode exposure to flowing blood are important factors in forming adequate ablation lesions [34] but are poorly assessed by fluoroscopy and electrospatial mapping guided procedures. Ablation lesion extent, unintentional gaps in ablation lines, and transient lesion components such as edema similarly are not well predicted by current techniques, including intra-cardiac ultrasound. These factors limit ablation accuracy and have been shown to reduce procedure efficacy [35, 36].
Intracardiac echocardiography (ICE) addresses some of these shortcomings and is increasingly used in clinical practice [37]. ICE has been used to visualize electrode tissue contact, an important factor for efficient ablation lesion creation. Visualization of microbubbles at the electrode tissue contact interface during ablation has been also been used to indicate adequate electrode tissue contact while the presence of more coarse bubbles has been associated with inappropriately high tissue temperatures that could lead to tissue charring and coagulum formation. However, ICE has limitations for guiding ablation. ICE requires invasive placement and manipulation of a separate imaging catheter and physical limitations on image plane orientation and field of view limit its ability to evaluate lesion extent and characterize extended regions of ablation. Also the ability of ICE to reliably distinguish regions of ablation from surrounding viable tissue has not been established.
The future: Fully CMR guided EP ablation procedures
There are a number of reasons intra-procedure CMR is an attractive option for guiding future electrophysiology procedures. First, CMR offers a number of ablation lesion imaging techniques. In addition, the ability to obtain images in arbitrary orientations opens the potential for high quality visualization of catheters, anatomy, and electrode tissue contact. Further, the position errors introduced by registering catheter position to pre-acquired 3D images can be largely avoided because both real-time CMR images and 3D CMR images are acquired in the same coordinate system and 3-D images can be reacquired during the procedure if needed.
Over the last 15 years the basic techniques to enable fully MR guided EP procedures have been developed. Lardo and colleagues introduced the potential of CMR for guiding EP procedures in 2000 [
38
]. Continuous MR imaging was used to guide non-ferromagnetic EP catheter positioning from an internal jugular vein to selected locations in the right atrium and right ventricle. They also demonstrated the ability to perform and monitor ablations in the CMR scanner (Figure
3a
). Delivery of RF ablation energy during imaging can cause significant image degradation, but this noise was dramatically suppressed by 10 MHz cutoff low-pass filtering of the ablation source. After ablation, imaging at the catheter location showed the lesion position and extent using both T2 weighted and gadolinium enhanced T1 weighted imaging techniques [
38
]. The onset of T2 changes at the ablation site was rapid enough that it could be used for lesion monitoring shortly after ablation (Figure
3b
).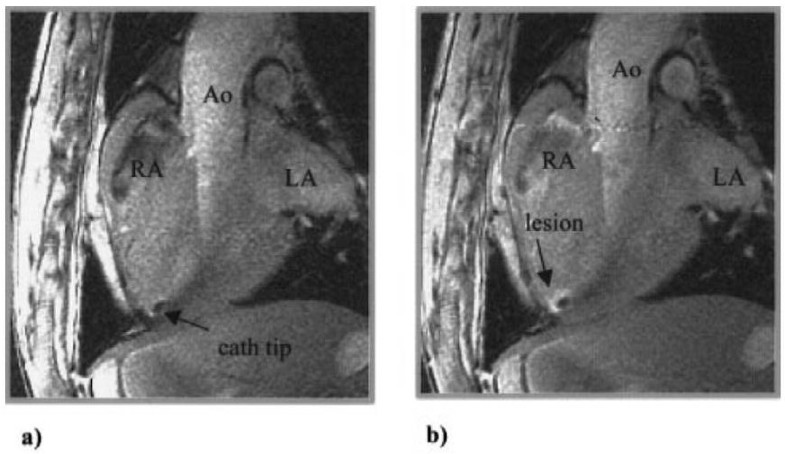 Subsequent work in our lab has demonstrated the ability to use real-time CMR to perform basic diagnostic EP studies [
39
]. Imaging was performed using an unmodified clinical scanner with interactive scan plane manipulation software to guide non-ferromagnetic catheters to standard electrogram recording sites including the high right atrium, His bundle, and right ventricular apex. Electrical interference from gradient switching was adequately suppressed by 30 Hz to 300 Hz bandpass filtering such that even the low voltage signal from the His bundle could be identified (Figure
4
). Importantly, the study demonstrated that MR guided electrophysiology measurements could be performed safely in human subjects. The topic of device safety in the CMR environment is discussed further below.

Other techniques relevant to EP procedures have also been performed using real-time CMR guidance. Trans-septal catheterization is required for left atrial catheter ablation. While generally safe, the procedure can be difficult in the setting of distorted atrial anatomy and carries the risk of serious complications such as aortic puncture. The ability of real-time CMR to guide trans-septal punctures under direct visualization of the needle, atria, fossa ovalis, and surrounding vasculature has been nicely demonstrated [40, 41]. Retrograde catheterization of the left ventricle from the femoral artery is commonly required for VT ablation and has also been performed under real-time CMR guidance [42].
Recent advances promise to take MR guided EP from these initial feasibility studies to safe, efficient practice. These advances include 1) intra-procedure ablation lesion monitoring techniques, 2) faster 2-D and 3-D imaging, 3) improved device visualization, 4) intuitive 3-D anatomy and intracardiac electrogram visualization, and 5) CMR safe device construction techniques.
Conclusion
Increasing knowledge of the anatomic basis for cardiac arrhythmias has extended the role of catheter ablation to curing even complex rhythms such as atrial fibrillation and scar based ventricular tachycardia. CMR has demonstrated a number of uses for procedural planning, particularly for treatment of atrial fibrillation. The use of LGE-CMR for planning VT ablation procedures also shows promise. Real-time CMR combined with intra-procedural lesion imaging could allow physicians to accurate guide devices and establish completeness of ablation lines without concern for radiation exposure. This could significantly improve the way current ablation procedures are performed and open the way to ablative cure of arrhythmias such as permanent atrial fibrillation that currently respond poorly to minimally invasive approaches [7].
Authors' Affiliations
(1)
Division of Cardiology, Johns Hopkins Hospital, Baltimore, USA
Copyright
© Kolandaivelu et al; licensee BioMed Central Ltd. 2009
This article is published under license to BioMed Central Ltd. This is an Open Access article distributed under the terms of the Creative Commons Attribution License (http://creativecommons.org/licenses/by/2.0), which permits unrestricted use, distribution, and reproduction in any medium, provided the original work is properly cited.