Oral presentation

Open Access
Predictors of subclinical diastolic dysfunction measured by MRI: multi-ethnic study of atherosclerosis (MESA)
Journal of Cardiovascular Magnetic Resonance volume 11, Article number: O15 (2009)
Introduction
Diastolic dysfunction, often preclinical with no recognized CHF diagnosis, is associated with marked increases in all-cause mortality. Current data on diastolic dysfunction have limitations due to retrospective study designs and/or exclusive reliance on echocardiography.
Purpose
The purpose of this study was to analyze the predictors of diastolic dysfunction in the MESA population using cardiac MRI.
Methods
We studied peak filling rate (PFR ml/s) and time to peak filling (TPFR msec) in a subclinical population (n = 4465, males 47%, mean age 62 ± 10 years). Mean (SD), correlation coefficients and multivariable regression coefficients were determined.
Results
Table 1 illustrates associations between risk factors with diastolic LV function. End diastolic volume (EDV) modified the relationship of gender and PFR. Mean PFR was therefore analyzed across quintiles of EDV and was found to be higher in females 386.35, [95%CI 382.53 to 390.17] compared to males 359.11 ml/s [95%CI 355.05 to 363.17] (Fig 1). Comapred to non-smokers smokers had lower peak filling rates. Compared to Whites, Hispanics were at a higher risk for diastolic dysfunction, Chinese ethnicity showed a relative protective effect after adjusting for all other risk factors.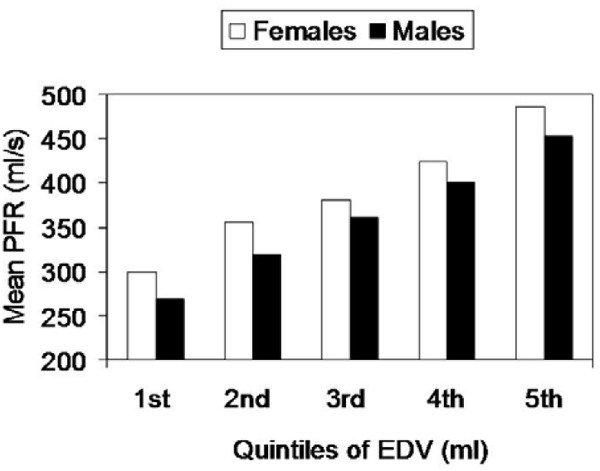 Conclusion
Impaired LV relaxation is associated with increasing age, male gender, obesity, diastolic hypertension, smoking, and varied by ethnicity.
Rights and permissions
Open Access This article is published under license to BioMed Central Ltd. This is an Open Access article is distributed under the terms of the Creative Commons Attribution 2.0 International License (https://creativecommons.org/licenses/by/2.0), which permits unrestricted use, distribution, and reproduction in any medium, provided the original work is properly cited.
About this article
Cite this article
Qadir, S., Post, W.S., Hundley, G.W. et al. Predictors of subclinical diastolic dysfunction measured by MRI: multi-ethnic study of atherosclerosis (MESA). J Cardiovasc Magn Reson 11 (Suppl 1), O15 (2009). https://doi.org/10.1186/1532-429X-11-S1-O15
Published:

DOI: https://doi.org/10.1186/1532-429X-11-S1-O15
Keywords
Diastolic Dysfunction

Retrospective Study Design

Peak Filling Rate

Diastolic Hypertension

Exclusive Reliance