Relationship between regional wall shear stress and carotid plaque composition using 3 T MRI and patient-specific computational fluid dynamics
Journal of Cardiovascular Magnetic Resonance volume 11, Article number: O44 (2009)
Introduction
Plaque vulnerability arises from the interplay among factors including plaque composition (PC) and wall shear stress (WSS). To date, the relationship between spatial WSS and PC is not established.
Purpose
Our aim is to determine the relationship between WSS and PC in established carotid atherosclerosis.
Methods
5 subjects (4 males, 66 ± 8 years), with moderate to severe carotid plaque underwent 3 T MRI using 4-channel carotid coil. T1, T2, proton density and time of flight images were obtained (0.47–0.55 × 0.47–0.55 × 2 mm spatial resolution) 12 mm above and below the bifurcation. Plaque composition (necrotic core and loose matrix) were quantified using Plaqueview software (VP Diagnostics). Subject-specific computational fluid dynamic models were created from MRI, B-mode ultrasound and blood pressure (BP) data using CVsim software. Outlet boundary conditions that replicated flow and BP were applied and simulations used a stabilized finite element solver. Each carotid slice were divided into 6 circumferential regions where WSS was correlated with PC.
Results
Please see figure 1. WSS correlated significantly with necrotic core (R = 0.283, p < 0.001) but not with loose matrix (R = -0.03, p = 0.6). The same relationship was seen in the common carotid, bifurcation or internal carotid artery. Carotid plaque regions with necrotic core had higher WSS than those without (34.1 ± 2.6 vs. 17.3 ± 4.6 dyn/cm2, p < 0.001). WSS in regions with and without loose matrix did not differ (25.8 ± 3.6 vs. 22.5 ± 3.3, p = 0.7).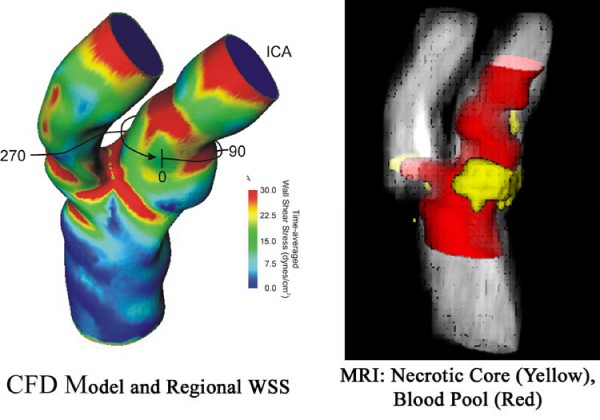 Conclusion
In established carotid artery disease, regions with high WSS are associated with increased necrotic core, but not loose matrix. This relationship between increased WSS and necrotic core content in the plaque may play an important role in plaque vulnerability.
Rights and permissions
Open Access This article is published under license to BioMed Central Ltd. This is an Open Access article is distributed under the terms of the Creative Commons Attribution 2.0 International License (https://creativecommons.org/licenses/by/2.0), which permits unrestricted use, distribution, and reproduction in any medium, provided the original work is properly cited.
About this article
Cite this article
Migrino, R.Q., Bowers, M., Harmann, L. et al. Relationship between regional wall shear stress and carotid plaque composition using 3 T MRI and patient-specific computational fluid dynamics. J Cardiovasc Magn Reson 11 (Suppl 1), O44 (2009). https://doi.org/10.1186/1532-429X-11-S1-O44
Published:

DOI: https://doi.org/10.1186/1532-429X-11-S1-O44
Keywords