Assessment of change in aortic distensibility in patients with left ventricular hypertrophy (LVH), before and after therapy, using Cardiac Magnetic Resonance (CMR) imaging
Journal of Cardiovascular Magnetic Resonance volume 11, Article number: P142 (2009)
Objectives
To determine whether two aggressive antihypertensive treatment strategies with opposing mechanistic effects, but the same effect on arterial blood pressure (BP) control, had different influences on aortic distensibility.
Background
Alteration in the structure and function of the aortic wall and its elastic properties are important in the pathogenesis of cardiovascular disease [1], and are associated with aging and diabetes mellitus. These changes can cause a decrease in aortic distensibility (AD) and as a consequence elevated pulse pressure [1]. This increased aortic stiffness can be a predictor of hypertension and may be both a cause and effect of sustained high BP [2]. Studies to date of antihypertensive therapy have been conflicting with regard to whether there is a treatment specific effect.
Methods
Thirty-four age matched patients (mean age = 56 ± 11.6; 32–77 yrs) were randomly divided into two groups. All patients were hypertensive, non-diabetic and had CMR confirmed left ventricular hypertrophy (LVH). Both groups underwent treatment for 6 months; the first group (Group VM) was treated with Valsartan and Moxonidine and the second group (Group BA) with Bendroflumethiazide and Amlodipine. A third group (Group N) consisting of normal volunteers (15 volunteers; mean age = 49 ± 10.5; 29–63 years) was used as control. Both treatment groups (VM and BA) were scanned using cine-MRI (SSFP, transverse to the aorta, 24 phases; Philips 1.5 T Gyroscan Intera CV) before and after therapy. AD was measured using QMASS 6.2.1. (Medis, The Netherlands) and a standard equation (AD = ΔD/(ΔP*D); where ΔD is absolute difference in systolic and diastolic volume of the aorta, ΔP the pulse pressure of the artery and D the diastolic arterial volume [3]).
Results
No significant differences in age, arterial BP, LV mass and AD were found between the two treatment groups at baseline (P > 0.05). There was a significant increase in AD after treatment in both groups (P < 0.05). However, there was no statistical difference in AD between Group VM and Group BA after treatment (P > 0.05). In both treatment groups AD returned to normal as compared to the normal control group (P > 0.05) (Figure 1). There was a significant positive linear relationship between the difference in pre- and post-AD (ΔAD) and pre- and post-treatment systolic BP (ΔSBP) and also the ΔAD and pre- and post-treatment pulse pressure (ΔPP) (for ΔSBP r = 0.3493, P = 0.043 and r2 = 0.122; for ΔPP r = 0.402, P = 0.018 and r2 = 0.162; figure 2). The intra-observer variability of measurements was ≤ 7%.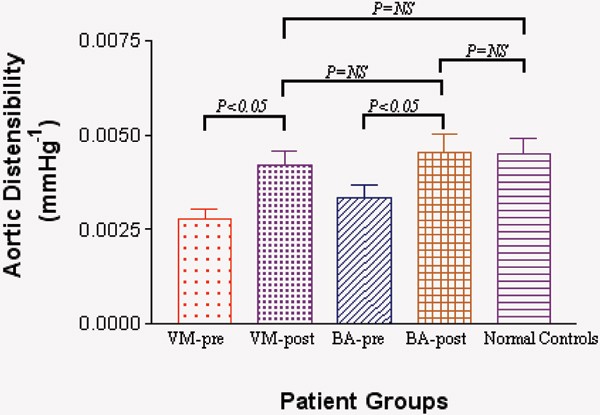 Conclusion
Both groups improved their AD after six months of aggressive antihypertensive treatment, but there was no statistical difference between the two groups. The post-treatment AD in both hypertensive groups was found to have returned to normal levels when compared to a control group. It therefore appears that the improvement in AD is not treatment specific, but rather occurs as a consequence of lowering BP.
References
Metafrazi Z, Efremidis S, Skopelitou AN, Roos S, De A: The clinical significance of aortic compliance and its assessment with magnetic resonance imaging. Journal of Cardiovascular Magnetic Resonance. 2002, 4 (4): 481-491. 10.1081/JCMR-120016386.

Dernellis J, Papetrou M: Aortic stiffness is an independent predictor of progression to hypertension in nonhypertensive Subjects. Journal of the American Heart Association. 2005, 45: 426-431.

Woodman R, Watts GF: Measurement and application of arterial stiffness in clinical research: focus on new methodologies and diabetes mellitus. Medical Scientific Monitoring. 2003, 9 (5): RA81-89.
Rights and permissions
Open Access This article is published under license to BioMed Central Ltd. This is an Open Access article is distributed under the terms of the Creative Commons Attribution License ( https://creativecommons.org/licenses/by/2.0 ), which permits unrestricted use, distribution, and reproduction in any medium, provided the original work is properly cited.
About this article
Cite this article
Negrou, K., Burns, J., Gupta, S. et al. Assessment of change in aortic distensibility in patients with left ventricular hypertrophy (LVH), before and after therapy, using Cardiac Magnetic Resonance (CMR) imaging. J Cardiovasc Magn Reson 11 (Suppl 1), P142 (2009). https://doi.org/10.1186/1532-429X-11-S1-P142
Published:

DOI: https://doi.org/10.1186/1532-429X-11-S1-P142
Keywords