Computational simulations from cardiac magnetic resonance imaging reveal altered hemodynamics in coarctation patients previously treated by patch aortoplasty
Journal of Cardiovascular Magnetic Resonance volume 11, Article number: P211 (2009)
Objective
The objective of this study is to quantify aortic hemodynamics in coarctation of the aorta (CoA) patients surgically treated by patch aortoplasty to determine if adverse conditions may be present in the region of the patch and, therefore, contribute to the high instance of aortic aneurysms observed in this patient population.
Background
CoA patients treated by patch aortoplasty show an increased prevalence of aneurysm development in regions associated with the patch. Altered hemodynamics may play a role in aneurysm formation and progression, especially if there is increased blood flow velocity through an associated hypoplastic transverse arch that impinges near the patch. We hypothesize that potentially adverse blood flow and wall shear stress (WSS) patterns are present in CoA patients, status post Dacron patch CoA repair.
Methods
Patients underwent clinically-indicated cardiac magnetic resonance imaging (cMRI) for anatomic definition of the aortic arch and assessment of blood flow. Gadolinium-enhanced cMRI angiography (TR/TE/FA: 4.3/1.46/25; thickness: 2 mm; FOV: 25 × 38 cm; acquisition matrix 384 × 192) was used to delineate the anatomy of the thoracic aorta and the innominate (IA), left carotid (LCCA), and left subclavian (LSA) arteries. Phase-contrast cMRI (PCMRI) was used to quantify blood flow just distal to the aortic valve and in the IA, LCCA, LSA and descending thoracic aorta (TR/TE/FA: 46/3.8/30; thickness: 5 mm; FOV: 24 × 32 cm; acquisition matrix: 256 × 144). Velocity encoding gradients were adjusted to maximize the dynamic range for each location. Patient-specific computational fluid dynamics (CFD) models were created from cMRI angiography data using cvSim software. Six data sets were obtained (25–33 yrs, mean 29) from which three models have been created to date. CFD model outlet boundary conditions that enable replication of blood flow obtained from PCMRI and cuff blood pressure measurements were applied. Simulations were performed using a stabilized finite element solver. Blood velocity and flow, pressure, and WSS were characterized and compared to a control patient (28 yr) with the same cardiac index (2.5 mL/min/m2).
Results
Exceptional reproduction of clinical blood pressure and flow were obtained from simulations. Time-averaged WSS in 5 mm bands throughout the aorta and branches was elevated in the transverse arch and repair site of Dacron CoA patients (ex. 36.7 vs 23.7 dyn/cm2). Descending aortic tortuosity was observed downstream of the repair site in CoA patients, leading to swirling and spatial WSS alterations relative to control (Figure 1).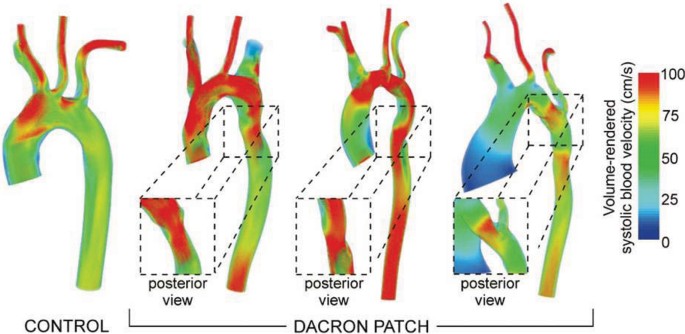 Conclusion
These results suggest that hemodynamic alterations, including blood flow patterns and distributions of WSS, are present in CoA patients treated by Dacron patch aortoplasty. The findings may offer insight into the high likelihood of aneurysm formation in these patients.
Rights and permissions
Open Access This article is published under license to BioMed Central Ltd. This is an Open Access article is distributed under the terms of the Creative Commons Attribution License ( https://creativecommons.org/licenses/by/2.0 ), which permits unrestricted use, distribution, and reproduction in any medium, provided the original work is properly cited.
About this article
Cite this article
LaDisa, J.F., Cava, J., Dholakia, R. et al. Computational simulations from cardiac magnetic resonance imaging reveal altered hemodynamics in coarctation patients previously treated by patch aortoplasty. J Cardiovasc Magn Reson 11 (Suppl 1), P211 (2009). https://doi.org/10.1186/1532-429X-11-S1-P211
Published:

DOI: https://doi.org/10.1186/1532-429X-11-S1-P211
Keywords