Detection of haemodynamically significant coronary stenoses with k-t SENSE-accelerated Myocardial Perfusion MR Imaging at 3.0 Tesla - a comparison with fractional flow reserve
Journal of Cardiovascular Magnetic Resonance volume 12, Article number: O3 (2010)
Background
k-space and time sensitivity encoding (k-t SENSE) has been used to improve temporal or spatial resolution of perfusion CMR against visual interpretation of x-ray angiography (XRA).
Purpose
To compare high spatial resolution k-t SENSE CMR perfusion at 3 T against fractional flow reserve (FFR), the reference method for detection of flow-limiting coronary stenoses in the catheter laboratory.
Methods
Patients with known or suspected coronary artery disease awaiting coronary XRA were studied, undergoing a CMR scan <48 hrs before XRA.
CMR
k-t SENSE accelerated perfusion CMR was performed on a 3 T Philips Achieva system (saturation recovery gradient echo, repetition time/echo time 3.0 ms/1.0 ms, flip angle 15°, 5× k-t SENSE acceleration, 11 interleaved training profiles, effective acceleration 3.8, spatial resolution 1.1 × 1.1 × 10 mm3, 3 slices acquired at each RR interval). Data were acquired during adenosine hyperaemia and at rest (0.05 mmol/kg Gd-DTPA). FFR was measured in all vessels with >40% severity stenosis using a pressure sensor-tipped wire (Volcano®). FFR < 0.75 was considered to represent a haemodynamically significant lesion. FFR was calculated as (Pd - Pv)/(Pa - Pv), where Pa, Pv and Pd are simultaneous aortic, right atrial and distal coronary pressures measured during an intravenous infusion of adenosine at 140 μg/kg/min. Two experienced observers blinded to the results of the angiogram visually interpreted ischemia on CMR data as relative underperfusion of a sector within a slice or relative endocardial underperfusion compared with epicardial perfusion. The performance of visual analysis of CMR to detect flow-limiting coronary stenosis on angiography was determined. Interobserver variability was calculated using the k coefficient.
Results
39 patients (27 male, age 67.1 ± 8.1 years) were successfully recruited and underwent the complete protocol. 1 patient was excluded from the analysis because of technical problems with the FFR measurement, so that 114 coronary territories were studied. Mean scanning time was 56 ± 13 minutes. 49 vessels underwent pressure wire assessment. Of these, 26 lesions had an FFR < 0.75 (mean 0.53 ± 0.17) and 23 lesions had an FFR ≥ 0.75 (mean 0.89 ± 0.06). Sensitivity and specificity of CMR perfusion to detect coronary stenoses at a threshold of FFR < 0.75 was 0.82 [95% CI 0.61-0.93] and 0.94 [95%CI 0.87-0.98] p < 0.0001, respectively. The k variability coefficient was 0.79 Figures 1 and 2.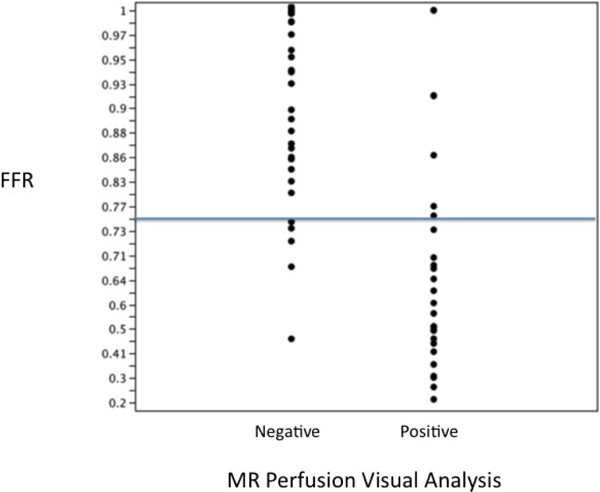 Conclusion
k-t SENSE accelerated high-resolution perfusion MR at 3 T accurately detects flow-limiting coronary artery disease as defined by FFR, with good inter-observer agreement. The high specificity of perfusion CMR in this study may be the result of the high spatial resolution at which endocardial dark rim artefacts are reduced.
Rights and permissions
Open Access This article is published under license to BioMed Central Ltd. This is an Open Access article is distributed under the terms of the Creative Commons Attribution 2.0 International License (https://creativecommons.org/licenses/by/2.0), which permits unrestricted use, distribution, and reproduction in any medium, provided the original work is properly cited.
About this article
Cite this article
Lockie, T., Perera, D., Redwood, S. et al. Detection of haemodynamically significant coronary stenoses with k-t SENSE-accelerated Myocardial Perfusion MR Imaging at 3.0 Tesla - a comparison with fractional flow reserve. J Cardiovasc Magn Reson 12 (Suppl 1), O3 (2010). https://doi.org/10.1186/1532-429X-12-S1-O3
Published:

DOI: https://doi.org/10.1186/1532-429X-12-S1-O3
Keywords