The Role of Cardiovascular Magnetic Resonance in Pediatric Congenital Heart Disease
Journal of Cardiovascular Magnetic Resonance
2011
13:51
Received: 31 March 2011
Accepted: 21 September 2011
Published: 21 September 2011
Abstract
Cardiovascular magnetic resonance (CMR) has expanded its role in the diagnosis and management of congenital heart disease (CHD) and acquired heart disease in pediatric patients. Ongoing technological advancements in both data acquisition and data presentation have enabled CMR to be integrated into clinical practice with increasing understanding of the advantages and limitations of the technique by pediatric cardiologists and congenital heart surgeons. Importantly, the combination of exquisite 3D anatomy with physiological data enables CMR to provide a unique perspective for the management of many patients with CHD. Imaging small children with CHD is challenging, and in this article we will review the technical adjustments, imaging protocols and application of CMR in the pediatric population.
Keywords
Congenital Heart DiseaseCardiovascular Magnetic ResonanceHypoplastic Left Heart SyndromeArterial Switch OperationBranch Pulmonary Artery
1. Introduction
Congenital heart disease (CHD) has an incidence of 6-8 per 1000 at birth [1, 2]. The survival of CHD patients has also increased because of improvements in early diagnosis (including fetal echocardiography) and treatment, which have led to more patients surviving into adulthood [1–3]. Furthermore, there is an increasing number of children with acquired heart disease, in particular related to anthracycline cardiotoxicity, following treatment of oncological disease in early childhood.
Imaging is fundamental to the diagnosis of CHD and is required at all stages of patient care. From the fetal stage onwards, imaging outlines anatomy and physiology, helps to refine management, evaluates the consequences of interventions and helps guide prognosis. However, no single available imaging modality fulfils these roles for all patients and diseases. Therefore, assessment for CHD must involve a variety of modalities that can be used in a complementary fashion, and that together are sensitive, accurate, reproducible, and cost effective, whilst minimizing harm.
Echocardiography remains the first-line imaging investigation for pediatric patients, as it is portable, non-invasive and provides immediate, high-resolution anatomical and physiological information [4, 5]. For co-operative patients with good acoustic windows, echocardiography alone can define diagnosis and guide management and prognosis. However, echocardiography fails when acoustic windows are poor, particularly for the assessment of extra-cardiac vascular structures.
Where cardiac catheterization was traditionally used to provide hemodynamic information and visualize extracardiac great vessels, [6] cardiovascular MR (CMR) is progressively fulfilling this role [7]. The burgeoning availability of MR scanners and physicians' rapid uptake of CMR is escalating the prominence of this modality in the management of pediatric congenital heart disease.
CMR provides a powerful tool, giving anatomical and physiological information that echocardiography and catheterization alone cannot provide [8, 9]. Extra-cardiac anatomy, including the great arteries, systemic and pulmonary veins, can be delineated with high spatial resolution. Vascular and valvular flow can be assessed, [10] shunts can be quantified, [11] and myocardial function can be measured accurately with high reproducibility, regardless of ventricular morphology [12]. Finally, CMR surpasses both catheterization and echocardiography in providing high-resolution, isotropic, three-dimensional datasets [13]. This allows for reconstruction of data in any imaging plane, giving complete visualization of complex cardiac anomalies, without the use of ionizing radiation [14]. In the pediatric population, CMR could be justified for any patient in whom clinical or echocardiographic data is insufficient for monitoring, decision-making or surgical planning.
Despite its widespread use CMR still has some technical limitations that have to be overcome in order to perform successful pediatric CMR. These technical difficulties involve the high spatial resolution required for imaging small anatomical structures, and the patients' inability to consistently follow breath-holding commands, due to young age or developmental delay. This review will aim to provide guidance on the indications for CMR in pediatric CHD, provide potential protocols and describe imaging techniques for the main conditions referred for CMR.
2. Indications
The decision to perform CMR depends on the information required, the local facilities and resources available for scanning, the clinical state of the patient, and the risks to the patient of carrying out the examination. Without the use of sedation or contrast, a comprehensive CMR examination in a willing patient carries minimal risk. However, the need for sedation, general anesthesia or gadolinium contrast changes the balance of risk in some patients. Furthermore, CMR is a resource-high investigation. In addition to the costs of purchasing, running and maintaining the MR scanner, significant expertise and training is required for all staff involved in acquiring and interpreting the images.
The technical and diagnostic complexity of pediatric CMR is significant. The patients' body size is small and heart rates are rapid. Imaging these patients requires a radiographer trained to expedite image planning and optimize pulse sequences in this context, and a CMR physician with expertise in the anatomical and physiological changes of CHD. In addition, because general anesthesia is often necessary for the youngest children, an anesthetic team is required, and this team must be trained to care for cardiac patients with hemodynamic compromise.
2.1. CMR with general anesthesia
Because of the potential increased risks involved in pediatric patients with congenital heart disease, in our institution, the decision for a child to undergo CMR under general anesthesia is made in the setting of a multidisciplinary clinical planning meeting. The decision-making involves careful analysis of potential risks and benefits. Our unit policy is that a senior cardiac anesthesiologist always carries out the anesthetic procedure. Prior to each case there is detailed discussion between the anesthetic and cardiac imaging teams, regarding the specific hemodynamic and imaging issues pertaining to the case. With these considerations, our unit and others, have a very good safety profile for imaging these complex patients [15, 16].
Generally, children less than seven years of age will have CMR performed under a general anesthetic. This practice varies in different centers, depending on local anesthetic and sedation policy. Some institutions use various degrees of sedation, with or without the need for an anesthetist to monitor the patient. General anesthesia ensures prolonged cooperation and enables reliable breath holding.
Potential indications for children undergoing CMR under general anesthesia are outlined in Additional file
1
, Table S1. The set-up of a typical CMR control room containing anesthetic equipment is shown in Figure
1
.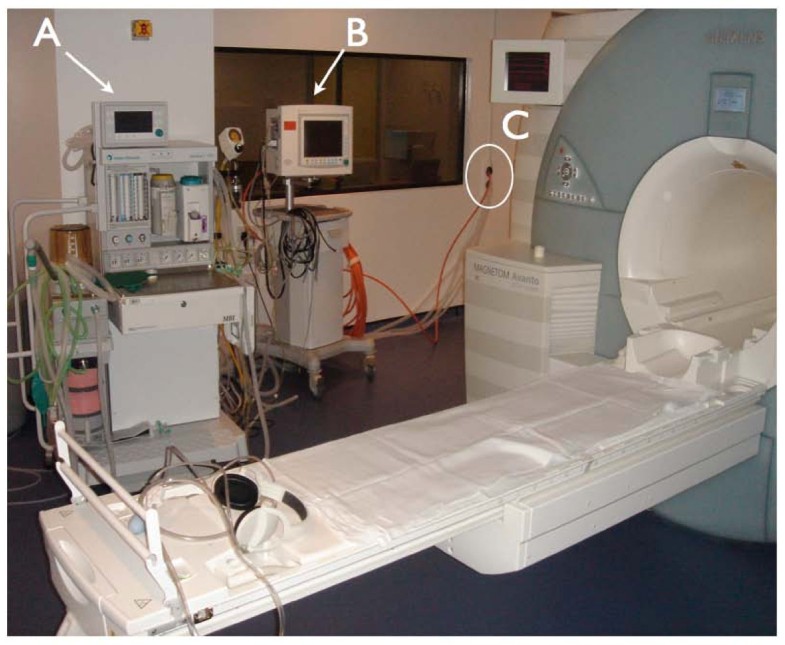 Other procedures can be carried out while the patient is under anesthetic. For example, in those patients with a functionally uni-ventricular heart and a cavo-pulmonary shunt, the jugular venous pressure can be measured via needle transducer, prior to surgical completion of the total cavo-pulmonary circulation. This gives an estimation of pulmonary artery pressure at the same time that image data gives pulmonary artery morphology, flow volume, ventricular and valvular function. Diagnostic catheterization can be avoided in many patients who have traditionally required catheter angiography [17, 18].
2.2 CMR without anesthesia
The older pediatric patient groups for whom CMR is indicated are listed in Additional file 2, Table S2. For many of these patients CMR is often a single, focused study prior to intervention. For others the benefit of CMR lies in serial imaging leading up to, or following intervention. While avoiding ionizing radiation, CMR can give accurate and reproducible quantification aortic arch dimensions [19, 20], ventricular volumes, and valvular function [21]. This guides the management team with regards to the appropriate timing for, [22] or the effect of any intervention [23, 24].
2.3 Prior to transfer to adult services
An important indication for CMR in our pediatric centre is the stage of transfer of the patient to an adult institution for ongoing care. Prior to transfer, CMR gives a comprehensive summary of the anatomical and physiological status of the patient, for all types of post-surgical situations.
2.4 Decision making
When there are local facilities and expertise in all the modalities: CMR, cardiovascular CT and cardiac catheterization, the imaging strategy for complex patients can be discussed in a forum comprising cardiologists, cardiac imaging specialists, interventionists and surgeons.
For many patients the imaging choice is obvious. For example, for a cooperative 10 year old with clinical signs of recurrent aortic coarctation, following repair in infancy, CMR would yield high-resolution images of the aortic arch morphology and give the flow profile through the arch. At the same time, the CMR would portray and quantify aortic valve function and left ventricular myocardial structure, mass and systolic function. This data could be acquired within 40 minutes of scanning time, with no need for sedation, anesthetic or irradiation.
One could argue that for this patient, cardiac catheterization could provide data on the arch morphology and give an opportunity for arch intervention. However, the best mode and timing of intervention is not always clear for many patients. Imaging, with a subsequent temporal pause or "discussion window" for consideration of all management options would most frequently yield the optimal outcome.
At the other end of the risk-benefit spectrum for comprehensive imaging is an infant with hypoplastic left heart syndrome (HLHS), clinically deteriorating soon after the first stage of surgical palliation. With poor acoustic windows, urgent further imaging of the branch pulmonary arteries and aortic arch is necessary. In this context, general anesthetic may carry a high risk, and CT imaging of the chest would usually be performed, using a non-sedated "feed and wrap" technique. The CT images would then be used to refine the decision-making, regarding whether intervention appears justified, which intervention would be optimal (surgical revision or balloon angioplasty) and the specific method of intervention. Our perceived advantage of non-invasive imaging, in this way, rather than initial hemodynamic investigation in the catheterization laboratory, is that we achieve an, often crucial, "window" for discussion and procedure planning.
The potential vascular complications of catheterization [25, 26], and the dangers of exposure to radiation [27] mean that for many centers, cardiac catheterization is reserved for patients in whom hemodynamic data is essential (e.g. high risk Fontan, pulmonary hypertension), or in whom it is known that interventional procedures are highly likely and necessary.
Finally, some patients benefits from a combined approach using a hybrid CMR/cardiac catheterization laboratory, in which patients can be transferred, under the same general anesthetic, from imaging to interventional procedures and vice versa. This guides the intervention procedure, and gives potential to immediately assess the hemodynamic results of intervention with assessment of flow and ventricular function [28, 29] (see section 6).
3. Scanning environment, sequences and protocols
3.1. Scanning environment for general anesthetic cases (Figure 1)
Performing general anesthesia (GA) in a magnetic resonance environment is challenging for many reasons: [30] There is limited access to the child and ventilation equipment during the CMR scan; care is required for staff and patient safety with regards to ferromagnetic equipment; and there is a potential for RF interference with monitoring. It is therefore very important to have an appropriately trained anesthetic team (the cardiothoracic operative team in our institution), with excellent monitoring equipment. Several technical factors specific to MR in infants and small children must be taken into consideration. Prolonged, multiple breath holds are required, thus adequate pauses for ventilation control between breath holds are required, to ensure that hypoxia and hypercapnoea are avoided. Reliable monitoring of the electrocardiogram, pulse oximetry and expired gas concentrations is necessary. Additionally, patient temperature must be closely monitored. The low ambient temperature in MR scanning room produces a risk of hypothermia, particularly for small infants.
3.2 Sequences
Additional file 3, Table S3 describes the sequences that can be used for assessing patients with CHD. In Additional file 4, Table S4 suggestions are given for which sequences are most useful for a range of clinical indications.
Although time consuming, a full scanning protocol, including 3D data acquisition, is necessary for most patients because their complexity brings a high likelihood of previously undiagnosed or unexpected morphological or physiological findings. Acquiring a complete image data set gives the opportunity for full delineation of the sequential segmental anatomy in every patient.
5. Emerging indications
There are other patient groups in which the benefits of and indications for CMR are well validated in the adult population, but where there is currently a paucity of data pertaining to patients in the pediatric age range. Many factors limit the comparability of adult and pediatric populations, however the potential for pediatric CMR in these fields is rapidly being realized.
5.1. Cardiomyopathy assessment
CMR is showing great potential in the pediatric population for the diagnostic assessment and therapeutic monitoring of patients with all types of cardiomyopathies [
123
,
124
] (Figure
8
). CMR has the capacity to acquire images without acoustic limitations, in 3-dimensions, with tissue contrast and myocardial border definition that is often superior to echocardiography. This gives great advantage for pre-clinical diagnosis or family screening [
125
,
126
]. CMR has the advantage of accurate quantification of segmental function, ventricular volume and systolic shortening, while sensitively imaging myocardial architecture. The extent of LGE in patients with HCM has been independently associated with adverse outcome and worsening clinical symptoms, suggesting its link to prognosis and its ability to be used as an independent risk factor in these patients [
127
,
128
]. This comprehensive assessment also enlightens clinical and pharmacological management in the many types of dilated cardiomyopathies and skeletal myopathies with cardiac involvement [
129
].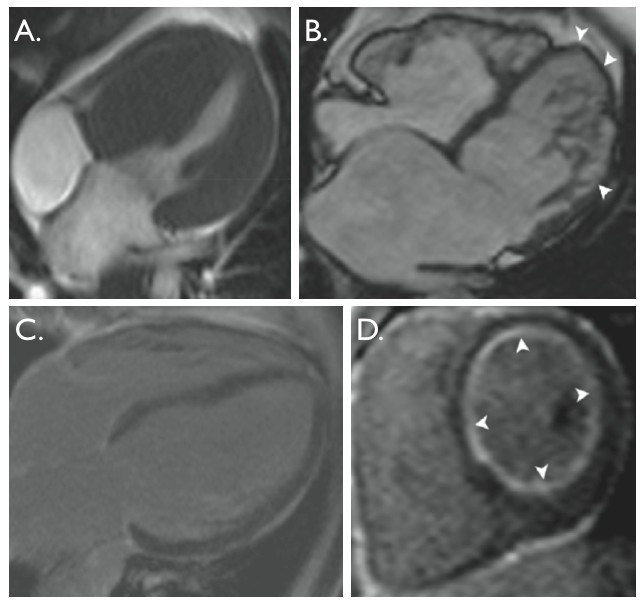 5.2. Iron loading
Cardiac T2* assessments for myocardial iron loading [130] are an increasing referral source for CMR assessment. Pediatric patients with thalassemia major, or other chronic anemias requiring multiple transfusions are at risk of myocardial iron deposition, progressive fibrosis and systolic impairment. The optimal timing for screening of these young patients by CMR is under debate. Some evidence suggests that initiation of assessment should be determined according to the patient's age and transfusional burden [131]. When the appropriate chelation therapy has been administered since birth, CMR can be postponed until 8 years of age, so that anesthesia is not required for the scan. Patients with suboptimal chelation or with increased transfusional requirements should be tested sooner. However, as with many other pediatric pathologies, the CMR T2* technique for iron assessment has only been validated in adults. No validation or range of normal values exists for the infant and pediatric population.
6. Role of the hybrid CMR/catheter laboratory
The hybrid MR/X-ray catheter suite (XMR) is emerging as a useful diagnostic and interventional tool for cardiovascular diseases in both children and adults (Figure
9
). There are many attractive attributes to these hybrid suites as compared to purely X-ray techniques, which have been the gold standard imaging modalities in cardiovascular medicine.

XMR reduces the amount of radiation exposure to both patients and medical staff due to the lack of ionising radiation of the MR imaging component [132, 133]. This is mainly important for children who are prone to DNA and chromosomal damage by radiation exposure leading to development of malignancies [134, 135].
CMR provides a detailed anatomy, which is useful in pre-procedural planning for electrophysiological studies and cardiac interventional procedures. In electrophysiology, CMR helps to identify the scar tissue acting as the focus for the abnormal electrical impulse and it also gives a detailed anatomy of adjacent structures to prevent ablation therapy related complications [132, 136, 137]. Various studies have shown the feasibility of CMR guided intervention due to its superior soft tissue quality and having an XMR means the X-ray can be used as a bail out if need arise [138–142].
CMR use in physiological studies such as pulmonary vascular resistance (PVR) and left and right heart catheterization seems to be coming out of its shell. In an XMR suite both invasive pressure data and flow data can be acquired. This is particularly good in PVR studies and in quantification of collateral flow in cavo-pulmonary connection patients including ventricular function assessment [17, 29, 133, 143, 144].
7. Role of cardiovascular CT
CT imaging also plays an important role in the management of pediatric CHD. This modality provides very high-resolution 3D data sets with an extremely short acquisition period and therefore can usually be performed in infants and small children without general anesthetic. The expense of this imaging is the exposure of patients to potentially large doses of ionizing radiation, particularly for ECG-gated studies, though this continues to fall. Its use for serial evaluations is therefore very limited. CT imaging is useful for patients who are unable to co-operate with CMR or who are too clinically unstable to undergo general anesthetic. Additionally, when CMR provides inadequate images for clinical decision-making, CT angiography is the modality of choice in:
Patients with vascular rings, where it is important to visualize the airway anatomy.

Patients in whom we are investigating pulmonary venous anatomy (in our experience MR imaging of the pulmonary veins can be problematic).

Patients in whom we are assessing pulmonary atresia with major aorta pulmonary collateral arteries (MAPCAs) - our protocol for assessing these patients is to perform a CT scan prior to cardiac catheterization. The CT scan will identify the number of large aorta pulmonary collaterals and the presence of any central pulmonary arteries, and this information can be used to guide cardiac catheterization. The main purpose of the cardiac catheterization is to identify the temporal distribution of blood flow and define which areas of the lungs the pulmonary arteries, the MAPCAs, or both supply. This significantly aids the surgeons in unifocalisation in these patients.

Patients who have metallic implants - e.g. routine CT following aortic coarctation stenting at 3 months to exclude pseudo-aneurysm formation at the distal ends of the stent.

Patients in whom there is contraindication to CMR (e.g. permanent pacemaker).
8. Future directions and conclusions
Conflict of interests
The authors declare that they have no competing interests.
Authors' Affiliations
(1)
Centre for Cardiovascular MR, UCL Institute of Cardiovascular Sciences, Great Ormond Street Hospital for Children, London, UK
Copyright
© Ntsinjana et al; licensee BioMed Central Ltd. 2011
This article is published under license to BioMed Central Ltd. This is an Open Access article distributed under the terms of the Creative Commons Attribution License (http://creativecommons.org/licenses/by/2.0), which permits unrestricted use, distribution, and reproduction in any medium, provided the original work is properly cited.