Diagnostic and prognostic value of cardiovascular magnetic resonance in non-ischaemic cardiomyopathies
Journal of Cardiovascular Magnetic Resonance
2012
14:54
Received: 20 October 2011
Accepted: 10 July 2012
Published: 2 August 2012
Abstract
Cardiovascular Magnetic Resonance (CMR) is recognised as a valuable clinical tool which in a single scan setting can assess ventricular volumes and function, myocardial fibrosis, iron loading, flow quantification, tissue characterisation and myocardial perfusion imaging. The advent of CMR using extrinsic and intrinsic contrast-enhanced protocols for tissue characterisation have dramatically changed the non-invasive work-up of patients with suspected or known cardiomyopathy. Although the technique initially focused on the in vivo identification of myocardial necrosis through the late gadolinium enhancement (LGE) technique, recent work highlighted the ability of CMR to provide more detailed in vivo tissue characterisation to help establish a differential diagnosis of the underlying aetiology, to exclude an ischaemic substrate and to provide important prognostic markers. The potential application of CMR in the clinical approach of a patient with suspected non-ischaemic cardiomyopathy is discussed in this review.
Keywords
Cardiovascular Magnetic ResonanceAortic StenosisRight VentricleLate Gadolinium EnhancementLeave Ventricular Mass
Introduction
Cardiomyopathies encompass a broad spectrum of myocardial conditions which can affect the heart as a primary disease process or as part of a systemic disorder, evolving toward heart failure or cardiovascular death.
Progress of modern molecular biology and its introduction into clinical cardiovascular medicine has considerably changed the approach to cardiomyopathies and has led to new classification schemes. While cardiomyopathies were initially defined as disorders that were idiopathic, expert panels classify cardiomyopathies now into: primary, acquired and mixed [1]. This results from the data published by the latest AHA (2006) and ESC (2008) classifications segregating cardiomyopathies into familial/genetic and non-familial/non-genetic [2, 3]. Both recommendations define a cardiomyopathy as 'a myocardial disorder in which the heart muscle is structurally and functionally abnormal in the absence of coronary heart disease, hypertension, valvular heart disease and congenital heart disease sufficient to cause the observed myocardial abnormality' [3]. Cardiomyopathies are therefore grouped into specific morphological and functional phenotypes and sub-classified into familial and non-familial forms.
Whilst prevalence of dilated cardiomyopathy reaches 36 cases per 100 000 population, these figures as well as those reported for other cardiomyopathies, underestimate the frequency of the disorder as a number of patients are asymptomatic until reaching advanced stages of the disease. In addition, accurate diagnostic and prognostic phenotyping of cardiomyopathy remains a challenge owing to frequent overlapping features between individual cardiomyopathies.
In the investigative workup for a suspected cardiomyopathy, typically a considerable number of tests are performed, ranging from the more routine and straightforward tests including ECG, echocardiogram, and exercise treadmill, to the more invasive including coronary angiography, electrophysiological studies, and endomyocardial biopsy. It is key to identify a potentially treatable substrate and then to risk stratify patients for treatment including consideration of an implantable defibrillator (ICD) or cardiac resynchronisation device.
Advances in cardiovascular magnetic resonance (CMR) provide the potential to address all these important issues in a single scan setting complementing other non-invasive tools and genetic testing. The cost-effectiveness of non-stress CMR has been highlighted recently pointing out the ability of CMR to act as a cost-reducing gatekeeper to invasive coronary angiography in specific clinical settings [4].
In a single 45–60 minute study, CMR can provide 3-dimensional data on cardiac anatomy, function, tissue characterisation, coronary and microvascular perfusion, valvular disease in any selected plane, regardless of patient's habitus and without ionising radiation. The relative safety of gadolinium agents and tissue characterising sequences allows for repeated imaging, follow-up, family screening and serial risk stratification.
In this review, non-ischaemic cardiomyopathies (NICMP) are approached from a clinical point of view outlining the diagnostic and prognostic role of CMR as an integral part of the clinical decision making algorithm.
Technical aspects
In the imaging workup of a suspected cardiomyopathy a wide range of sequences are acquired following dedicated protocols [
5
–
8
]. Figure
1
summarises a typical cardiomyopathy protocol which will be modulated according to the clinical suspicion of the underlying disease and throughout the scan on the basis of the evolving picture. Table
1
provides an overview of the technical aspects of the main sequences and Table
2
highlights strengths and weaknesses for each of them.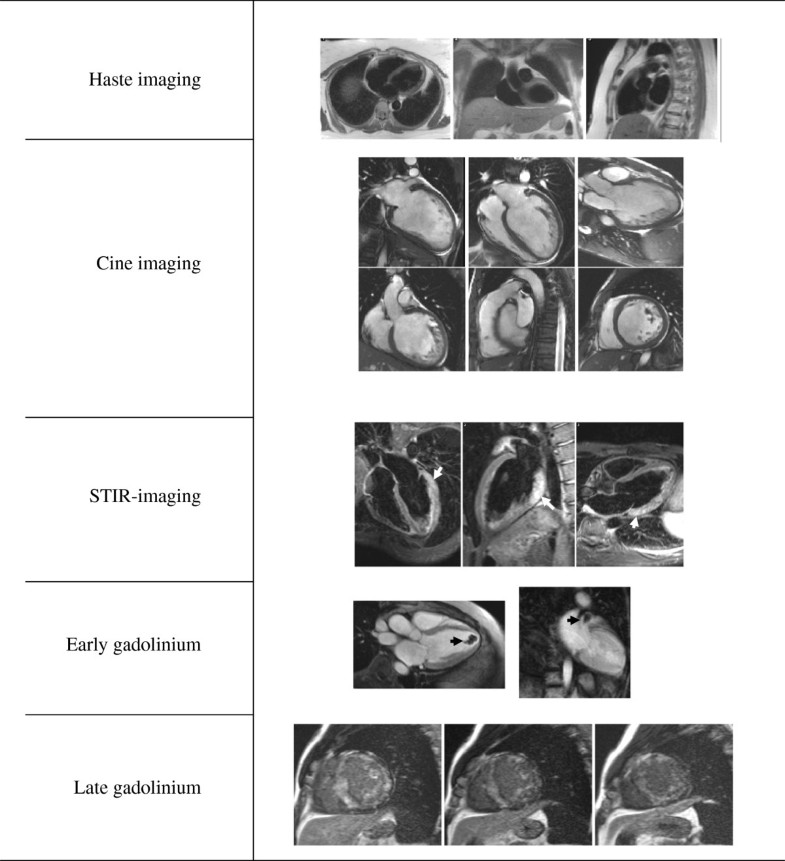 Table 1
Technical characteristics of standard CMR sequences
| Sequence | Pixel size (mm) Read FOV 340 mm | Pixel size (mm) Phase FOV 340 mm | Flip angle (degrees) | TE (ms) | TR (ms) | TI (ms) | Interslice gap (mm) | Slice thickness (mm) | Raw data (lines/cycle or turbo factor) |
| --- | --- | --- | --- | --- | --- | --- | --- | --- | --- |
| Breath-hold balanced SSFP cine | 1.8 | 1.8 | 80 | 1.3 | 40(2.6) | | 3 | 7 | 15 |
| T2W-TSE with dark blood preparation and fat-suppression by STIR (short tau inversion recovery) | 1.3 | 2.3 | | 47 | Alternative cardiac cycles | 170 | 3 | 7 | 15 |
| Early Gd enhancement (inversion-recovery spoiled gradient-echo) | 1.3 | 1.9 | 40 | 1 | Alternative cardiac cycles | 400 | 3 | 7 | 25 |
| Late Gd enhancement (inversion-recovery spoiled gradient-echo) | 1.3 | 1.9 | 40 | 1 | Alternative cardiac cycles | 260-400 | 3 | 7 | 25 |
Table 2
Strengths and weaknesses of standard CMR sequences
Sequence

Purpose

Strengths

Weaknesses

Breath hold balanced SSFP cine

Global regional myocardial function and wall thickness

High SNR (T2/T1) image contrast gives reliable blood: myocardium endocardial border definition based on long T2 of blood

Sensitive to field inhomogeneity (off- resonance banding artefact). Unreliable appearance. ECG-mistriggering/Poor breath hold

T2W-TSE with dark blood preparation and fat-suppression by STIR(short tau inversion recovery)

Oedema, Infiltration

Detection of myocardial fluid content by longer T2 relaxation time

Low SNR

Incomplete blood suppression at endocardial boundary layer

Unreliability due to diastolic cardiac motion ECG mistriggering

Poor breathhold

Stress first-pass myocardial perfusion

Cardiomyopathy related perfusion defects/exclusion of concurrent epicardial coronary artery disease

Higher resolution than SPECT

Incomplete myocardial coverage

"Dark-rim" artefact Cardiac motion during image

Early Gd enhancement (inversion-recovery spoiled gradient-echo

Microvascular obstruction Detection of intracardiac thrombus

High spatial resolution (compared to CMR perfusion)

Dependent on image timing after injection. ECG mistriggering

Poor breath hold

Late Gd enhancement (inversion recovery spoiled gradient-echo)

Myocardial fibrosis

High T1 contrast of diseased myocardium

Image contrast depends on inversion time adjustment and Gad washout. Ghosting from long T1 fluids (can be suppressed).

ECGmistriggering

Poor breath-hold

Real-time or single-shot versions of many sequences above

As above

No breath-holding Tolerates ECG mistriggering

Coarser image resolution.

Cardiac motion during image.
Gross anatomical assessment
Dark-blood imaging using mutislice single-shot spin-echo sequence (Half-Fourier Acquisition of Single-Shot Turbo Spin-Echo, HASTE) in trans-axial, coronal and sagittal planes allows a gross anatomical assessment in under 3 min. Alternatively 10–12 s breathhold images in each of the imaging planes using bright-blood imaging with steady-state free precession sequence (SSFP) can be performed.
Dynamic imaging
Dynamic long-axis and short-axis views of the heart are then acquired using breath-hold cine-SSFP imaging. Cine-CMR is accepted as the gold standard for accurate and reproducible quantification of left and right ventricular volumes, biventricular ejection fraction, and left ventricular (LV) mass obtained through manual planimetry or the use of semi-automated software [9]. Presence of normalised values for CMR dimensions corrected for age, sex and body surface area helps to diagnose subtle ventricular dysfunction with greater accuracy [10]. However, motion or breathing artifacts in sicker patients and irregular rhythms (atrial fibrillation or frequent ectopics) add to the complexity of acquiring high quality cine images, and in some cases real-time cine imaging is performed with an acceptable reduction in resolution providing analysis of ejection fraction (EF), volumes, and mass closely correlating with values obtained using echocardiography and conventional magnetic resonance imaging [11–13].
Non-contrast Tissue characterisation
Specialised sequences allow characterisation of pathological tissue without the need for a contrast agent. The T2-weighted sequence, Short-Tau Inversion Recovery (STIR) is a powerful sequence for imaging oedema suppressing signal from flowing blood and from fat enhancing sensitivity to myocardial fluid content. Long T2 relaxation times of water-bound protons are used to generate a water-specific contrast resulting in high signal intensity of oedematous tissue [14, 15]. STIR imaging can therefore detect acute myocyte swelling and interstitial fluid accumulation [16]. Initially validated in the ischaemic model, its use has been extended to NICMP, particularly myocarditis, stress cardiomyopathy and transplant rejection [17–20].
Pitfalls include low signal-to-noise ratio, surface coil intensity variation, interfering bright signal from stagnant blood, motion artifacts and the subjective nature of interpretation [21, 22]. Some of these issues can be addressed using direct quantification of T2 by mapping techniques or shorter acquisition protocols with single-shot techniques [23, 24]. Hybrid sequences combining turbo spin echo and SSFP have been proposed to eliminate imperfect blood suppression [2].
T1-weighted and turbo-spin echo sequences are useful to assess the pericardium and to look for fat infiltration.
Myocardial T2*-mapping is a unique technique, validated against in-vivo histology, allowing direct identification and quantification of myocardial iron in vivo [25].
Imaging Fibrosis or Infiltration
Myocardial fibrosis or infiltration can be assessed following administration of gadolinium. Gadolinium is an extracellular agent accumulating in areas of interstitial expansion (due to myocardial fibrosis, oedema or infiltration). Three phases can be assessed after gadolinium injection: the first pass (immediate imaging at rest or during stress), early enhancement (first 5 min) and late enhancement (5 to 20 min after injection). First pass can be used for perfusion imaging and is often given during vasodilator stress to detect myocardial ischaemia. Following intravenous injection of gadolinium (0.1-0.2 mmol/kg body weight), the contrast media is followed through the LV at rest and during pharmacologic stress to assess homogeneity of perfusion [26, 27]. Ultra-fast acquisition is essential and protocols are usually based on gradient-echo or SSFP sequences combined with parallel imaging acquiring three to five slices (short-axis and/or long-axis) [28]. First-pass Stress perfusion CMR can visualise inducible perfusion defects occurring at the microvascular level in NICMP as circumferential areas of subendocardial hypoperfusion resolving on resting images.
Early gadoliuium enhancement (EGE) imaging (1–3 min after injection) enables the detection of hypovascular regions such as dark, unenhanced intra-cardiac thrombi, and microvascular obstruction (post myocardial infarction).
Late gadolinium enhancement (LGE) imaging (5–20 min after injection) detects accumulation of contrast in areas of infarction or fibrosis due to slower contrast kinetics and greater volume of distribution in extracellular matrix.
This is performed using inversion recovery Turbo-FLASH gradient echo or phase-sensitive inversion recovery (PSIR) in identical planes to the cine images searching for areas of fibrosis or infiltration. PSIR provides corrected images that are virtually insensitive for pre-pulse delay timing. It allows for a faster acquisition method without adjustment of inversion time and more consistent image quality to the expense of a lower spatial resolution [29, 30]. This is of particular interest in patients having difficulties performing breath-holds or in presence of arrhythmias. PSIR appears as a reliable technique more sensitive for detection of small, diffuse or sub-endocardial lesions due to a better contrast when compared to a standard 2-dimension (2D) or 3-dimension (3D) inversion recovery gradient echo sequence [31, 32].
Using inversion recovery sequences, focal fibrosis is imaged as a localised area of high signal intensity. The extent and pattern of LGE varies according to the underlying pathological process and contributes therefore to establish the correct diagnosis in NICMP (Figure
2
).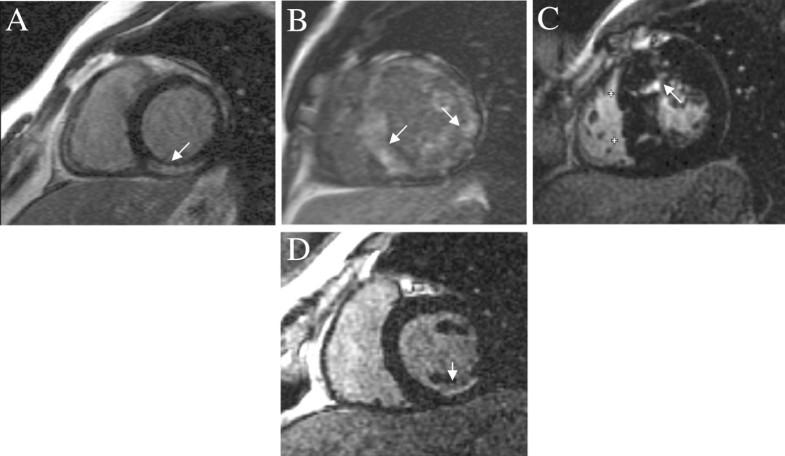 Presence of fibrosis in NICMP is often only identified visually but its extent can be quantified as a percentage of total LV mass using dedicated software [33]. All quantification techniques rely on the fact that LGE makes the scar appear bright and as such can be defined as a signal intensity above normal myocardium with 2 standard deviations (SDs) being advocated by official guidelines. Other techniques are also used with 3, 4, 5 or 6 SDs, manual quantification and the full-width half maximum technique (FWHM) using half of the maximal signal within the scar as the threshold. While the officially recommended 2-SD technique can double the LGE volume compared with manual, FWHM, and 5 or 6-SD techniques, the FWHM technique appeared as the most reproducible method for quantification of fibrosis regardless of etiology (fibrosis due to myocardial infarct or HCM) and compared to ex vivo data [33–35]. However, CMR spatial resolution limits evaluation of microscopic interstitial fibrosis and LGE correlates poorly with collagen volume calculated from endomyocardial biopsies [36]. A promising approach to overcome this limitation relies on the use of T1 mapping [37].
T1 mapping
LGE imaging sequences delineate fibrosis by revealing a relative difference in T1-relaxation times between areas of scar (T1 shortened by accumulation of gadolinium) and normal myocardium (T1 closer to normal as gadolinium is rapidly washed out). T1-mapping techniques work by measuring the absolute T1-relaxation time for all areas of myocardium on a pixel by pixel basis. As the shortening of T1 relaxation time is proportional to the local concentration of gadolinium, this can reveal subtle changes in T1 times due to expansion of the interstitial space with collagen and other fibrous tissue components. Early T1 mapping techniques were very time consuming. A Look-Locker sequence consisting of a gradient echo cine sequence with a nonslice selective inversion pulse after an R wave followed by a segmented gradient echo acquisition was developed [38, 39]. Mean signal intensities obtained both before and at least twice after contrast administration, were plotted against the delay after the inversion pulse, deriving T1 values and allowing calculation of a myocardial gadolinium contrast partition coefficient. The MOdified Look-Locker Inversion recovery pulse sequence (MOLLI sequence) is a popular approach allowing measurement of T1 times in a single breath hold [40, 41]. A Shortened MOLLI (ShMOLLI) sequence has also been recently tested, using sequential inversion recovery measurements within a single shortened breath hold [42, 43].
The local concentration of gadolinium will be affected by several factors including the amount of scar, the rate at which gadolinium is cleared from the body but also by the amount of extracellular fluid available in the body for the contrast to distribute into [44]. With the knowledge of the patient's haematocrit, simple kinetic models allow these corrections to be made and a standardised estimate of the extracellular volume fraction, Ve, (an index of fibrosis if the extracellular space is occupied by scar tissue) to be determined [39, 44].
While T1 mapping can accurately differentiate both interstitial and replacement fibrosis from normal myocardium, it cannot distinguish one type of fibrosis from another [45]. To date very few studies using T1 mapping in the clinical setting are published, but it is hoped that T1 mapping may provide quantitative assessment of diffuse myocardial fibrosis in patients with cardiomyopathies.
Flow quantification
Despite a lower temporal resolution compared to echocardiography, assessment of valvular disease is achievable using CMR velocity mapping with reproducible results [46].
Deformation imaging
CMR myocardial tagging quantifies myocardial deformation, contraction and relaxation in the radial, circumferential and longitudinal directions adding useful information particularly prior to resynchronisation therapy (Figure
3
). This technique and its applications have been recently reviewed [
47
].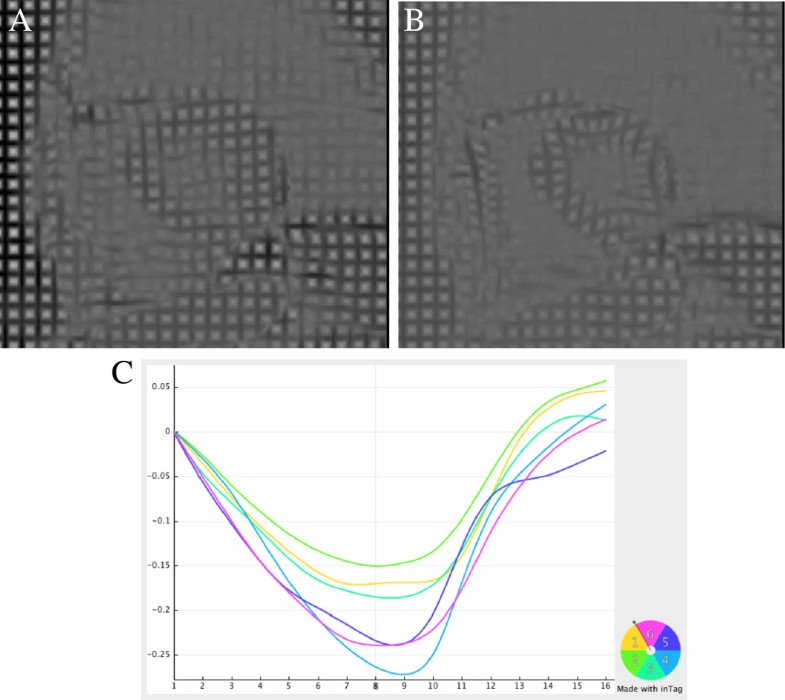 A feature tracking method has recently been made available for the post processing of routinely acquired SSFP cines using inhomogeneities of the tissue as identifiers, which are then identified by software algorithms for analysing regional function. Following manual contouring of the LV endocardial border of the first cine frame, the software automatically identifies and tracks endocardial and epicardial myocardial boundaries through the remaining phases of the cardiac cycle. Although the method has been compared to echocardiographic speckle tracking, it may be better described as 'boundary' tracking when applied to CMR SSFP acquisitions. Potentially derivable parameters include circumferential, longitudinal and radially directed velocity, displacement, strain and strain rate. However, some of these derived measures even more than others require cautious interpretation with respect to both spatial and temporal resolution of cine images, and the design of the software. Feature tracking based measures of global strain of short axis cine slices – essentially the relative change of length of the tracked endocardial boundary – have shown correlation with corresponding global strain measured by CMR myocardial tagging, with reduced values found in patients with Duchenne muscular dystrophy compared with volunteers and appeared as a promising technique to detect wall motion abnormalities during Dobutamine stress CMR [48–50]. However, studies of reproducibility and accuracy of this potentially appealing analysis method have yet to be published, particularly for analyses of regional strain.
Limitations
Amongst limitations of CMR, metallic implants and intracardiac Devices (pacemaker, ICD) represent the only absolute contra-indication, but this will be overcome in the near future by new generation of CMR compatible pacing leads currently in clinical trials. Severe claustrophobia, clinical instability and the first trimester of pregnancy are among relative contra-indications. Even though gadolinium contrast agents are relatively safe, their use is restricted in chronic renal failure (GFR <30 ml/min) due to the small but tangible risk of nephrogenic systemic fibrosis (NSF) which is enhanced by concomitant heart failure [51]. On the basis of current available data, in patients with severe renal failure, the first step is to determine whether a non-gadolinium sequence is available and could provide adequate data. If the clinical benefits of LGE-CMR outweighs the risk of NSF and if no other imaging method can be used to answer the clinical question, following a joint discussion between the referring physician and the patient, stable agents such as gadobenate dimeglumine should be used as the lowest possible dose, avoiding repeat scans within a short time period [52]. Amongst limitations for the use of CMR, the most restrictive issue probably still remains the limited distribution and availability of CMR scanners.
Clinical aspects
Cardiomyopathy is often suspected on the basis of symptoms, an associated abnormal ECG and echocardiographic findings. Following detection of ventricular hypertrophy, dilatation (right or left ventricles) or abnormal wall motion abnormalities after acute chest pain syndromes with unobstructed coronaries, characteristic imaging features on CMR greatly assist in reaching a diagnosis and providing prognostic information. The diagnostic and prognostic abilities of CMR in these various clinical conditions are reviewed. Detection of a hypertrophied LV highlights the differential diagnosis between a physiologic response to pressure overload (aortic stenosis, aortic coarctation, hypertension) or pathological conditions such as hypertrophic cardiomyopathy (HCM), wall thickening due to myocardial infiltration (amyloidosis), or a glycogen storage disease (Fabry's). CMR provides unique complementary information assisting the diagnostic process. The characteristic LGE findings distinguishing each entity are summarised in Table
3
.
Table 3
Differential diagnosis of LV hypertrophy according to LGE pattern
| | HTN | AS | HCM | Amyloidosis | Anderson-Fabry |
| --- | --- | --- | --- | --- | --- |
| Pattern of hypertrophy | Concentric | Concentric | Localised | Concentric | Concentric |
| Localisation of LGE | Any segment | Basal segments | Hypertrophied segments mainly | Circumferential | Basal inferolateral wall |
| Pattern of LGE | Non-specific Focal Non-subendocardial | Non-specific Patchy sub-endocardial or mid-wall | Patchy and/or LV-RV insertion points | Myocardial nulling difficult Diffuse sub-endocardial or sub-epicardial or Mid-wall | Patchy Mid-wall |
Conclusions
Through a wide range of sequences, CMR offers a unique non-invasive tool which should be integral part of the clinical work-up of a cardiomyopathy.
In vivo tissue characterisation remains a major strength of CMR compared to other non-invasive techniques detecting and distinguishing oedema from fat, fibrosis and myocardial infiltration. Its excellent spatial resolution set it above other imaging techniques to analyse RV mophology and detect RV cardiomyopathies and for identification of regional ventricular hypertrophy or dilatation.
Although, CMR provides precious and irreplaceable additional information to standard imaging and invasive methods, it cannot be seen as an alternative to these techniques yet and as a one stop shop but as a unique supplementary method able to characterise abnormal tissue in vivo, allowing pre-clinical detection of disease process and novel parameters for risk stratification.
Declarations
Acknowledgement
This project was supported by the NIHR Cardiovascular Biomedical Research Unit of Royal Brompton and Harefield NHS Foundation Trust and Imperial College London.
Authors' Affiliations
(1)
Cardiovascular Magnetic Resonance Unit, Royal Brompton and Harefield NHS Trust, London, UK
(2)
Cardiology and CMR Unit, Polyclinique Les Fleurs, Toulon, France
(3)
Centre for Cardiovascular Magnetic Resonance, Blackrock Clinic, Dublin, Ireland
(4)
National Heart and Lung Institute, Imperial College, London, UK
Copyright
© Parsai et al.; licensee BioMed Central Ltd. 2012
This article is published under license to BioMed Central Ltd. This is an Open Access article distributed under the terms of the Creative Commons Attribution License (http://creativecommons.org/licenses/by/2.0), which permits unrestricted use, distribution, and reproduction in any medium, provided the original work is properly cited.