Heart valve disease: investigation by cardiovascular magnetic resonance
Journal of Cardiovascular Magnetic Resonance
2012
14:7
Received: 11 January 2012
Accepted: 19 January 2012
Published: 19 January 2012
Abstract
Cardiovascular magnetic resonance (CMR) has become a valuable investigative tool in many areas of cardiac medicine. Its value in heart valve disease is less well appreciated however, particularly as echocardiography is a powerful and widely available technique in valve disease. This review highlights the added value that CMR can bring in valve disease, complementing echocardiography in many areas, but it has also become the first-line investigation in some, such as pulmonary valve disease and assessing the right ventricle. CMR has many advantages, including the ability to image in any plane, which allows full visualisation of valves and their inflow/outflow tracts, direct measurement of valve area (particularly for stenotic valves), and characterisation of the associated great vessel anatomy (e.g. the aortic root and arch in aortic valve disease). A particular strength is the ability to quantify flow, which allows accurate measurement of regurgitation, cardiac shunt volumes/ratios and differential flow volumes (e.g. left and right pulmonary arteries). Quantification of ventricular volumes and mass is vital for determining the impact of valve disease on the heart, and CMR is the 'Gold standard' for this. Limitations of the technique include partial volume effects due to image slice thickness, and a low ability to identify small, highly mobile objects (such as vegetations) due to the need to acquire images over several cardiac cycles. The review examines the advantages and disadvantages of each imaging aspect in detail, and considers how CMR can be used optimally for each valve lesion.
Keywords
Cardiovascular Magnetic ResonanceValve diseaseFlow quantification
Review
Cardiovascular magnetic resonance (CMR) has unique capabilities which can greatly benefit the assessment of the patient with cardiac valve disease. While echocardiography (echo) remains the major imaging modality for assessing valve disease, there are many areas where CMR provides 'added value' to existing assessment and can complement the echo assessment. CMR can also provide a comprehensive 'stand-alone' assessment in some situations, delivering optimal assessment of patients using a combination of several techniques. These include quantifying the severity of the valve lesion, determining aetiology, examining the consequences for the relevant ventricle, and assessment of the surrounding anatomy (e.g. aortic root). Additional information on great vessel anatomy and the presence of myocardial scar (infarction) can also be clinically useful. The modality is used best by harnessing the advantages it brings, rather than attempting to replicate echocardiography or x-ray computed tomography (CT). This review will highlight the optimal use of CMR in valve disease, highlighting the strengths of the technique and also the potential pitfalls when assessing patients with valve disease.
The advantages of CMR in valve disease
Valvular function & anatomy with unlimited imaging planes
Most morphological and functional information is obtained using cine CMR sequences, particularly steady state free-precession (SSFP) sequences with their high contrast between blood pool and surrounding structures (Figure
1
). These have largely replaced spoiled gradient echo sequences, though the latter remain useful on occasions for visualising the extent of flow disturbance in selected cases. The ability to image in any plane allows clear views of all four cardiac valves and their inflow/outflow tracts, irrespective of thoracic anatomy or difficult cardiac anatomy. This is particularly useful for right-sided valves which can be challenging to visualise with echo, particularly the pulmonary valve. An additional advantage is that it facilitates direct measurement of valve orifice area for stenosed valves by planimetry rather than calculation [
1
], and the same technique can occasionally be used for the assessment of regurgitant orifices if required. The anatomical information from CMR cine images can be at least as good as transoesophageal echocardiography, and valvar anatomy and function can often be visualised well with cine images, along with the mechanism of regurgitation, particularly with thin (4-5 mm) slices. There are however several limitations of CMR cine assessment, including a relatively thick imaging slice (typically 5-8 mm) resulting in partial volume effects, and the need to acquire cine images over several cardiac cycles which results in sub-optimal visualisation of small or more chaotically mobile objects such as vegetations. The thin nature of cardiac valves (typically 1-2 mm) makes them particularly prone to partial volume effects due to the slice thickness of CMR images. Care is therefore required in placing image slices perpendicular to the valve plane to minimise these effects and in minimising slice thickness to 4-5 mm, but some aspects of finer valve anatomy may be too difficult to visualise well with CMR. Furthermore, for accurate assessment of the stenotic/regurgitant orifice, positioning the image slice precisely at the valve tips is important and misalignment may result in significant error. Multiple parallel thin image slices in the plane of interest can help to locate the one slice at the optimal position of the valve tips.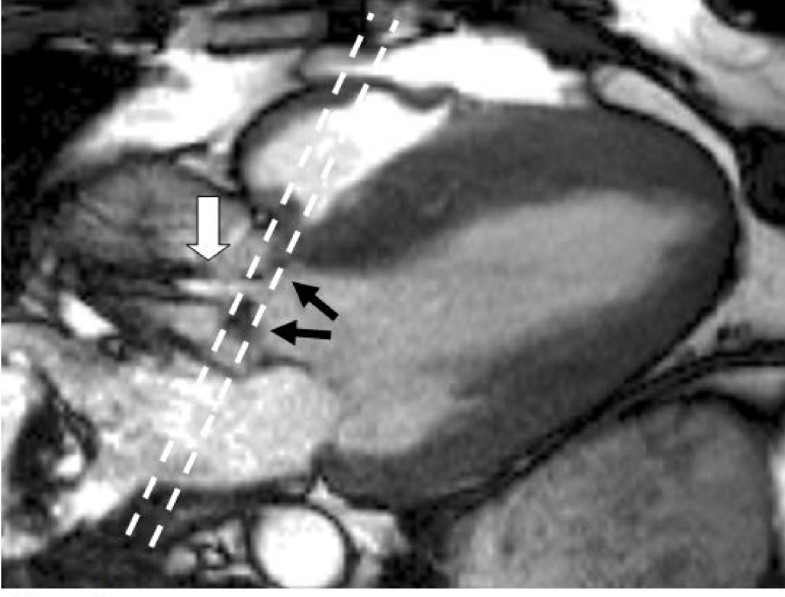 The visual assessment of turbulent flow in stenotic or regurgitant flow jets is also feasible with the cine sequences described above, through visualisation of signal voids due to spin dephasing in moving protons [
2
]. Flow related signal loss seen on SSFP images occurs where voxels span a range of velocities, notably in the shear layers that can surround the more coherent jet core. The location and direction of regurgitant or stenotic jets can be assessed (Figure
2
), which can provide valuable information about the valve lesion. In regurgitant jets, the width of the jet origin and/or the vena contracta provide useful information, with milder leaks having narrower jets in general. Lastly, the cine-visualised flow jets can also assist in planning the placement of subsequent velocity-encoded images. Signal voids seen on SSFP imaging are however substantially related to the acceleration of blood rather than the velocity alone, and may underestimate the degree of flow disturbance when assessing the degree of regurgitation. Narrow (mild) jets may be difficult to visualise due to the lack of shear layers at the edge of the jet. Gradient echo sequences are more sensitive than SSFP sequences for evaluating the presence and magnitude of turbulent jets [
3
], and this sensitivity is increased with lengthening echo time [
4
,
5
]. Assessing the severity of regurgitation with visual assessment of cine images requires care and caution however, as the technique is subject to slice positioning, partial volume effects, the insensitivity of SSFP sequences, and to other sequence parameters. This method can provide an approximate guide to the degree of regurgitation, and distinguishing mild and severe regurgitation is feasible, but finer differentiation of severity is rarely possible.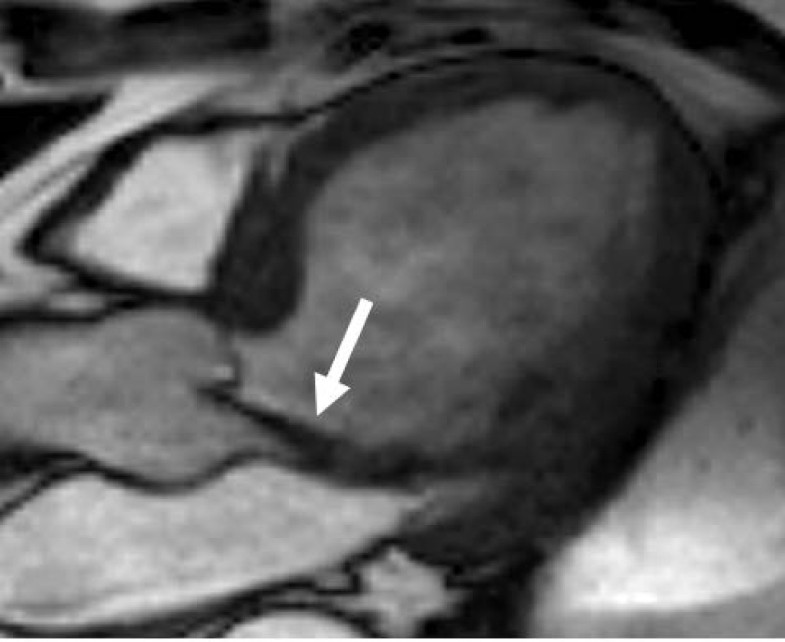 Accurate and reproducible ventricular volumes, function and mass
Accurate measurement of left and right ventricular volumes, function and mass are vital for assessing the impact of valve lesions on the ventricles. Excessive dilation or reduced ventricular function are strong indicators of a poor prognosis [6], and reliable measurement is important. CMR is the most accurate and reproducible technique for assessing both left and right ventricular volumes & mass [7–9], and newer steady-state free-precession sequences appear to be even more accurate than older gradient echo cine sequences [10, 11]. RV volumes are particularly useful as these are difficult to achieve by other methods, though accurate measurement is more difficult than for LV volumes. The role of left ventricular (LV) mass in valve disease has not been studied as extensively as volume, possibly due to the inaccuracies of measurement by M-mode or 2-dimensional echo [12], and LV mass may become a useful measure in the future, particularly for patients with aortic stenosis. Reproducibility is important for serial assessment of ventricular size, as patients with valve lesions are often monitored for many years if asymptomatic before symptoms and/or ventricular deterioration occur. CMR is highly reproducible [13], and being a 3-dimensional technique, is more sensitive to changes than one or two-dimensional LV diameters [12]. CMR is also less prone than echocardiographic diameters to variations in measurement position, which can occur, despite standard guidelines [14]. The accuracy of CMR is, however, dependent on correct placement of the basal ventricular image slice, and careful contour placement during post-processing is crucial, with correct differentiation of atrial and ventricular chambers, especially for the right ventricle. Significant error can occur if the basal slice is incorrectly included/excluded from ventricular volumes. Post-processing software that includes long axis visualisation of the valves to ensure appropriate slice inclusion significantly aids accuracy. CMR-derived ventricular stroke volumes can also be used to quantify mitral and tricuspid regurgitation, either in conjunction with flow measurement or with volume data alone if the valve regurgitation is isolated [15] - see below, but the issues about accuracy of contour placement still apply.
Flow and velocity quantification
The ability to quantify flow directly using through-plane phase contrast velocity mapping [
16
] is a unique advantage of CMR, and does not rely on calculation from complex equations, as echo or invasive catheterisation techniques require. The technique exploits the property of protons moving in a magnetic field gradient, in which they acquire a shift in the phase of their rotational spin as compared with stationary protons, and the magnitude of this phase shift is proportional to their velocity. By producing images from the phase information, velocity can be measured [
17
], and is visually displayed in greyscale images (Figure
3
a). Flow is derived from through-plane velocity maps by integrating the velocity of each pixel and its area over time, typically a single cardiac cycle (Figure
3
b). CMR flow measurement shows good accuracy in
in-vitro
studies and it correlates well with invasive
in-vivo
measurements [
18
–
22
].
In vivo
studies are hampered by the lack of a true 'gold standard' technique for comparison - invasive measures of flow rely on complex calculations and assumptions which may not hold true. The temporal resolution of CMR flow measurement is typically 25-45 msec, which is lower than for continuous wave Doppler velocity measurements in echo, but is good enough for most flow and velocity measurements. Flow measurement is however critically dependent on a homogenous magnetic field, and ensuring the image slice is at the magnet isocentre is important for minimising error. Despite this, phase offset errors due to eddy currents in the magnetic field can still occur, affecting background flow measurements. These are likely to be worse with newer breath-hold sequences due in part to faster gradient switching, and these sequences appear to have poorer accuracy than non-breath-hold sequences [
23
,
24
]. Background flow correction using phantoms can correct the majority of the error [
23
,
24
], and is important for accuracy [
25
]. The majority of the validation work has been carried out using older non-breath-hold flow sequences, and these are recommended for accurate flow measurement due to the lower background offset error and better validation, particularly if phantom correction is not used. The background offset errors are also worse in very oblique imaging planes [
25
], and using imaging planes closer to the transverse body plane is helpful [
25
], where feasible.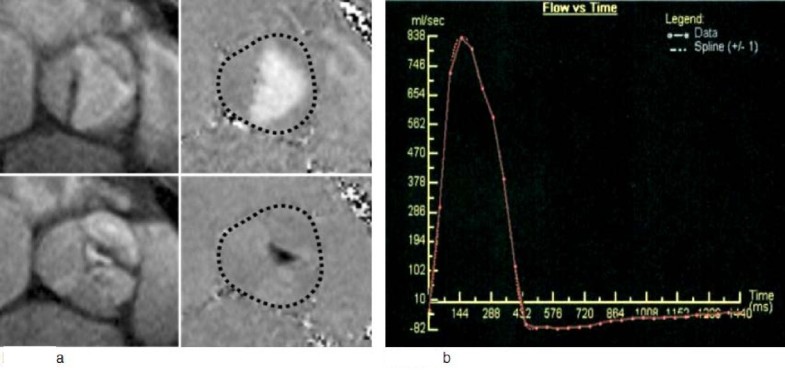 Velocities can also be assessed with either 'through-plane' velocity mapping (as used for flow above) or 'in-plane' phase contrast sequences, measuring velocity within the plane of the slice (Figure
4
). The in-plane sequences can demonstrate the origin and direction of a jet, and can be useful for visualising the site of stenosis and measuring velocity along the course of a jet, or can assist in planning the subsequent perpendicular or 'through-plane' slice. In-plane sequences may be less accurate however for measuring velocity in a stenotic lesion, particularly peak velocity, for a number of reasons. Due to the image slice thickness (typically 5-7 mm relative to a stenotic jet width of 2-4 mm), they are subject to partial volume effects, in which several velocities occur within a single voxel and an averaged phase shift is measured [
26
]. The temporal resolution, while reasonable (typically 20-25 msec), is low when compared to fast-changing jet velocities (by comparison, continuous wave Doppler echo temporal resolution can be ~2 msec), and the true peak velocity may be missed. Lastly, the accuracy of CMR velocity measurement in high velocity jets is reduced, particularly with velocities above 3.5-4 m/sec [
21
,
22
]. This is due to signal loss from turbulence [
26
], and phase shift errors due to fast acceleration and intravoxel dephasing. Utilising sequences with a very short 'echo-time' (~2 msec) can reduce these errors [
22
] and future applications may use these 'ultra-short' echo time sequences. Narrow, high velocity flow jets (e.g. severe aortic stenosis) are thus especially affected, and the most severely stenotic jets may be too narrow and turbulent for accurate velocity measurement. Through-plane velocity mapping sequences may reduce some of the errors, particularly partial volume effects, as they take advantage of the better within-plane image resolution (typically ~1 mm), to cope with narrow jets. They are thus the preferred method for accurate velocity measurement, though the acceleration & turbulence errors still apply and the temporal resolution is similar. The highest velocity narrow jets may still be too difficult to measure however. Through-plane velocity measurement relies on the plane being placed at the site of maximal velocity (if peak velocity is desired), which is why in-plane velocity mapping to guide placement of the through-plane image can be helpful, unless the site of maximal velocity is predictable. Fortunately, background phase offset errors only result in a small change in the velocity of individual voxels (as opposed to moderate differences when summed for flow quantification), so do not substantially affect velocity measurement.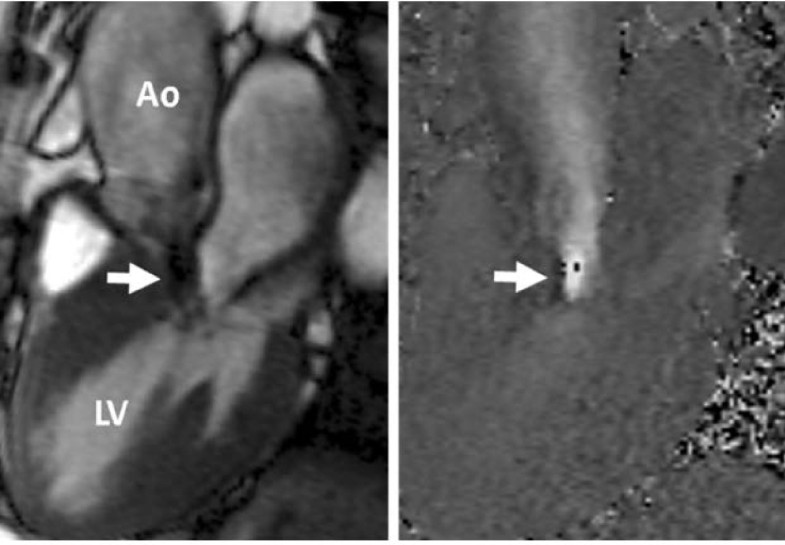 In addition to flow quantification, recently developed 3-dimensional in-plane CMR flow sequences can measure velocities in 3 dimensions simultaneously [27, 28], allowing the visualisation of complex flow patterns. Future work may examine the utility of this technique for valve lesions and other areas of clinical utility.
Right-sided valve lesions
The pulmonary valve
The pulmonary valve and right ventricular outflow tract can be difficult to assess with echo, due to several factors. The location of the valve and outflow tract immediately behind the sternum makes it difficult to position the echo probe adequately to visualise the area. The qualitative echo assessment of pulmonary regurgitation is also less robust than for aortic regurgitation, and grading regurgitation severity can be difficult. Thirdly, the right ventricle can be difficult to assess, particularly for volumetric assessment, due to its unusual shape. CMR is therefore particularly valuable for assessing the pulmonary valve, with its combination of free choice of imaging planes, velocity & flow assessment, and accurate assessment of RV anatomy and volumes. Despite the very thin nature of the normal pulmonary valve, making it difficult to visualise with CMR, these other advantages are considerable, and CMR should be considered the 'Gold standard' for assessment of the pulmonary valve and RV outflow tract.
Pulmonary stenosis
The excellent visualisation of the RV outflow tract with CMR facilitates easy identification of the site and severity of pulmonary stenosis. An RV outflow tract view (usually an oblique sagittal plane), including the proximal pulmonary trunk and a very fore-shortened right ventricle, is ideal (Figure
12
). Care is required however to ensure the outflow tract remains in the plane during the whole cardiac cycle, due to the significant long axis motion of the RV. Acquiring a cine image in a more horizontal plane through the RVOT, perpendicular to the first (imperfect) RVOT view, can help plan a subsequent improved RVOT view throughout the whole cardiac cycle. A qualitative assessment of severity can be made from the cine views, by visualising the valve motion and stenotic jet. Quantitative assessment is similar to that for aortic stenosis, and direct planimetry of the valve orifice from a cine image through the valve tips is the preferred method for assessing severity. Peak velocity can also be measured, as for aortic stenosis, though has similar limitations, particularly for high velocity jets. Identifying sub-valvar and supra-valvar stenosis is straightforward with the long axis views through the outflow tract, and in-plane velocity mapping in these planes can be helpful in identifying the point of maximal velocity where doubt remains. Lastly, RV mass and function can be assessed to determine the effect on the RV, and any concomitant pulmonary trunk or branch artery stenosis can be identified with either a thin-slice SSFP anatomical stack or MR angiography of the pulmonary arteries.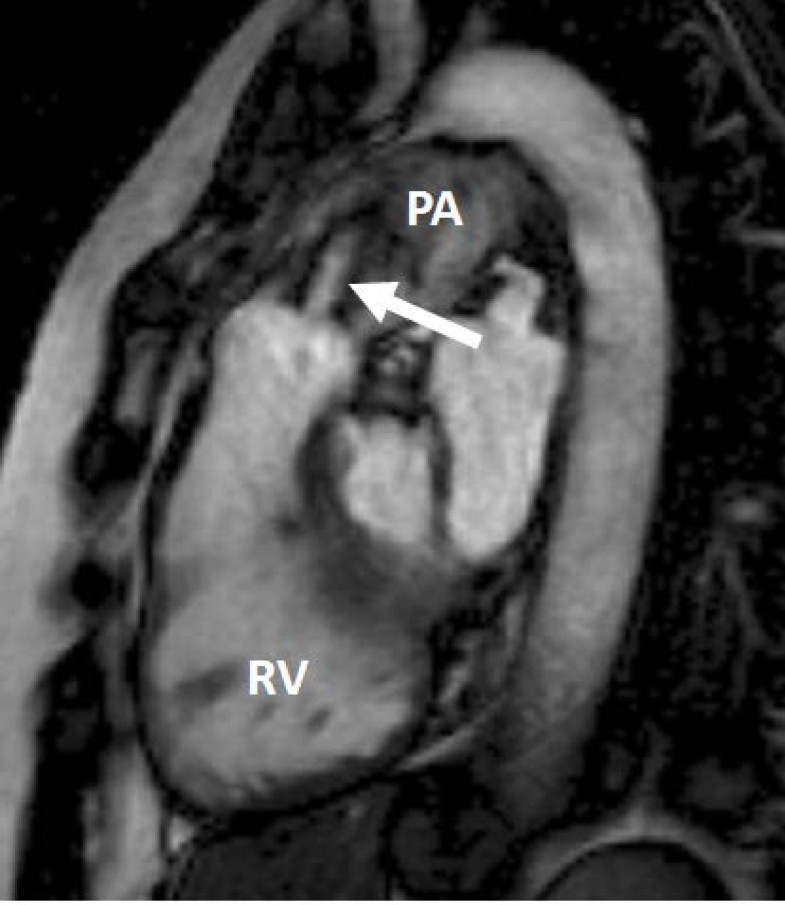 Pulmonary regurgitation
Trivial or mild pulmonary regurgitation (PR) is common in normal subjects (~30% of the population [57]), but rarely of importance. More significant degrees of regurgitation are usually related to congenital heart disease, with the largest group being patients with repaired tetralogy of Fallot, who commonly have significant residual PR [58–60]. CMR has revolutionised the investigation and follow up of such patients, as it accurately assesses two important aspects - the quantity of regurgitation and RV volumes/function [61], and is the method of choice for examining PR in this patient group.
The assessment is similar in general to aortic regurgitation. RV outflow tract cine images can give an idea of anatomy, but as pulmonary pressures are lower than systemic, the degree of turbulence from PR is often lower and may be poorly visualised on cine images, especially SSFP (Figure
13
). In-plane phase contrast velocity mapping sequences are better for visualising the regurgitant jet (Figure
13
). Accurate quantification can be performed using through-plane velocity mapping, with the image slice placed just above the pulmonary valve (Figure
13
). This method compares well to quantification by comparing ventricular stroke volumes [
59
], correlates with echocardiographic parameters [
62
], and a regurgitant fraction ≥40% has been considered severe [
59
]. Measuring pulmonary flow is especially susceptible to the problems of background flow offset errors however [
25
], and attempts should be made to minimise these wherever possible. This includes choosing image planes close to the transverse view (where appropriate), non-breath-hold flow sequences, and background correction where possible. Accurate measurement of RV volumes and function are particularly important, and can help guide the timing of valve replacement [
60
,
63
]. Excess RV volume loading can also be inferred from abnormal diastolic motion of the ventricular septum towards the LV in diastole, best appreciated on short axis ventricular cine images. The optimal CMR thresholds for recommending surgery are uncertain, but in adults with severe chronic PR following tetralogy of Fallot repair, a recent retrospective study noted that an RV end-diastolic volume index < 160 mL/m
2
resulted in a greater chance of normalisation of RV dimensions after pulmonic valve replacement [
64
]. Studies to assess the optimal clinical use of CMR quantification and the optimal thresholds for intervention are on-going, and may ultimately reduce the long term RV dysfunction that can result [
60
,
65
].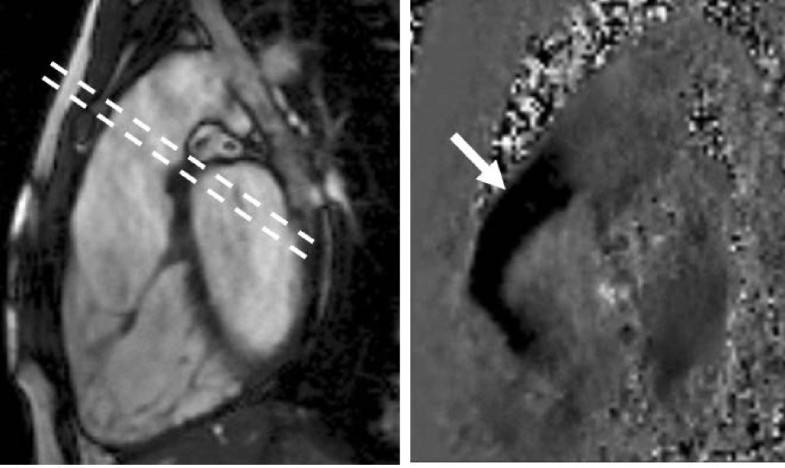 Percutaneous pulmonary valve replacement
Percutaneous pulmonary valve replacement using a stent-valve is increasing in popularity, and accurate sizing and anatomy of the pulmonary outflow tract is important for determining suitable patients [66, 67]. CMR provides the required detail, in addition to accurate assessment of the valve lesion itself, and is invaluable in the assessment of patients for this procedure [66]. Despite the metal content of the stents, follow-up flow imaging can still occur above & below the stent, and some newer nitinol stents can allow flow assessment within the stent [68], though the accuracy is more uncertain.
The tricuspid valve
Tricuspid regurgitation
CMR offers similar capabilities for the assessment of tricuspid regurgitation (TR) as for mitral regurgitation. SSFP cine sequences are used to visualise the anatomy and function of the leaflets. The horizontal long axis view provides a good overview, but multiple contiguous transverse images through the valve can often provide additional useful information, particularly for abnormal leaflet morphology such as in Ebstein's anomaly. Visualising the jet is difficult on SSFP sequences due to the lower shear and turbulence, but qualitative assessment of the TR jet can be achieved with in-plane velocity mapping in a long axis RV view (Figure
14
). Wider jets (especially > 7 mm at the vena contracta) suggest more severe tricuspid regurgitation. The regurgitant orifice can sometimes be assessed directly, in a similar fashion to mitral regurgitation, with a cine image through the leaflet tips in systole (Figure
15
). Through-plane velocity mapping in this plane can also aid in visualising the size of the regurgitant orifice by visualising the flow jet in cross section. This allows assessment of the regurgitant orifice area, though thresholds for guiding severity grading are not yet available. The 'diameter' of the regurgitant orifice can be assessed (as per echo protocols) but this is only an approximate guide as the regurgitant orifice is often non-circular. Again, this may be inferior to quantification of the regurgitation.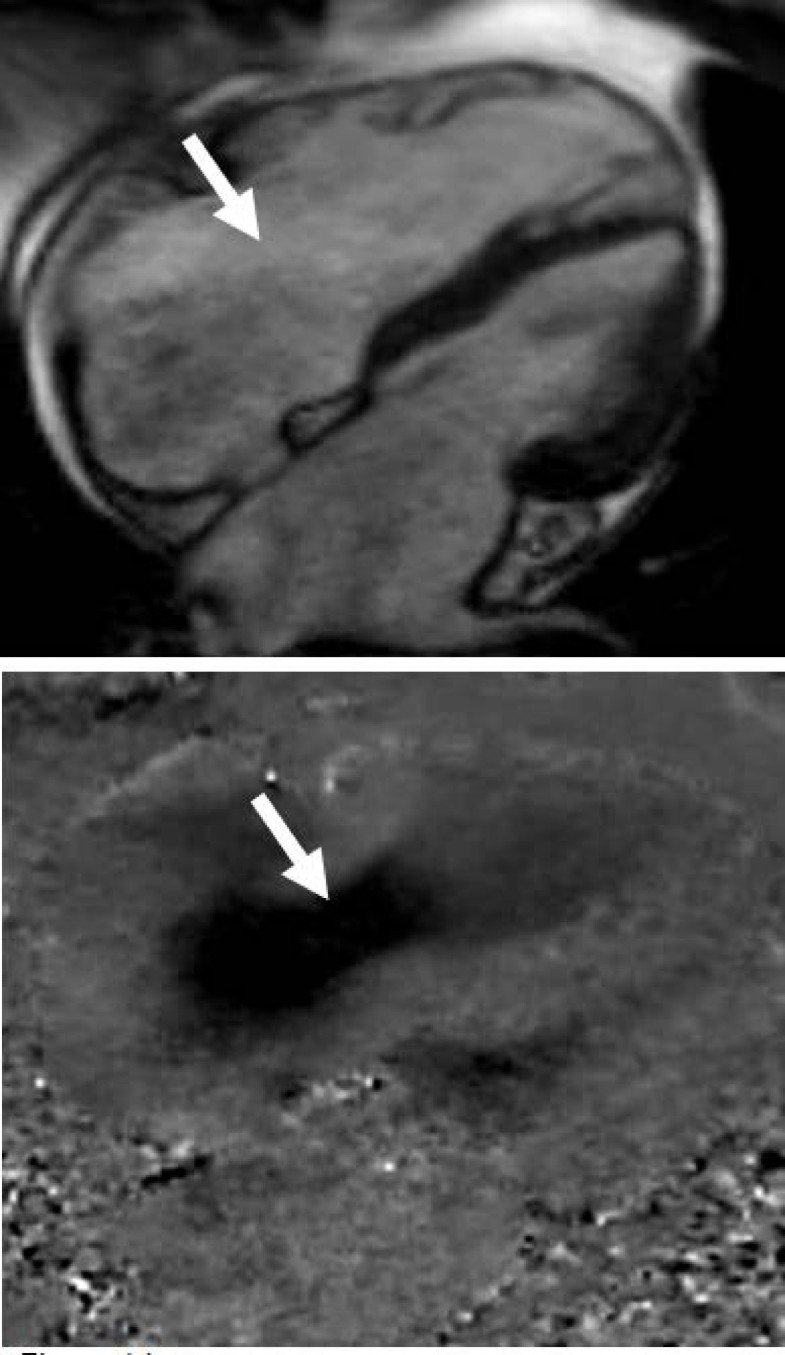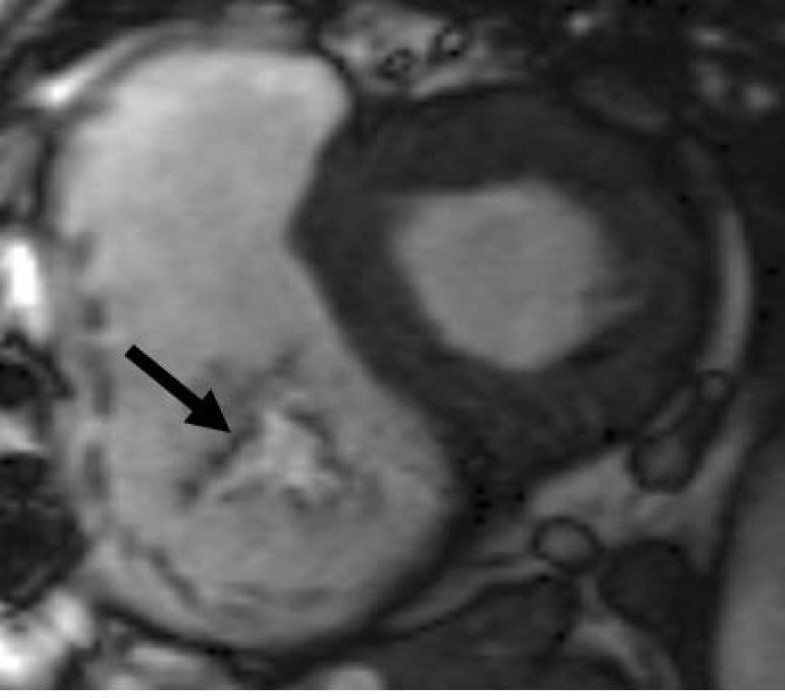 Quantification can be achieved using pulmonary flow measurement (as acquired for pulmonary regurgitation), combined with RV stroke volume to calculate the regurgitant volume (= RV stroke volume - pulmonary forward flow) and the regurgitant fraction (TR/RV stroke volumes × 100%) [69], in much the same way as for mitral regurgitation. The same limitations apply, as combination MR techniques are used to calculate regurgitation quantity, and care is required with both the flow sequence and RV contouring, which can be especially difficult. Accuracy of the flow sequence in particular is also reduced in very irregular rhythms - not uncommon with TR. Quantifying the TR can also be assessed using the difference in ventricular stroke volumes if only a single valve leak is present [70], with the same issues about the need for accurate contour placement as in MR.
Patients with abnormal placement of the tricuspid valve (Ebstein's anomaly) often present a challenge for assessing true RV volumes & function, as well as the extent of tricuspid regurgitation, due to the difficulty of identifying the true ventricle on short axis images. Good post-processing software which allows identification of the valve position in the long axis views can help considerably with this, and CMR can produce accurate assessments which aid management [71, 72].
Tricuspid stenosis
Although extremely rare, and not routinely assessed with CMR, this valve lesion can be examined when required. Valve area can be measured by placement of an image slice through the valve tips in diastole, as for mitral stenosis, and forward velocity through the valve can be measured, though this parameter is perhaps less useful.
Multiple valve lesions
CMR can be used to assess patients with multiple valve lesions, obtaining a detailed assessment of the severity of each component whether these occur in the same valve (i.e. mixed valve disease) or in different valves. As an extreme example, a patient with both mixed aortic and mixed mitral valve disease could have the opening area of each valve measured by direct planimetry with cine imaging to assess stenosis, the aortic regurgitation quantified from the diastolic (regurgitant) flow above the aortic valve and the mitral regurgitation quantified by subtracting the systolic (forward) flow above the aortic valve from the LV stroke volume. LV volumes and function would also be assessed. In this way, a comprehensive assessment can be undertaken.
Prosthetic valves
Despite perceived contraindications, all prosthetic heart valves are safe in the MR scanner at 1.5 T and the vast majority are safe at 3T (not all have been tested) [
73
,
74
]. Even for mildly ferromagnetic valves, the forces exerted on the valve by the scanner are negligible when compared to those occurring with each heart-beat. Most valves produce an artefact, though the size is variable - bi-leaflet tilting discs have a smaller artefact than older ball & cage valves, though some bioprosthetic valves have significant amounts of metal in the frame which can produce a larger artefact. Prosthetic heart valves can even be assessed using CMR, including flow patterns and anatomy around the valve [
75
,
76
] (Figure
16
). Some bioprosthetic valves can have the opening of the leaflets assessed by SSFP cine imaging with good accuracy [
77
], though not all are amenable to this. The leaflet motion of mechanical valves is not usually amenable to CMR visualisation due to the considerable artefact and the lack of signal from the valve leaflets. However, reasonable visualisation of leaflet motion can sometimes be obtained in some tilting disc valves with careful image positioning perpendicular to the leaflet hinge line. The motion of the discs may be seen from the moving signal void, but this technique is far less precise than x-ray fluoroscopy. The flow pattern of prosthetic valves can however usually be assessed using through-plane velocity mapping, with the image slice placed downstream of the signal void artefact. Bioprosthetic valves have a central flow jet similar to native aortic valves, while bi-leaflet tilting disc valves have a characteristic flow pattern (Figure
17
), reminiscent of the profile of a Star Wars™ TIE (Twin Ion Engine) fighter.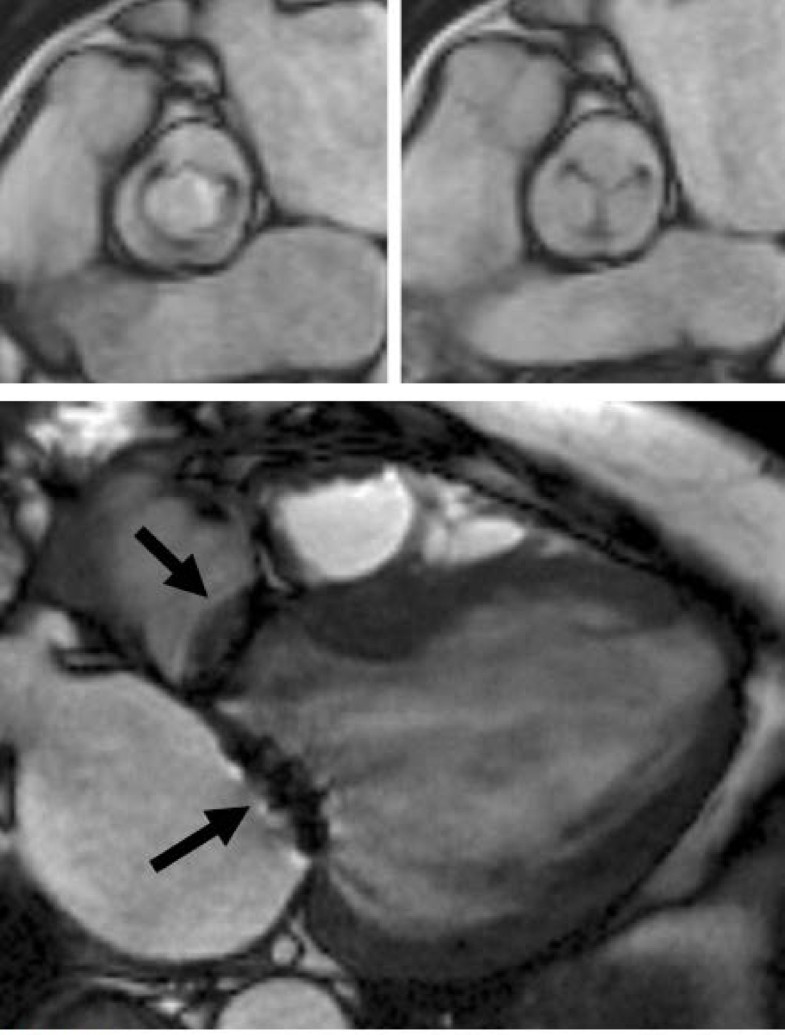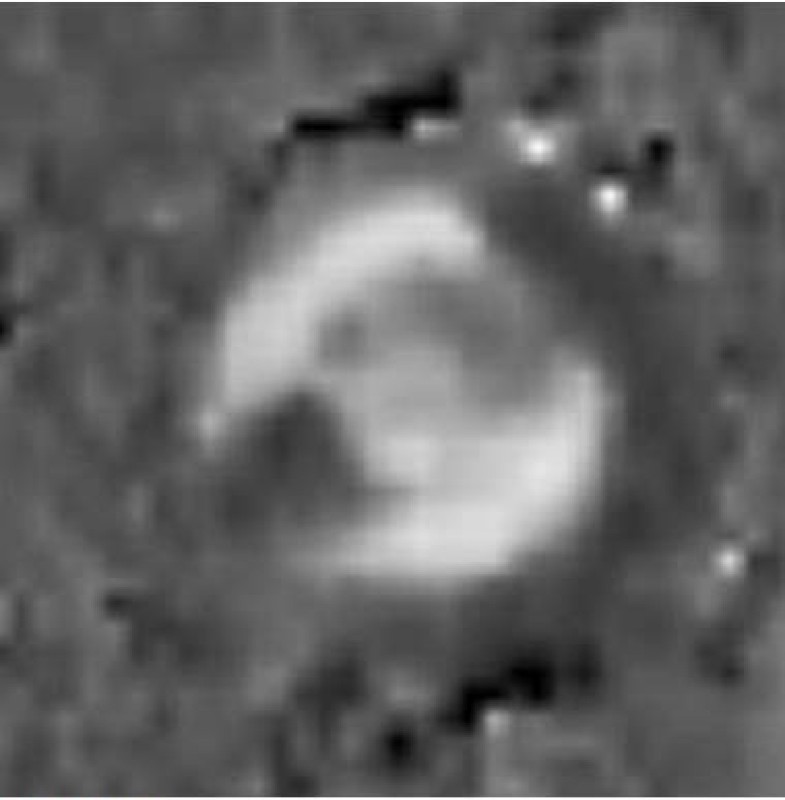 Prosthetic valve dysfunction can also be assessed. If one leaflet of a bi-leaflet tilting disc valve fails to open properly, one side of the flow pattern will be missing and this may be identified with CMR. Paraprosthetic leaks can be visualised with careful image positioning, and can even be quantified with careful through-plane velocity mapping. While less conventional than other imaging modalities, these techniques can be extremely helpful in selected patients. CMR is also particularly good for assessing the anatomy of the aortic root around the valve, including grafts and valve-graft conduits, and any dissection or false aneurysm that may be present.
Limitations
Arrhythmias
Irregular cardiac rhythms degrade image quality, which affects the assessment of ventricular function, though the effect on this is usually small. The accuracy of flow measurement can also be reduced [54] as flow sequences are acquired over several cardiac cycles (typically 10-12), with data acquired in a complex manner, and reconstructed based on the assumption of a regular rhythm. In subjects with an irregular rhythm, the complexity of the data acquisition means that although acquired over several cardiac cycles, flow is not averaged over these, as might be expected. Where the beat-to-beat variability is small (e.g. atrial fibrillation with a controlled rate), these errors are usually not clinically significant [54]. Very irregular rhythms however (e.g. uncontrolled atrial fibrillation, multiple ventricular ectopics) can present a challenge, particularly to acquiring accurate flow data. Intelligent planning of the timing of data acquisition to the ECG can offset some of the problems, but some patients still present a challenge and caution should be exercised in interpreting the flow data in these. Cine imaging may be more reliable as it is more amenable to intelligent ECG gating and is less affected by arrhythmias, particularly during systole. Ventricular volumes vary with differing heart rates due to differential filling, and these physiological changes do of course still occur, and result in slight blurring of the myocardial borders. The result is an approximate averaging of the volumes over the several cardiac cycles of image acquisition, which is usually acceptable. Flow imaging may be improved with the newer ECG gating techniques for arrhythmias, which typically omit cardiac cycles outside a defined range.
Haemodynamic assessment
One limitation that remains with CMR is the inability to measure directly the pressure inside a vessel or cardiac chamber - a limitation of all imaging modalities. As for echocardiography, CMR can measure velocity across a stenosis and derive a pressure drop from this, but absolute pressure quantification remains elusive. Cardiac catheterisation remains the most accurate method for assessing this. One paper has identified how CMR may indirectly indicate pressure, by examining the complex flow patterns in the pulmonary artery using 3-dimensional flow imaging [78]. The paper suggested that pulmonary pressure (measured invasively) was strongly linked with the type of flow pattern in the main pulmonary artery. The data requires further validation but indicates the novel approaches to assessment that CMR may bring in the future.
Conclusions
CMR can provide a comprehensive assessment of valvular heart disease, including quantification of valve regurgitation and other flows, and accurate cardiac volumes and mass for assessing the effect on both ventricles. Combined with the ability to image all areas of the heart (including difficult areas such as the right ventricle and pulmonary valve), it is an excellent adjunct to echocardiography for investigating patients with valve disease. Further studies of clinical outcome, using quantitative CMR data to guide management, are needed to enhance it as a strong tool for guiding clinical practice.
Author's information
SGM has 15 year's experience of all areas of cardiovascular magnetic resonance, in addition to many years of echocardiography and clinical cardiology. He is the clinical lead for cardiac imaging in a major tertiary centre university hospital in Oxford, UK, and is part of Prof. Stefan Neubauer's acclaimed CMR research group. His clinical and research interests focus on valvular and aortic disease.
Authors' Affiliations
(1)
Consultant Cardiologist, John Radcliffe Hospital, Honorary Senior Clinical Lecturer, University of Oxford Centre for Clinical Magnetic Resonance Research, Oxford, UK
Copyright
© Myerson; licensee BioMed Central Ltd. 2012
This article is published under license to BioMed Central Ltd. This is an Open Access article distributed under the terms of the Creative Commons Attribution License (http://creativecommons.org/licenses/by/2.0), which permits unrestricted use, distribution, and reproduction in any medium, provided the original work is properly cited.