Left ventricular mass by cardiac magnetic resonance imaging and adverse cardiovascular outcomes in patients treated with anthracycline-based chemotherapy
Journal of Cardiovascular Magnetic Resonance volume 14, Article number: O30 (2012)
1277 Accesses

4 Citations
Summary
LV mass by CMR is a powerful predictor of adverse cardiovascular outcomes in patients treated with anthracyclines.
Background
Late gadolinium enhancement (LGE) is a predictor of adverse outcomes in patients. However, limited data exist on the role of LGE, the characteristic CMR findings, and the prognostic variables in patients who develop a cardiomyopathy after treatment with anthracyclines.
Methods
LGE-CMR imaging was performed in patients with stage B and C heart failure after anthracycline-based chemotherapy. We assessed the association between CMR, EKG, echocardiographic, serum, and clinical variables with adverse outcomes (cardiovascular death and admission for heart failure).
Results
We performed a clinically-indicated CMR study on 50 patients (52% male, mean age of 49 ± 16 years, anthracycline dose of 286 ± 89 mg/m2, and ejection fraction of 38 ± 9%) with AC-mediated cardiomyopathy. Patients presented a median of 45 months after chemotherapy and were followed for a median period of 28 months. LGE was an uncommon finding (3 patients, 6%). There was a strong inverse association between anthracycline dose and indexed left ventricular mass by CMR (r = -.75, p < 0.001, Figure 1). In univariate analysis, indexed LV-mass by CMR demonstrated the strongest unadjusted association with adverse events (hazard ratio: 0.75, chi-squared 26.2, p < 0.001). In a multivariable model, indexed LV-mass demonstrated the strongest association with the primary outcome (Figure 2).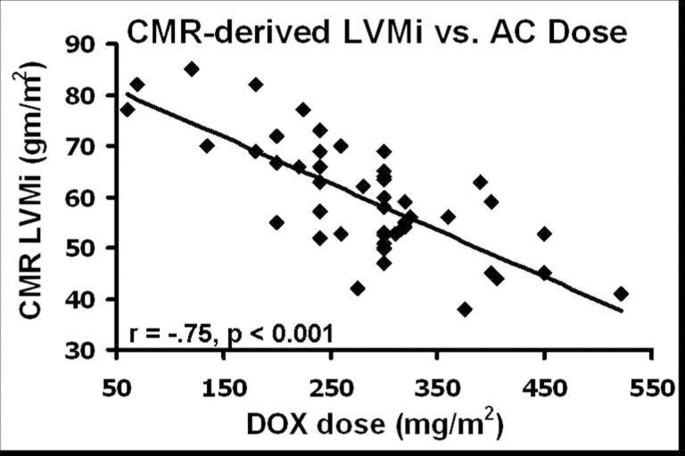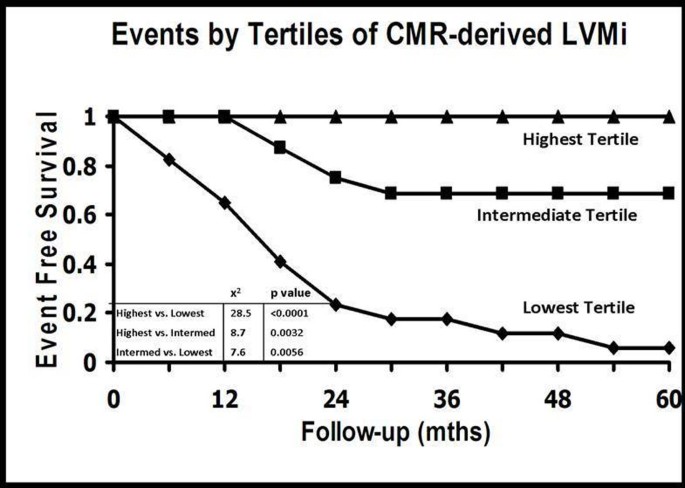 Conclusions
Residual LV-mass measured by CMR is a powerful predictor of subsequent adverse cardiovascular events in patients with anthracycline-induced cardiotoxicity.
Funding
Dr. Neilan is supported by an NIH T32 Training Grant (T32HL09430101A1).
Rights and permissions
This article is published under license to BioMed Central Ltd. This is an open access article distributed under the terms of the Creative Commons Attribution License (http://creativecommons.org/licenses/by/2.0), which permits unrestricted use, distribution, and reproduction in any medium, provided the original work is properly cited.
About this article
Cite this article
Neilan, T.G., Pena-Herrera, D., Coelho-Filho, O.R. et al. Left ventricular mass by cardiac magnetic resonance imaging and adverse cardiovascular outcomes in patients treated with anthracycline-based chemotherapy. J Cardiovasc Magn Reson 14 (Suppl 1), O30 (2012). https://doi.org/10.1186/1532-429X-14-S1-O30
Published:

DOI: https://doi.org/10.1186/1532-429X-14-S1-O30
Keywords