Fractal frontiers in cardiovascular magnetic resonance: towards clinical implementation
Journal of Cardiovascular Magnetic Resonance
2015
17:80
Received: 8 April 2015
Accepted: 5 August 2015
Published: 7 September 2015
Abstract
Many of the structures and parameters that are detected, measured and reported in cardiovascular magnetic resonance (CMR) have at least some properties that are fractal, meaning complex and self-similar at different scales. To date however, there has been little use of fractal geometry in CMR; by comparison, many more applications of fractal analysis have been published in MR imaging of the brain.
This review explains the fundamental principles of fractal geometry, places the fractal dimension into a meaningful context within the realms of Euclidean and topological space, and defines its role in digital image processing. It summarises the basic mathematics, highlights strengths and potential limitations of its application to biomedical imaging, shows key current examples and suggests a simple route for its successful clinical implementation by the CMR community.
By simplifying some of the more abstract concepts of deterministic fractals, this review invites CMR scientists (clinicians, technologists, physicists) to experiment with fractal analysis as a means of developing the next generation of intelligent quantitative cardiac imaging tools.
Keywords
Cardiovascular magnetic resonance
Segmentation
Image processing
Fractals-irregularity and complexity in nature
The earliest formal references to fractal geometry were made by Leibniz [1] in the mid-1600s. Centuries later, the first fractal prototype was abstractly introduced (only in passing) by German mathematician Georg Cantor in 1883. But the word 'fractal' did not come into existence until at least one century later. Inspired by the Latin fractus, meaning "broken", the term was first coined in 1975 by Benoit Mandelbrot [1] to describe complex patterns that were self-similar across infinite scales. A fractal object is defined as a rough, fragmented, or detailed geometric shape that can be subdivided into parts, each of which is a reduced copy or approximate copy of the whole, where their self-similarity may be exact, quasi, or statistical.
Theoretical mathematical fractals are indeed infinitely self-similar. We can generate limited practical graphical representations of them by repeating a pattern at different scales in a recursive or iterative loop or by recursion of algebraic equations. Algebraic fractals typically require thousands or millions of iterations before their fractal nature is realised, and thus are usually visualised using computer software. Not surprisingly, widespread appreciation of fractal complexity developed only after the advent of the computer in the 1980s and thanks to Mandelbrot's work [1].
Natural quasi fractal objects, unlike theoretical fractals but much like graphical representations of fractals, are scale invariant across only a limited range of scales. We are surrounded by natural objects that iterate, branch or spiral, spanning a wide range of scales. Some large-scale examples in the physical world include recursing coastlines, branching tree and river networks, and spiralling galaxies (Fig.
1a
) and hurricanes. Some small-scale examples in biology include the spirals of a nautilus and whorls of a seashell (Fig.
1b
). Small-scale examples in the human body include the lattices of cancellous bone (Fig.
1c
), neuronal dendrites, tumor growth patterns, and specifically for the cardiovascular system, branching vascular networks (Fig.
1d
), endocardial trabeculae, and the quasi-fractal ordering of collagen and fibrosis in the diseased myocardium as seen by micro-histology [
2
].

In cardiovascular magnetic resonance (CMR), much of what we see, report, measure and compute in everyday clinical practice also has some quasi-fractal property and is amenable to description and quantification by fractal mathematics, generating an index of their space-filling. To date however, much more emphasis on Fourier analysis and processing of CMR data has existed. Fractal analysis of magnitude images is a more recent application—although more than 100 [
3
–
6
] publications indexed in PubMed have described fractal analysis in magnetic resonance imaging of the brain, only 4 publications exist for CMR [
7
–
10
]. Summing up this biological complexity in medical images is clinically important, to guide treatment decisions and improve disease diagnosis, but attempting to do so using traditional mathematics (perimeter estimates or area under the curve) is unsatisfactory—it will tend to either oversimplify the motif's detail and/or vary with the iteration being interrogated (Fig.
2
). In general, the fractal approach is ideal for measuring complicated image details that are beyond simple calliper measurement, and permits results from different scanners to be meaningfully compared.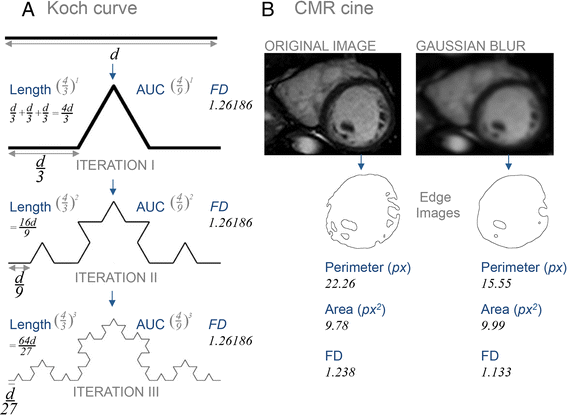 By summarising some of the fundamental principles underpinning the science of deterministic fractals, and by pointing to existing tools and approaches, this paper invites CMR scientists to experiment with fractal analysis as a means of developing an alternative breed of quantitative cardiac imaging tools.
How to measure
These definitions also apply to fractal analysis in CMR. The heart itself exists in three-dimensional (3D) space, but diagnostic images provide 2D data a large part of the time, from which we extract patterns. The pattern of a drawn endocardial contour, for example on a left ventricular short axis CMR cine slice, appears more complicated than a simple curved line so its FD will be > 1. Because it partly but not completely 'fills' 2D space however its FD will be < 2. Therefore the range of possible FD s for a quasi-fractal object like the endocardial contour extracted from a CMR sequence will be consistently a value between 1 and 2.
Assuming the preprocessing approaches used (threshold, subtract background, dilate, trace, find edges, binarise or skeletonize, either automatically or manually) are appropriate for the type of image [13, 14], then it is reasonable to expect that the FD of the resultant region of interest (ROI) will closely approximate the real FD of the aspect of the physical object or process being investigated, at least over a range of image resolutions, and that it will encode potentially valuable biological information.
Previous use of fractal analysis in medicine
Fractal geometry has already found effective research application in the medical imaging field across several modalities (such as plain radiography, retinal photography, ultrasonography [21], computed tomography, MR and nuclear MR [22]). It has been used to study a wide variety of processes: the complex geometries of biological cell types [23]; tumor growth patterns [24]; gene expression [25]; retinopathy [26]; cellular differentiation in space and time [27]; bone and dental matrix composition [24, 28]; brain matter changes [29] etc. Fractal methods are popular and convenient because they lend themselves to automated computer-assisted image processing providing a precise and quantitative metric. Robust measurement of biological complexity in the medical imaging field is clinically important and worth pursuing because fractal indices have been shown to permit early diagnosis of disease (in osteoporosis [20]), predict likelihood of malignancy (in mediastinal nodes imaged by endobronchial ultrasound [21]), predict outcome (of lacunar strokes on the basis of retinal vessel complexity [26]) and measure treatment response (to radiochemotherapy in malignant head and neck tumors [30]).
Utility in CMR
Pertinent to CMR, and for certain applications (e.g., myocardial trabecular quantification), there are clear advantages in using the FD: because it is less susceptible to magnification, it works on different CMR sequences, with different voxel sizes acquired on different platforms; because it is independent of the size of the ROI, it works for small as well as large hearts. There are also potential limitations. For cine imaging, loss of image detail is a particular concern due to partial volume effects at the blood-myocardial boundary in the relatively extended through-plane voxel dimension. Left ventricular cine stacks may be prone to variable spatial resolution but we have previously shown how FD is robust to small changes in slice thickness (6 mm vs. 7 mm vs. 8 mm [10]). Future work should explore whether the higher spatial resolution of computerised tomography provides more suitable image data for fractal analysis than does CMR, especially with respect to vascular trees and probably also myocardial trabeculae provided blood-myocardial contrast is sufficient.
Experimenting with fractal analysis of images in the CMR domain, typically involves the in-house development of scripts written for a specific programming environment (e.g., MATLAB, ImageJ [
31
], Insight Toolkit [ITK] [
32
], etc.). It may be possible to repurpose already available tools in the form of commercial and open-source fractal plugins and codes [
33
]. Examples include: Fractalyse (ThèMA, F), Whinrhizo (Regent Instruments Inc.), Image Pro Plus (Media Cybernetics), FDSURFFT (in MATLAB) and Fraclac for ImageJ [
34
]. Our group started off with Fraclac and then moved to an in-house MATLAB implementation. We applied fractal analysis to CMR cine data for trabecular quantification. In left ventricular noncompaction (
n
 = 30) compared to healthy volunteers (
n
 = 75) fractal analysis (Fig.
7
) revealed
FD
elevation in the apical half of the left ventricle [
8
] (1.392 ± 0.010 versus 1.235 ± 0.004). When we studied patients at our centre with hypertrophic cardiomyopathy (
n
 = 107), fractal analysis showed abnormally increased apical
FD
not only in overt disease, but also in sarcomere gene mutation carriers without left ventricular hypertrophy (G + LVH-, 1.249 ± 0.07) compared to controls (1.199 ± 0.05) [
9
]. In a multi-centre setting high
FD
was further shown to predict hypertrophic cardiomyopathy sarcomere gene mutation carriage in G + LVH- (
n
 = 73) [
10
]. Applied to 2547 participants in the population-representative MESA study, fractal analysis was able to provide ethnically-appropriate normal reference ranges for left ventricular endocardial complexity [
35
].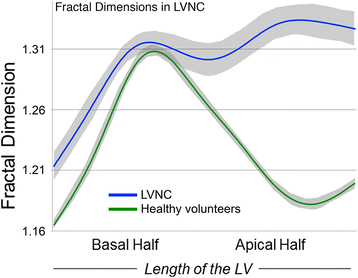 Whether to measure endocardial complexity or any other imaging feature of interest, all novel CMR fractal tests will invariably need to satisfy the usual STAndards for the Reporting of Diagnostic accuracy studies (STARD) [
36
]. To become useful clinical tools, they will need to pass the 15 developmental "check-points" [
37
]. Table
2
underscores how two efforts in this field are still some way off from clinical utility (e.g., the further developed of the two is at step 11—development of normal reference values).
Table 2
The 15 steps needed to turn a fractal tool in a clinically valid test (also considering STARD [39] criteria)
| Developmental step | Fractal quantification of trabecular complexity [9] | Fractal quantification of the spatial distribution of pulmonary flow [7] |
| --- | --- | --- |
| 1. Technical development and theoretical basis of the test | Achieved – method first implemented in Java [8] and then in MATLAB [9] to improve computational efficiency; many segmentation algorithms tested before choosing a region-based level-set function [40] | Achieved – fractal dimension used as an index of pulmonary perfusion heterogeneity; image preparation included a coil inhomogeneity correction |
| 2. Comparison with gold-standard or tissue biopsy (animal models and then human biopsy material) | Achieved – validated against episcopic mouse embryo datasets and using synthetically constructed phantoms with well-known FD: 1) regular geometrical objects (plane, cube surface, sphere surface) and 2) ideal monofractal signals (4th, 5th and 6th iteration of the Sierpinski carpet or 9th, 10th and 11th iteration of the Sierpinski gasket) | Part achieved – validated using 3 MR reference phantoms applied to each patient's chest |
| 3. Detection of changes in established disease compared with normals | Achieved – FD in left ventricular noncompaction compared to healthy volunteers | Not achieved |
| 4. Correlation with other equivalent cardiac imaging markers | Achieved – correlated with perimeter and with noncompacted/compacted wall thickness ratio [41] | Achieved – comparison is made with relative dispersion and the geometric standard deviation |
| 5. Correlation with other relevant biomarkers | Not achieved | Achieved – data correlated with pulmonary function test from spirometry and repeated for three different inspired oxygen concentrations (normoxia, hypoxia and hyperoxia) |
| 6. Demonstration of the test in more than one condition | Achieved – noncompaction and also subclinical and overt hypertrophic cardiomyopathy (and hypertension, in press) | Not achieved |
| 7. Demonstration of test sensitivity (early disease or change with age) | Achieved – in subclinical hypertrophic cardiomyopathy | Not achieved |
| 8. Demonstration of ability to track changes over time | Not achieved | Not achieved |
| 9. Demonstration of predictive or prognostic value of the test | Achieved – in combination with other CMR imaging markers, high FD shown to predict sarcomere gene mutation carriage in subclinical hypertrophic cardiomyopathy | Not achieved |
| 10. Standardization of the test (reproducibility, different equipment, in non-research settings, quality control, limitations of test) | Achieved – intra- and inter-observer variability, inter-scanner reproducibility, field-strength and slice-thickness independence demonstrated; community roll-out started through open-source release of an OsiriX plugin and development of an equivalent commercial version (in cvi42, Circle Cardiovascular Imaging) | Not achieved |
| 11. Development of robust age/ethnic normal reference ranges | Achieved – through analysis of the Multi-Ethnic Study of Atherosclerosis (in press); robust to multi-centre/multi-vendor implementation | Not achieved |
| 12. Changes in biomarker remain tied to the disease after treatment | Not achieved | Not achieved |
| 13. Demonstration of test as surrogate trial end point | Not achieved | Not achieved |
| 14. Clinical use and regulatory approval of test | Not achieved | Not achieved |
| 15. Prove that test use improves clinical outcome | Not achieved | Not achieved |
Nonetheless, on the broader frontier, there is reason for optimism with regard to developing useful CMR applications in the future. We think that potential, as yet untested applications could include such things as textural analysis to quantify scar in late gadolinium enhancement images; spatiotemporal analysis to track cardiac motion of cine objects; stochastic fractal models [38] to study nonperiodic fluctuations in physiological parameters in MR flow data; and fractal analysis in general to aid pattern recognition in pixel-wise parametric mapping.
Conclusions
Although the description of modern fractal analysis by Mandelbrot occurred more than 40 years ago and in spite of clinical practice bringing us face to face with multifarious fractal features daily, the CMR community is only beginning to evaluate potential applications of fractal analysis to cardiac imaging. This review reminds us of the accessibility of fractal mathematics and methods and aspires to attract more cardiac imagers to the library of efficient fractal analysis tools available, as well as invite them to innovate. A deeper fractal exploration of the human heart by CMR has the ability to teach us new facts relating to cardiac function, haemodynamics and tissue characterisation. With additional validation, software tools based on fractal analysis may ultimately prove to have clinical utility in the field of CMR.
Abbreviations
CMR:

Cardiovascular magnetic resonance
2/3D:

Three-dimensional
D T :

Topological dimension
D E :

Euclidean dimension
FD :

Fractal dimension
G+LVH-:

Sarcomere gene mutation carriers without left ventricular hypertrophy
λ :

Lacunarity
ROI:

Region of interest
Declarations
Acknowledgements
None.
Funding
JCM: Higher Education Funding Council for England and the UK National Institute for Health Research, University College London, Biomedical Research Centre; GC: NIHR BRC University College London. DAB: Intramural research program, National Institutes of Health.
Open Access This article is distributed under the terms of the Creative Commons Attribution 4.0 International License (http://creativecommons.org/licenses/by/4.0/), which permits unrestricted use, distribution, and reproduction in any medium, provided you give appropriate credit to the original author(s) and the source, provide a link to the Creative Commons license, and indicate if changes were made. The Creative Commons Public Domain Dedication waiver (http://creativecommons.org/publicdomain/zero/1.0/) applies to the data made available in this article, unless otherwise stated.
Authors' Affiliations
(1)
UCL Institute of Cardiovascular Science, University College London, London, UK
(2)
Division of Cardiovascular Imaging, The Heart Hospital, part of University College London NHS Foundation Trust, London, UK
(3)
Centre for Research in Complex Systems, School of Community Health, Charles Sturt University, Albury, Australia
(4)
Department of Radiology, University of Pennsylvania, Philadelphia, USA
(5)
Cardiovascular Biomedical Research Unit, Barts and the London School of Medicine and Dentistry, Queen Mary University of London, London, UK
(6)
Division of Imaging Sciences & Biomedical Engineering, King's College London, London, UK
(7)
Circle Cardiovascular Imaging Inc., Panarctic Plaza, Calgary, Canada
(8)
Radiology and Imaging Sciences, National Institutes of Health Clinical Center, Bethesda, USA
(9)
Barts Heart Centre, London, UK
References
Mandelbrot B. The fractal geometry of nature. Ed. Brickmann, J. Free. Co., San Fr. 1982.Google Scholar
Zouein FA, Kurdi M, Booz GW, Fuseler JW. Applying fractal dimension and image analysis to quantify fibrotic collagen deposition and organization in the normal and hypertensive heart. Microsc Microanal. 2014;20:1134–44.View ArticlePubMedGoogle Scholar
Squarcina L, De Luca A, Bellani M, Brambilla P, Turkheimer FE, Bertoldo A. Fractal analysis of MRI data for the characterization of patients with schizophrenia and bipolar disorder. Phys Med Biol. 2015;60:1697–716.View ArticlePubMedGoogle Scholar
Sandu A, Rasmussen Jr IA, Lundervold A, Kreuder F, Neckelmann G, Hugdahl K, et al. Fractal dimension analysis of MR images reveals grey matter structure irregularities in schizophrenia. Comput Med Imaging Graph. 2008;32:150–8.View ArticlePubMedGoogle Scholar
Quodbach J, Moussavi A, Tammer R, Frahm J, Kleinebudde P. Assessment of disintegrant efficacy with fractal dimensions from real-time MRI. Int J Pharm. 2014;475:605–12.View ArticlePubMedGoogle Scholar
Gupta L, Besseling RMH, Overvliet GM, Hofman PA, de Louw A, Vaessen MJ, et al. Spatial heterogeneity analysis of brain activation in fMRI. NeuroImage Clin. 2014;5:266–76.PubMed CentralView ArticlePubMedGoogle Scholar
Arai TJ, Prisk GK, Holverda S, Sá RC, Theilmann RJ, Henderson AC, et al. Magnetic resonance imaging quantification of pulmonary perfusion using calibrated arterial spin labeling. J Vis Exp. 2011;30(51):2712.Google Scholar
Captur G, Muthurangu V, Cook C, Flett AS, Wilson R, Barison A, et al. Quantification of left ventricular trabeculae using fractal analysis. J Cardiovasc Magn Reson. 2013;15:36.PubMed CentralView ArticlePubMedGoogle Scholar
Captur G, Lopes LR, Patel V, Li C, Bassett P, Syrris P, et al. Abnormal cardiac formation in hypertrophic cardiomyopathy: fractal analysis of trabeculae and preclinical gene expression. Circ Cardiovasc Genet. 2014;7:241–8.View ArticlePubMedGoogle Scholar
Captur G, Lopes LR, Mohun TJ, Patel V, Li C, Bassett P, et al. Prediction of sarcomere mutations in subclinical hypertrophic cardiomyopathy. Circ Cardiovasc Imaging. 2014;7:863–7.View ArticlePubMedGoogle Scholar
Sarkar N, Chaudhuri BB. An efficient differential box-counting approach to compute fractal dimension of image. IEEE Trans Syst Man Cybern. 1994;24:115–20.View ArticleGoogle Scholar
Aliahmad B, Kumar DK, Sarossy MG, Jain R. Relationship between diabetes and grayscale fractal dimensions of retinal vasculature in the Indian population. BMC Ophthalmol. 2014;14:152.PubMed CentralView ArticlePubMedGoogle Scholar
Grosgeorge D, Petitjean C, Fares J. Automatic cardiac ventricle segmentation in MR images : a validation study To cite this version. 2010.Google Scholar
Petitjean C, Dacher J-N. A review of segmentation methods in short axis cardiac MR images. Med Image Anal. 2011;15:169–84.View ArticlePubMedGoogle Scholar
Uemura K, Toyama H, Baba S, Kimura Y, Senda M. Uchiyama a. Generation of fractal dimension images and its application to automatic edge detection in brain MRI. Comput Med Imaging Graph. 2000;24:73–85.View ArticlePubMedGoogle Scholar
Avnir D. Applied Mathematics:is the Geometry of Nature Fractal? Science. 1998;279:39–40.View ArticleGoogle Scholar
Cross SS. The application of fractal geometric analysis to microscopic images. Micron. 1994;25:101–13.View ArticlePubMedGoogle Scholar
Manera M, Dezfuli BS, Borreca C, Giari L. The use of fractal dimension and lacunarity in the characterization of mast cell degranulation in rainbow trout (Onchorhynchus mykiss). J Microsc. 2014;256:82–9.View ArticlePubMedGoogle Scholar
Soares F, Janela F, Pereira M, Seabra J, Freire MM. 3D lacunarity in multifractal analysis of breast tumor lesions in dynamic contrast-enhanced magnetic resonance imaging. IEEE Trans Image Process. 2013;22:4422–35.View ArticlePubMedGoogle Scholar
Zaia A, Eleonori R, Maponi P, Rossi R, Murri R. MR imaging and osteoporosis: Fractal lacunarity analysis of trabecular bone. IEEE Trans Inf Technol Biomed. 2006;10:484–9.View ArticlePubMedGoogle Scholar
Fiz JA, Monte-Moreno E, Andreo F, Auteri SJ, Sanz-Santos J, Serra P, et al. Fractal dimension analysis of malignant and benign endobronchial ultrasound nodes. BMC Med Imaging. 2014;14:22.PubMed CentralView ArticlePubMedGoogle Scholar
Bauer WR, Hiller KH, Galuppo P, Neubauer S, Köpke J, Haase A, et al. Fast high-resolution magnetic resonance imaging demonstrates fractality of myocardial perfusion in microscopic dimensions. Circ Res. 2001;88:340–6.View ArticlePubMedGoogle Scholar
Kam Y, Karperien A, Weidow B, Estrada L, Anderson AR, Quaranta V. Nest expansion assay: a cancer systems biology approach to in vitro invasion measurements. BMC Res Notes. 2009;2:130.PubMed CentralView ArticlePubMedGoogle Scholar
Cross SS. Fractals in pathology. J Pathol. 1997;182:1–8.View ArticlePubMedGoogle Scholar
Aldrich PR, Horsley RK, Ahmed YA, Williamson JJ, Turcic SM. Fractal topology of gene promoter networks at phase transitions. Gene Regul Syst Bio. 2010;4:75–82.PubMed CentralView ArticlePubMedGoogle Scholar
Doubal FN, MacGillivray TJ, Patton N, Dhillon B, Dennis MS, Wardlaw JM. Fractal analysis of retinal vessels suggests that a distinct vasculopathy causes lacunar stroke. Neurology. 2010;74:1102–7.PubMed CentralView ArticlePubMedGoogle Scholar
Tiraihi A, Tiraihi M, Tiraihi T. Self-organization of developing embryo using scale-invariant approach. Theor Biol Med Model. 2011;8:17.PubMed CentralView ArticlePubMedGoogle Scholar
Amer ME, Heo M-S, Brooks SL, Benavides E. Anatomical variations of trabecular bone structure in intraoral radiographs using fractal and particles count analyses. Imaging Sci Dent. 2012;42:5–12.PubMed CentralView ArticlePubMedGoogle Scholar
Doan NT, van Rooden S, Versluis MJ, Buijs M, Webb AG, van der Grond J, et al. An automated tool for cortical feature analysis: Application to differences on 7 Tesla T2 (*) -weighted images between young and older healthy subjects. Magn Reson Med. 2014;00:1–9.View ArticleGoogle Scholar
Abramyuk A, Hietschold V, Appold S, von Kummer R, Abolmaali N. Radiochemotherapy-induced changes of tumour vascularity and blood supply estimated by dynamic contrast-enhanced CT and fractal analysis in malignant head and neck tumours. Br J Radiol. 2015;88:20140412.View ArticlePubMedGoogle Scholar
Abramoff MD, Magalhães PJ, Ram SJ. Image Processing with ImageJ. Biophotonics International. 2004;11:36--42.Google Scholar
Yoo TS, Ackerman MJ, Lorensen WE, Schroeder W, Chalana V, Aylward S, et al. Engineering and algorithm design for an image processing Api: a technical report on ITK--the Insight Toolkit. Stud Health Technol Inform. 2002;85:586–92.PubMedGoogle Scholar
Mancardi D, Varetto G, Bucci E, Maniero F, Guiot C. Fractal parameters and vascular networks: facts & artifacts. Theor Biol Med Model. 2008;5:12.PubMed CentralView ArticlePubMedGoogle Scholar
A. K. FracLac for ImageJ. http://rsb.info.nih.gov/ij/plugins/fraclac/FLHelp/Introduction.htm. 1999–2013.
Captur G, Zemrak F, Muthurangu V, Petersen SE, Li C, Bassett P, et al. Fractal analysis of myocardial trabeculations in 2547 subjects: the Multi-Ethnic Study of Atherosclerosis. Radiology 2015:Epub ahead of print.Google Scholar
Bossuyt PM. The STARD Statement for Reporting Studies of Diagnostic Accuracy: Explanation and Elaboration. Clin Chem. 2003;49:7–18.View ArticlePubMedGoogle Scholar
Sado DM, Flett AS, Moon JC. Novel imaging techniques for diffuse myocardial fibrosis. Future Cardiol. 2011;7:643–50.View ArticlePubMedGoogle Scholar
Eke A, Herman P, Kocsis L, Kozak LR. Fractal characterization of complexity in temporal physiological signals. Physiol Meas. 2002;23:R1–38.View ArticlePubMedGoogle Scholar
Bossuyt PM, Reitsma JB, Bruns DE, Gatsonis CA, Glasziou PP, Irwig LM, et al. The STARD statement for reporting studies of diagnostic accuracy: explanation and elaboration. Ann Intern Med. 2003;138:W1–12.View ArticlePubMedGoogle Scholar
Li C, Huang R, Ding Z, Gatenby JC, Metaxas DN, Gore JC. A level set method for image segmentation in the presence of intensity inhomogeneities with application to MRI. IEEE Trans Image Process. 2011;20:2007–16.View ArticlePubMedGoogle Scholar
Zemrak F, Ahlman MA, Captur G, Mohiddin SA, Kawel-Boehm N, Prince MR, et al. The relationship of left ventricular trabeculation to ventricular function and structure over a 9.5-year follow-up. J Am Coll Cardiol. 2014;64:1971–80.View ArticlePubMedGoogle Scholar
Somasundaran P. Encyclopedia of surface and colloid science. Volume 4. Boca Raton, FL: CRC Press, Taylor & Francis Group; 2006:6675.Google Scholar