Myocardial tagging by Cardiovascular Magnetic Resonance: evolution of techniques–pulse sequences, analysis algorithms, and applications
Journal of Cardiovascular Magnetic Resonance
2011
13:36
Received: 25 February 2011
Accepted: 28 July 2011
Published: 28 July 2011
Abstract
Cardiovascular magnetic resonance (CMR) tagging has been established as an essential technique for measuring regional myocardial function. It allows quantification of local intramyocardial motion measures, e.g. strain and strain rate. The invention of CMR tagging came in the late eighties, where the technique allowed for the first time for visualizing transmural myocardial movement without having to implant physical markers. This new idea opened the door for a series of developments and improvements that continue up to the present time. Different tagging techniques are currently available that are more extensive, improved, and sophisticated than they were twenty years ago. Each of these techniques has different versions for improved resolution, signal-to-noise ratio (SNR), scan time, anatomical coverage, three-dimensional capability, and image quality. The tagging techniques covered in this article can be broadly divided into two main categories: 1) Basic techniques, which include magnetization saturation, spatial modulation of magnetization (SPAMM), delay alternating with nutations for tailored excitation (DANTE), and complementary SPAMM (CSPAMM); and 2) Advanced techniques, which include harmonic phase (HARP), displacement encoding with stimulated echoes (DENSE), and strain encoding (SENC). Although most of these techniques were developed by separate groups and evolved from different backgrounds, they are in fact closely related to each other, and they can be interpreted from more than one perspective. Some of these techniques even followed parallel paths of developments, as illustrated in the article. As each technique has its own advantages, some efforts have been made to combine different techniques together for improved image quality or composite information acquisition. In this review, different developments in pulse sequences and related image processing techniques are described along with the necessities that led to their invention, which makes this article easy to read and the covered techniques easy to follow. Major studies that applied CMR tagging for studying myocardial mechanics are also summarized. Finally, the current article includes a plethora of ideas and techniques with over 300 references that motivate the reader to think about the future of CMR tagging.
Keywords
Cardiovascular Magnetic Resonance
Right Ventricle
Echo Planar Imaging
Myocardial Motion
Regional Myocardial Function
Introduction
Heart Disease and Imaging Modalities
Heart disease is the main killer in the western world as it causes considerable morbidity and mortality [1]. More understanding of intrinsic myocardial kinematics could result in improving the interpretation and prediction of changes in different heart conditions. Conventional imaging techniques are limited to assessing the motion of the inner and outer surfaces of the heart wall. Although cardiac function can be evaluated using echocardiography by techniques like speckle tracking, cardiovascular magnetic resonance (CMR) is excelling in terms of tissue contrast, spatial resolution, and signal-to-noise ratio (SNR). Furthermore, echocardiographic imaging makes simplifying geometric assumptions, which are not applicable in distorted heart anatomy. Computerized tomography (CT) is limited by relatively high radiation dose that restricts repeated studies or studies on healthy volunteers. In the past couple of decades, CMR proved to be a valuable and safe tool for cardiovascular imaging [2, 3]. Cardiac anatomical, functional, vascular, and metabolic information can be obtained with CMR/MR spectroscopy sequences.
Global and Regional Cardiac Measures
Regular anatomical images show the inner (endocardium) and outer (epicardium) borders of the heart chambers, which upon segmentation provide valuable measures about the heart global function, e.g. ejection fraction (EF), stroke volume, and myocardial thickness. Although these global measures represent the current standard for evaluating the heart condition, extensive research has shown that regional myocardial functions, e.g. as strain, strain rate, and torsion, allow for early identification of dysfunction, and therefore are becoming extremely important for clinical risk assessment, patient treatment, and therapeutic efficiency. More importantly, many cardiac disorders do not affect the heart wall uniformly, e.g. most ischemic heart diseases affect localized regions of the myocardium. This makes global measures insensitive to alterations in regional performance, and even a normal EF may conceal a significant underlying regional dysfunction. Moreover, since the heart moves through and rotates within any imaging plane during the cardiac cycle, apparent motion of the endocardium and epicardium on tomographic imaging has a complex relationship with intramural myocardial deformation. The lack of intrinsic myocardial markers means that intramural motion components cannot be evaluated by traditional imaging techniques.
Invasive Techniques for Measuring Regional Myocardial Functions
Originally, measurement of regional myocardial functions required invasive surgical implantation of physical markers within the myocardium and then tracking the implants motion using an imaging modality. Invasive implantation of radiopaque materials [4–7] or ultrasound crystals [8–10] into the heart wall enabled tracking tissue material points within the myocardium and thus measuring local tissue deformation between the tracked markers. However, the implantation process has many limitations: it is an invasive method; it cannot be applied repeatedly; the implants themselves may alter the motion of the tissue in which they are imbedded; and finally, there are only a limited number of material points that can be tracked. Thus, the ability to noninvasively and accurately measure myocardial motion would assist in the diagnosis, prognosis, and management of heart disease.
CMR Techniques for Measuring Regional Myocardial Functions
The two most widely used CMR techniques for intramyocardial wall motion quantification are myocardial tagging and phase contrast imaging. Although the two concepts appear different, they are closely related to each other, as will be explained later in the review. In fact, different CMR motion measurement techniques are based on magnetization modulating before imaging; and specifically, conventional CMR tagged images represent the special case of acquiring magnitude images after magnetization modulation.
Although it is not the main focus of the current review, a brief description of the main phase contrast methods for measuring myocardial motion is presented here. In 1994, Pelc et al implemented phase contrast CMR for measuring myocardial motion [11]. The method accuracy was evaluated by comparing the resulting measurements with directly visualized motion of CMR signal voids created by implanted markers. Two years later, another method was proposed for tracking myocardial deformation from two-dimensional (2-D) CMR phase contrast velocity maps [12]. The developed method integrated natural spatial constraints of the endocardial and epicardial borders with the phase contrast data to improve measurement accuracy. In 2002, Reese et al presented a three-dimensional (3-D) phase contrast method for measuring strain and strain rate [13]. The developed method resulted in high-quality images in short scan time. Recently, a navigator gated technique was developed for free-breathing, high temporal resolution phase mapping [14]. Several other studies have been conducted that combined phase mapping with different CMR tagging techniques, which will be described later in the article.
CMR Tagging
The use of CMR tagging for motion tracking has been validated in a variety of phantom studies [15–18], which have compared the CMR measurements to results from other means of motion measurement. CMR tagging has been used in several heart-related and non-heart-related applications as described in [19]. Nevertheless, CMR tagging has been established as an essential technique for measuring regional myocardial function. It allows quantitative measurement of regional intramyocardial motion measures, e.g. strain. The invention of CMR tagging came in the late eighties, when Zerhouni et al [20] introduced a noninvasive technique for creating visible myocardial markers using CMR. The technique allowed for the first time for visualizing transmural myocardial movement without having to implant physical markers. This new idea opened the door for a series of developments and improvements that continue up to the present time. Different tagging techniques are available today that are more extensive, improved, and sophisticated than they were twenty years ago. Current techniques provide high spatial resolution (on the pixel level), high temporal resolution (real-time imaging), and composite imaging capabilities (different information obtained in one acquisition). Famous techniques in use today include spatial modulation of magnetization (SPAMM) [21], delay alternating with nutations for tailored excitation (DANTE) [22], complementary SPAMM (CSPAMM) [23], harmonic phase (HARP) [24], displacement encoding with stimulated echoes (DENSE) [25], and strain encoding (SENC) [26]. Each of these techniques underwent several developments for improving resolution, SNR, scan time, anatomical coverage, 3-D capability, and image quality, which resulted in different versions suitable for various applications.
Classification of Tagging Techniques
The development of CMR tagging techniques can be broadly divided into two stages. The first stage (basic techniques) started in 1988 with the invention of tagging by magnetization saturation by Zerhouni et al [20], and continued to include SPAMM [21], DANTE [22], and CSPAMM [23] techniques. Other less familiar tagging techniques belong to the 'basic techniques' category, which use tagged rapid gradient-echo magnetization preparation [27], or create ring-shaped tagging for myocardial centerline assessment [28]. The second stage (advanced techniques) started in 1999 by the invention of two of the most widely-used techniques today: HARP [24] and DENSE [25]. This stage includes also SENC [26], which was subsequently developed in 2001. The basic differences between the two stages of CMR tagging development are the concept behind motion decoding and the post-processing criterion used. The techniques in the first stage depend on the creation of a visible pattern of magnetization saturation, usually parallel lines, grid pattern, or radial stripes, on the magnitude reconstructed images. This allow for immediate visual inspection of myocardial contractility without any post-processing. However, exhaustive post-processing is needed to quantify myocardial motion. Different complicated algorithms have been presented for identifying and tracking myocardial tags, which consume long processing time. On the other hand, the techniques in the second stage were rather stemmed from k-space perspective (Fourier Transform (FT) of tagging in the image space), which allows for faster and more automatic analysis of myocardial motion than in the basic techniques. The images resulting from these techniques do not directly show any tagging pattern. However, simple and fast post-processing is needed to yield motion information, which is presented in an intuitive and more appealing way.
About This Article
Despite the valuable information provided in previous review articles [
3
,
19
,
29
–
38
], a review article is needed to track the continual technical developments in CMR tagging since the technique was first invented until the current time (Table
1
summarizes evolution of tagging pulse sequences). Current-day techniques are so advanced and complicated that they are hard to comprehend without reviewing the basic blocks on which they were built, and following the incremental developments that led to the present-day techniques, which is the purpose of this article. The current review covers different technical contributions to CMR tagging over more than two decades since Zerhouni's paper was published in 1988. Different developments in pulse sequences and related image processing techniques are described along with the necessities that led to their invention, which makes this article easy to read and the covered techniques easy to follow. Major studies that applied CMR tagging for studying myocardial mechanics are also summarized.
Table 1
Evolution of tagging pulse sequences
Technique

Inventor (Ref#)

Year

Advantages

Disadvantages

Magnetization Saturation

Zerhouni (20)

1988

Simple idea; first tagging technique.

Low resolution; long scan time; high SAR.

SPAMM

Axel (21)

1989

Low SAR; available for clinical applications.

Moderate resolution; 2-D only; tag fading.

Cine SPAMM

McVeigh (46)

1992

Cine capability.

Multiple breath-holds.

Localized SPAMM

Chandra (49)

Ikonomidou (51)

1996

2002

Tagging confined to region of interest.

Complicated tag preparation.

Variable-density SPAMM

McVeigh (50)

Ikonomidou (52)

1998

2003

Sensitive motion estimation.

Long tag preparation time.

Radial tagging

Bolster (54)

Bosmans (55)

1990

1990

Suitable for measuring radial strain & heart rotation.

Low resolution for measuring circumferential strain.

Ring tagging

Spiegel (28)

2003

Suitable for measuring circumferential strain.

Low resolution for measuring radial strain.

DANTE

Mosher (22)

1990

High-density pattern of thin tags.

Long tag preparation time.

CSPAMM

Fischer (23)

1993

Improved tagging contrast; no tag fading.

Double scan time as SPAMM.

Slice-following (sf) CSPAMM

Fischer (69)

1994

Tracks tissue through-plane motion.

Lower SNR than CSPAMM.

Single breath-hold sf CSPAMM

Stuber (77)

1999

Fast data acquisition; high temporal resolution.

EPI may cause motion artifacts.

HARP

Osman (24)

1999

Fast tag analysis.

Phase errors; low SNR.

Real-time HARP

Sampath (163)

2003

High temporal resolution.

Complicated setup.

3D-HARP

Pan (166)

2005

3D strain analysis.

Long tag analysis time.

zHARP

Abd-Elmoniem (167)

2005

3D tissue tracking; short scan time.

Complicated data analysis.

fastHARP

Abd-Elmoniem (164)

2007

Short data acquisition time; 25 frames/s.

Complicated setup.

DENSE

Aletras (25)

1999

High spatial resolution; black-blood

Low SNR.

fast-DENSE

Aletras (187)

1999

Single breath-hold.

EPI artifacts.

meta-DENSE

Aletras (181)

2001

higher SNR.

Longer acquisition time.

DENSE with CANSEL

Epstein (184)

2004

higher SNR; less artifacts.

Long scan time.

SENC

Osman (26)

2001

High resolution; simple processing; intuitive view.

Low SNR.

sf-SENC

Fahmy (208)

2006

Through-plane tracking.

Low SNR.

fast-SENC

Pan (209)

2006

Real-time imaging.

Low resolution.

sf-fast-SENC

Ibrahim (210)

2007

Real-time imaging with tissue tracking.

Low resolution & SNR.

C-SENC

Ibrahim (211)

2008

Both strain & viability information in one scan.

No cine capability.
For each tagging technique, the basic pulse sequence is illustrated along with the improved sequences that were developed based on it. The improved sequences are grouped based on the primary improvement goal, i.e., SNR enhancement, scan time reduction, or 3-D extension. Different post-processing algorithms developed for each technique are also covered along with the major applications and research studies that have been conducted based on that technique. As different tagging techniques have distinctive advantages and disadvantages, some efforts have been made to combine different techniques for improved image quality or composite data acquisition. These efforts are also covered in this article. Along this article, similarities and differences between different techniques are pointed out. One advantage of gathering different CMR tagging techniques in one article is that it helps shed the light on their similarities and explore the parallel paths of developments these techniques underwent by different research groups. The current article not only reviews different developments, but also discusses the relationships among them. When looking at the big picture, one observes that although some techniques were separately developed by different investigators whose ideas stemmed from different backgrounds, there exists a common background among these techniques, and each of them can be interpreted from different perspectives. Finally, the current article includes a plethora of ideas and techniques with more than 300 references that motivate the reader to think about the future of CMR tagging.
Tagging By Magnetization Saturation
In 1988, Zerhouni et al [
20
] introduced the idea of myocardial tissue tagging, which is based on perturbing the magnetization to create visible markers that can be imaged and tracked (Figure
1
). The developed pulse sequence consists of two consecutive stages: tagging preparation and imaging. During tagging preparation, slice-selective radiofrequency (RF) pulses are applied perpendicular to the imaging plane to perturb the longitudinal magnetization at specified locations (the intersection of the selected slices and the imaging plane). The rest of the imaging slice are not affected by the tagging pulses and continue to have undisturbed longitudinal magnetization. During imaging (data acquisition), the tagged areas show darker signal intensity than non-tagged tissues due to magnetization saturation they previously experienced. Because magnetization is an intrinsic property of the underlying tissue, the tagged lines, being part of the tissue, follow tissue movement. Thus, the acquired image shows visual evidence of tissue deformation that occurred since the time of tagging pulses application. In the case of myocardium imaging, tagging is typically implemented at end-diastole right after the detection of the R-wave of the electrocardiogram (ECG) signal, and imaging takes place at end-systole, to assess the heart muscle condition at maximum contraction (later, when tagging was combined with cine imaging, it was possible to track the myocardial tagging pattern movement through the entire cardiac cycle).

One point, though, has to be taken into consideration, which is longitudinal relaxation of the tagged magnetization in-between tagging preparation and imaging. Longitudinal relaxation has the effect of restoring the equilibrium condition of the tagged magnetization with exponential rate depending on the tissue longitudinal time constant (T1). Therefore, the longer the time duration between tagging and imaging, the lower the contrast between the tagged and non-tagged tissues in the acquired image.
The tagging technique developed by Zerhouni et al was validated in different studies [16, 17]. In [16], the correlation between systolic wall thickening by CMR tagging and by sonomicrometry was examined, and the results showed high agreement between the two techniques. In [17], the relative accuracy of three methods of tag segmentation (manual, automated, and semiautomated) was evaluated along with the methods impact on myocardial strain calculations. The results showed that tag segmentation was extremely reliable for strain measurement.
Although selective excitation was well known long before Zerhouni's paper, the novelty of his work was the use of selective excitation to create visible tissue markers that can noninvasively record intramyocardial motion. However, the need for an RF pulse and an accompanying gradient for creating each tag line rendered the technique impractical for clinical use. For example, to create a stack of ten parallel tag lines that cover the left ventricle (LV), ten slice-selective RF pulses have to be consecutively applied during tagging preparation. This approach has the following limitations: 1) long time is needed for magnetization preparation; 2) the tag lines are not implemented at the same time, which creates intensity variation and non-synchronized tagging deformation in the resulting image; 3) high specific absorption rate (SAR) is deposited into the patient; and 4) low tagging resolution depending on the excited slice profile.
Dante
One year after SPAMM was introduced, Mosher and Smith presented a similar tagging technique, called DANTE, which generates a high-density pattern of thin tags [
22
]. The technique applies a train of RF pulses in the presence of a continuous gradient to create tag lines in the gradient direction (Figure
3
). The flexibility of adjusting the tags spacing and thickness are added advantages of the DANTE sequence. DANTE tagging underwent some developments. In 1995, Tsekos et al developed an improved DANTE technique with B
1
-insensitive adiabatic inversion sequence to generate tags with uniform contrast across the myocardium [
59
]. Later, Salido et al studied the effects of phase encoding order and segments interpolation on the quality and accuracy of DANTE tags [
60
]. The results showed that center-out phase order and linear interpolation reconstruction provided the highest tag position accuracy and tag profile quality. In the same year, Wu et al developed a DANTE sequence using sinc-modulated RF pulse train in the presence of constant gradient to improve cardiac tagging [
61
]. The proposed technique produced rectangular tag profile and offered easier control of the tag width to separation ratio.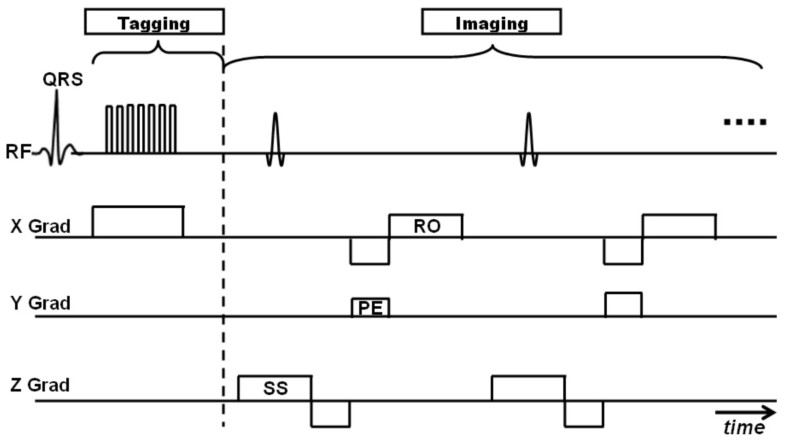 CSPAMM
Original Sequence
One limitation the tagging techniques presented so far is the fading of the tagging contrast through the cardiac cycle due to longitudinal magnetization relaxation. The loss of tagging contrast towards the end of the cardiac cycle results in unrecognizable tagging pattern, which precludes the analysis of diastolic heart phases. It was not until 1993 when Fischer et al introduced an improved tagging technique (CSPAMM) to resolve this problem [
23
] (Figure
4
). To grasp the idea behind CSPAMM, it is necessary to understand the magnetization evolution with time in a tagging sequence. Immediately after tagging application, the whole magnetization is tagged or modulated (90° RF pulses are assumed) and stored in the longitudinal position. With time, the magnetization experiences longitudinal relaxation, trying to reach the equilibrium state. This has two effects on the stored tagging pattern: 1) introducing a growing non-tagged magnetization offset (we call it here DC component, borrowing the term 'direct current (DC)' from electrical engineering); and 2) reducing the magnitude of the tagged component (the peak-to-peak difference of the sinusoidal tagged magnetization). Thus, during the imaging stage, the excited magnetization has two components: tagged and DC, with the DC overhead impairing the visibility of the (already fading) tagged component. It should be noted that the multiple applications of RF pulses during imaging contributes as well to reducing the tagged magnetization component (each RF pulse consumes part of the tagged magnetization stored in the longitudinal direction). The solution provided by CSPAMM consisted of two parts: 1) eliminating the non-tagged (DC) magnetization; and 2) enhancing the fading tagged magnetization. To eliminate the non-tagged magnetization, two consecutive scans are acquired with exactly the same parameters, except for the polarity of one of the tagging RF pulses. The 90°/90° RF pulses in the first scan modulate the magnetization with a positive sinusoidal pattern, whereas the 90°/-90° RF pulses in the second scan result in a negative sinusoidal pattern. It should be noted that the DC magnetization component is the same in both scans at corresponding time points. Therefore, the overhead DC magnetization can be simply eliminated by subtracting the images in the first scan from the corresponding images (at the same heart phases) in the second scan. This subtraction has also the effect of improving the image SNR by 40% as two acquisitions with independent noise terms are added together. To resolve the second problem of fading tagging contrast, the concept of 'ramped flip angle' was introduced. Basically, during the imaging stage, the flip angles of the RF pulses determine how much magnetization is tipped into the transverse plane for data acquisition. Thus, increasing the flip angles through the cardiac cycle compensates for the fading tagging contrast, because more percentage of the available longitudinal magnetization is used at later heart phases. Fischer introduced a recursive formula for calculating the imaging flip angles based on tissue T1 time constant and the flip angle of the adjacent RF pulse.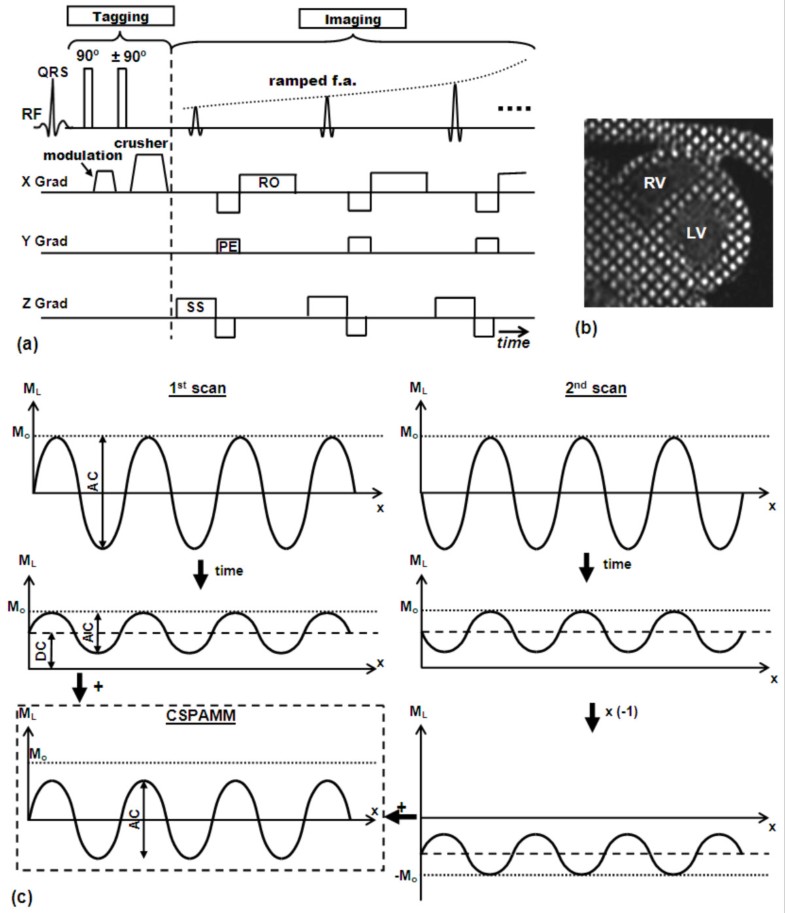 CSPAMM tagging was used for analyzing myocardial function in many studies [62–68], and many subsequently developed tagging techniques were based on CSPAMM due to its sharp tag lines and access to late heart phases. The only limitation of CSPAMM is that it doubles the scan time compared to SPAMM.
Slice-Following CSPAMM
Another important contribution by Fischer et al was made in 1994 to resolve the tissue through-plane motion problem [
69
]. The heart shows a complicated 3-D pattern of contraction through the cardiac cycle. For example, during systole, the myocardium undergoes circumferential and longitudinal shortening, radial thickening, and longitudinal displacement from base to apex. In addition, the heart twists as the base and apex rotate clockwise and counterclockwise, respectively (as seen from the base), which is known as the wringing or torsion heart motion. This means that in 2-D cine imaging of the heart, not the same myocardial tissue is imaged throughout the cardiac cycle [
70
]. The imaging plane rather shows whatever tissue lies inside it at the time of data acquisition. This could lead to inaccurate assessment of myocardial motion, e.g. apparent myocardial thickening in a basal SAX plane could be in fact due to myocardial basal displacement towards the apex. The slice-following technique [
69
] was created as an improvement of CSPAMM to resolve the through-plane motion problem (Figure
5
). The technique is based on implementing slice-selective tagging instead of the non-selective tagging used in conventional CSPAMM. A thin slice of interest is tagged by switching one (or both) of the tagging RF pulses into a slice-selective pulse, which has the effect of confining the tagging pattern inside the slice of interest. Later, during imaging, a thicker slice, that encompasses the thin tagged slice, is excited. The excited slice should be thick enough to accommodate the thin tagged slice despite its displacement in the through-plane (z-) direction. Because non-tagged magnetization is eliminated in CSPAMM, the only source of signal comes from the initially-tagged slice, regardless of its displacement in the through-plane direction. This ensures that the same myocardial tissue is imaged during the whole cardiac cycle, and that apparent motion illusions are eliminated. The choice of the imaging slice thickness has to be carefully considered to ensure inclusion of the tagged slice throughout the cardiac cycle, and in the meanwhile avoid unnecessary thickness that would only add noise to the image.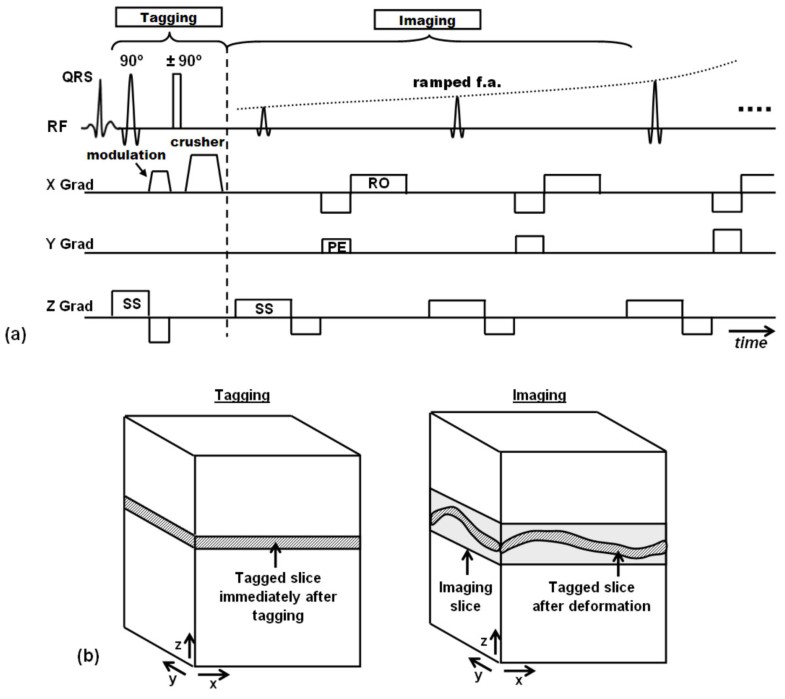 It should be mentioned that another idea (slice isolation) was proposed three years earlier for resolving the myocardial through-plane motion problem [71]. In that work, a method was presented for surrounding the heart SAX slice-of-interest with two adjacent parallel saturated slices, and increasing the imaging slice thickness to encompass the slice-of-interest despite its displacement in the long-axis (LAX) direction. The developed technique ensured imaging the same myocardial SAX slice through the cardiac cycle. However, the slice isolation technique is not efficient as the slice-following technique, besides it only applies to SAX slices.
Data Acquisition Strategies
Different pulse sequences have been developed to address limitations in previous sequences [72]. Gradient echo (GRE) and balanced steady-state with free precession (bSSFP) are the mostly used data acquisition strategies in CMR tagging. Besides, fast data readout techniques, e.g. echo planar imaging (EPI) or spiral, are sometimes implemented for real-time fast imaging.
Tagging Analysis
Basic tagging sequences, especially SPAMM, are usually implemented in clinical applications when information is needed about local myocardial contractility, e.g. in the presence of infarction or ischemia. Usually, three sets of SAX images (covering basal, mid-ventricular, and apical locations) and one set of four-chamber (4CH) cine grid-tagged images are acquired for evaluating LV myocardial contractility. Although advanced sequences provide more accurate results and need simpler post-processing than basic sequences, they are mostly used in research studies. However, some exceptions exist, e.g. measuring myocardial strain in the RV or obtaining different information in the same scan. The acquired tagged images are transferred to a computer system for processing and analysis. The basic idea behind all tagging analysis techniques is tracking adjacent tag intersection points and measuring relative increases or decreases of their in-between distances from time frame to another to calculate strain. Various strain components are measured throughout the cardiac cycle: circumferential and radial strains are measured from SAX images, while longitudinal strain is measured from 4CH images. The resulting strain curves show the myocardial contractility pattern during different heart phases. Important cardiovascular parameters can be extracted from the resulting curves, e.g. peak strain and its timing, which help in evaluating the heart condition. Furthermore, strain rate could be obtained by differentiating myocardial strain with respect to time, which gives useful information about the degree of heart dysfunction, e.g. evaluating myocardial relaxation rate in diastolic dysfunction. Occasionally, myocardial twist angle may be obtained by measuring circumferential strain difference between parallel SAX slices. This parameter sheds light on the heart efficiency in ejecting blood during systole. Different CMR software packages, e.g. FindTags [93] and Diagnosoft (Diagnosoft, Inc., Palo Alto, CA, USA), are available for analyzing tagged images and calculating different contractility parameters.
Different post-processing techniques have been developed for extracting and tracking myocardial tags in cine tagged images [
94
]. The amount of post-processing performed to analyze the tagged images ranges from simple visual inspection of tag deformation to exhaustive calculations of strain components. Many efforts have been made to facilitate myocardial motion quantification from tagged images. Semiautomatic methods for tracking tag deformation include active contour models, optical flow techniques, and template matching methods. Table
2
shows a summary of different tagging analysis techniques. Active contour methods depend on applying spline curves (snakes) that are semi-automatically fitted to the tag lines through the combination of internal, external, and user-interactive forces. Optical flow techniques depend on tracking the tagging grid intersections, which have signal intensity minima, from one frame to another. Finally, template matching methods estimate tissue deformation by cross-correlating a pre-defined tagging pattern with the tagged images. The work by Kraitchman et al in [
95
] represents an example of combining matching template and active contour techniques for semiautomatically tracking myocardial motion in CMR tagged images.
Table 2
Tagging analysis techniques
| Method | Characteristics | Advantages | Disadvantages | Ref # |
| --- | --- | --- | --- | --- |
| Active contour | Uses spline curves that are fitted to the tag lines using multiple constraints. | Intuitive approach; parametric continuity; local control of the curve shape. | Long processing time; sensitive to weights of different constraint forces. | 93, 96, 97, 101, 102. |
| Optical flow | Tracks tag lines intersections based on tagging contrast. | Possibility for automatic processing; reduced processing time. | Sensitive to image quality, especially tagging contrast. | 103-105, 107-110. |
| Template matching | Cross-correlates a pre-defined tagging pattern with the resulting images. | Reduced processing time. | Pre-defined assumptions must be met. | 95. |
| Sinusoidal analysis | Data are analyzed into different frequency components. | Decreased sensitivity to noise; high accuracy. | Complicated data analysis. | 111-113. |
| Volumetric modeling | Analyzes a stack of parallel tagged images. | 3-D tagging analysis; more automatic processing. | Long processing time. | 134-139. |
| Finite-element modeling | Creates model tags, which define the tag lines in the images. | 3-D tagging analysis; reduced processing time. | Measurements are not directly related to clinical understanding. | 140-142. |
| Statistical modeling | Uses statistical methods for estimating tag lines deformation. | 3-D capability; more intuitive and understandable parameters. | Predefined assumptions; complicated processing. | 141, 143. |
| 3-D active contour modeling | Uses 3-D spline curves that are fitted to tag lines from a set of parallel images. | 3-D capability; high resolution; parametric continuity. | Long processing time. | 144-148. |
Active Contour Methods
As early as 1994, Guttman et al proposed a template-matching method to detect tags and an active contour method to extract myocardial contours [96]. Based on this approach, a software package called FINDTAGS [93] had been created for extracting and tracking tag lines; however, it required several hours to process one dataset. Also, in 1994, Kumar et al and Goldgof et al presented an approach for automatic tracking of SPAMM tags [97]. In this approach, snakes were used for spatio-temporal tracking of the SPAMM grid-tagged pattern. Correspondences between the grid points in consecutive frames were used with a thin-plate spline model to establish mapping from one image to the next (non-rigid registration)[97]. Recently, Montillo et al presented different techniques for segmenting and processing SPAMM tagged images [98–100].
Base (B)-spline curves were also used to represent tag lines. B-splines can describe more than one-dimensional tag displacements and characterize deformations of the image plane, volume-of-interest, or space-time continuum. The use of B-splines for representing tag lines has several advantages, including compact representation, parametric continuity, and local control of the shape (only the locations of few control points need to be optimized in order to determine the location of a complete tag line). In 1998, Amini et al used coupled B-spline grids to track tag deformations [101]. In his work, new techniques were described for efficient reconstruction of dense displacements from SPAMM grids. The intersection points of the SPAMM grids were treated as standard landmarks and were forced to align. The developed method resulted in accurate measurements of in-plane tissue deformations as well as between any two frames in a sequence of tagged images in a reasonable time.
In 1998 also, Stuber et al presented an evaluation tool for the visualization and quantification of local heart wall motion from tagged CMR images [63]. The first processing step was tag line detection using active contour models. The second step involved definition of sensitive motion parameters, their visualization, and the relevance of these parameters to heart wall motion. The developed visualization tools allowed for detailed investigation of locally and temporally resolved heart wall dynamics. A couple of years later, Ozturk and McVeigh [102] presented a method for describing the heart motion using a four-dimensional (4-D) tensor product of B-splines on CMR tagged images. The proposed method had the following advantages: it used information from all available tag data; it had a compact parametric representation; the calculated deformations were continuous both in time and space; it did not use a chamber-specific coordinate system; and it was relatively fast (10 minutes of processing time per image).
Optical Flow Methods
Optical flow techniques have been used in several studies for tracking myocardial tagging. In 1992, Prince and McVeigh presented an optical flow method for reconstructing motion from a sequence of CMR tagged images [103]. The developed method (variable brightness optical flow (VBOF)) was used for motion estimation with compensation for tagging pattern decay. The magnetic resonance imaging equation of the tagged images was used to provide an estimate of the material time derivative, which was used for optical flow calculations. The developed VBOF method was markedly superior to standard optical flow methods on tagged images with decaying tagging contrast. A few years later, Dougherty et al developed an optical-flow method for rapid estimation of myocardial displacement from CMR tagged images [104]. The developed method (registration and change visualization (RCV)) used a hierarchical estimation technique for computing the flow field that describes the warping of an image at certain heart phase to the next image. The proposed method did not rely on prior knowledge of the image content and overcame the requirement of constant pixel intensity in standard optical flow methods. Another contribution by Prince et al came in 2000 [105], where the authors developed a fast, fully automated optical flow method for tracking CMR tagging pattern by exploiting the Fourier content of the tagged images. The developed method worked by extracting various sub-band images from the tagged cardiac data, and then formulating multiple optical flow constraints for each sub-band. The resulting system of equations was then solved by least squares pseudo-inversion. The proposed method was validated on simulated and real tagged data.
Besides FT, Gabor filter [106] was used for tagging analysis. In 2006, Qian et al developed a method for automatically extracting the tag lines in tagged CMR images and tracking their displacement during the heart cycle using a tunable 3-D Gabor filter bank [107]. The Gabor filter bank was designed based on the geometric characteristics of the tag lines, and its tunable parameters were used to adapt to the myocardium deformation. The whole image dataset was convolved with each Gabor filter in the filter bank. A set of deformable meshes was imposed onto the extracted tag lines and tracked over time; and dynamic estimation of the filter parameters and the mesh internal smoothness were used to help the tracking. Another optical flow-based method was proposed by Denney et al in 2003 [108]. The method used a maximum-likelihood/maximum a posteriori technique for tag detection and strain calculation without applying user-defined contours. The developed technique reduced the occurrence of false tag detections, and significantly reduced the processing time.
Recently, Herrezuelo et al presented a method for motion estimation of tagged cardiac CMR sequences based on variational optical flow techniques [109]. The phase of the tagged images was used to perform accurate and robust tracking by incorporating the motion estimates of control points with high phase stability into the approach. Another method was also recently proposed by Florack and van Assen for myocardial tagging analysis based on a multiscale algorithm that exploits local scale selection to obtain estimates of the velocity gradient tensor field [110]. Time evolution of the deformation tensor was governed by a first-order ordinary differential equation, which was completely determined by the velocity gradient tensor field. The authors solved the set of ordinary differential equations analytically and presented results from healthy volunteers and patients. The proposed method required only off-the-shelf algorithms and was readily applicable to planar or volumetric tagging CMR data sampled on arbitrary coordinate grids.
Sinusoidal Analysis
Other methods have been proposed for tag tracking based on sinusoidal analysis. In 1996, Zhang et al presented a method for automatically tracking SPAMM tag lines on gated cardiac images [111]. The developed method used Fourier based spatial frequency and phase information to separately track horizontal and vertical tag lines. The use of global information from the frequency spectrum of the entire set of tag lines resulted in a robust algorithm with decreased sensitivity to noise. A few years later, Clarysse et al developed a method for tracking spatio-temporal myocardial displacement using a cosine series model fitted to the entire tagged dataset [112]. Various spatio-temporal parameters were computed, which provided a set of motion features, e.g. trajectories of material points or velocities of deformations over time. The proposed method, combined with a specific visualization tool, provided an innovative way for noninvasively analyzing myocardial contractile function.
Recently, Arts et al developed another method for extracting motion from CMR tagged images based on sinusoidal approximation [113]. In the developed method, the environment of each pixel in the tagged image was modeled as part of a sine wave with local frequency and amplitude. The image intensity in the environment of each pixel was modeled as a moving sine wavefront, and displacement was estimated at subpixel accuracy. The proposed method resulted in displacement estimates with high accuracy and reduced noise.
3-D Tagging
Different efforts have been made to extend the basic tagging technique into 3-D or conduct 3-D myocardial motion analysis from multiple 2-D tagged images. Various studies have been conducted using 3-D CMR tagging, as will be explained later in the 'Applications' Section [43, 114–125]. A couple of articles were published in 2000 and 2001 about different methods of 3-D reconstruction and modeling of the heart motion [126, 127]. In 2000 also, Moore et al conducted an interesting study about 3-D systolic strain patterns in normal LV using orthogonal sets of tagged images [128, 129]. The study presented an important database of systolic 3-D strain measurements in normal LV.
3-D Tagging Sequences
Extending conventional tagging techniques into 3-D is a straightforward process with the major limitation of prolonged scan time. Few attempts have been conducted to achieve this goal. In 1995, Perman et al developed a technique for 3-D tracking of myocardial motion in a selected slice by combining in-plane DANTE tagging with through-plane motion detection using phase contrast [
130
]. The developed protocol allowed for determining point-specific myocardial strain values in vivo. 3-D versions of CSPAMM have also been presented in [
131
,
132
]. In 2002, Ryf et al combined CSPAMM with 3-D modulation of the magnetization and 3-D EPI imaging [
131
]. Later in 2008, Rutz et al provided an accelerated technique for whole-heart 3-D motion tracking using CSPAMM [
132
]. However, instead of implementing 3-D modulation as in [
131
], the authors implemented consecutive one-dimensional (1-D) modulations in three orthogonal directions (Figure
7
). This allowed for partial k-space acquisition without compromising spatial resolution, as only the regions of k-space that contained tagging information were acquired after each tagging application. The developed technique reduced scan time, and allowed for assessment of 3-D motion information with whole heart coverage in three short breath-holds.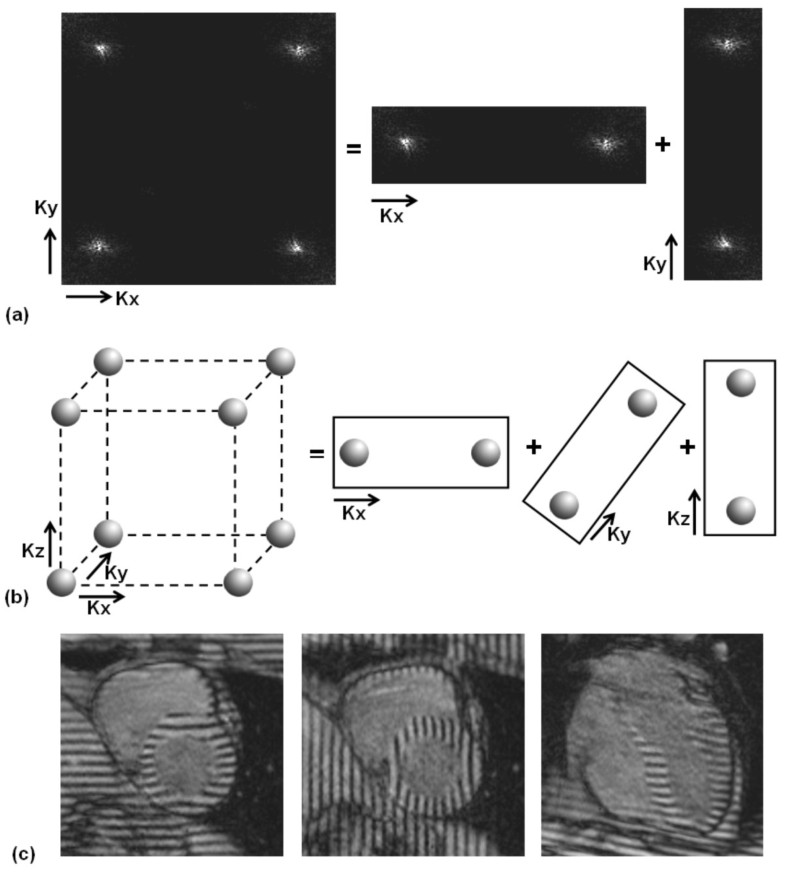 Similar to the work by Perman et al [130], Sampath et al have recently combined SPAMM with phase-contrast imaging, however, this time the developed sequence was used to provide simultaneous measurements of LV longitudinal strain and chamber blood velocity for any given LV LAX slice in a single, short breath-held acquisition [133]. In the proposed technique, the images corresponding to odd-numbered cardiac phases were standard 1-1 SPAMM tagged images, while the even cardiac phase images included a velocity-encoded phase term in addition to motion-related tagging modulation. Since the blood velocity and myocardial strain data were acquired simultaneously, any transient physiological events, e.g. induced stress, were manifested in a correlated fashion on both datasets.
3-D Tagging Analysis
Different methods have been developed for analyzing 3-D myocardial motion (Table 2 shows a summary of different analysis techniques). Each method has its advantages and disadvantages with respect to robustness, 3-D interaction, computational complexity, and clinical interpretation. In comparison to other forms of tag representation, the use of active contours showed several advantages, including immediate generation of tag surfaces, subpixel accuracy of tag line localization, parametric continuity, and the ability to determine the location of a complete tag surface by assigning the location of few control points. Nevertheless, there is always a tradeoff between the temporal and spatial resolutions each method offers, which makes the method choice depending on the application at hand and on the investigator needs.
Myocardial Tagging Applications
Myocardial tagging techniques have been used in several clinical and research studies. They have been used for measuring regional LV function [40, 41, 43, 44, 71, 112, 114, 122, 128, 154, 203, 215–224], RV contractility pattern [117, 118, 121, 142, 218, 219, 225–229], heart rotation and torsion motion [230–240], aging effect on the heart function [123, 124, 152], coronary artery disease (CAD) [152, 241, 242], ischemic heart disease [153, 205, 206, 232, 243–256], myocardial infarction (MI) [42, 67, 68, 119, 125, 176, 177, 204, 233, 234, 247, 257–267], dilated cardiomyopathy (DCM) [120, 217, 237, 268–271], hypertrophic cardiomyopathy (HCM) [64, 115–118, 121, 256, 272–278], inter-ventricular synchrony [120, 203, 225, 270, 272, 279–285], valvular diseases [235, 236, 286, 287], congenital heart disease [288–292], post-surgery cardiac function evaluation [281, 285, 290, 293], myocardial elasticity [294–296], and other heart diseases [178, 297–302]. In this section, the objectives and main findings in each of these different applications are summarized.
Summary and Future Directions
This review presented a plethora of ideas and techniques that have been used for developing different CMR tagging techniques. Although the magnetization saturation technique opened the door for quantifying myocardial deformation in 1988, the technique showed not to be clinically applicable due to the sequence inefficiency for creating the tag lines. SPAMM addressed this limitation, and it remains to be the gold-standard tagging technique up to the current day. CSPAMM is also widely used because of its high SNR and sharp tags. However, because it requires double the scan time as SPAMM, CSPAMM may not be appropriate for patients who cannot hold their breath for a long time. Nevertheless, it can be combined with navigator echo for free-breathing imaging. Unfortunately, some magnetic resonance imaging systems do not even have the CSPAMM sequence on their commercial cardiac package. DANTE is not widely used as SPAMM or CSPAMM.
This article showed that some sequence developments were made to address specific shortcomings in tagging, e.g. tagging contrast fading during the cardiac cycle or slice through-plane displacement. Other developments involved combining tagging with different data acquisition techniques, e.g. EPI or bSSFP, mainly to reduce scan time. Nonetheless, the exhaustive post-processing needed to extract and track the tag lines remains the main obstacle of basic tagging techniques (SPAMM, CSPAMM, and DANTE). Among the different processing techniques, active contour methods showed accurate results and efficient processing. Nevertheless, the real post-processing challenge occurs when analyzing a 3-D set of cine tagged images, which requires significant processing time.
Advanced tagging techniques have the advantage of simple post-processing. However, they are more sophisticated and less straightforward than the basic techniques. Similar to the basic tagging techniques, the advanced techniques underwent different developments to improve image quality (enhance SNR, reduce scan time, remove artifacts) or to extend into 3-D capability. Because different techniques have different advantages, some efforts have been made to merge some of these techniques together to combine their advantages.
It is interesting to see the similarities between different advanced tagging techniques, and to notice that they followed similar paths of developments. For example, although the SENC technique was described in terms of tagging (in the z-direction), it can be seen also as a STEAM pulse sequence consisting of the three STEAM stages: modulation, mixing, and demodulation. From this perspective, the SENC sequence is basically equal to DENSE with displacement encoding in the z-direction. Conversely, DENSE can be interpreted in terms of tagging, where the tag planes are applied in the desired direction of motion, and then the spectral peak is restored at k-space center before data acquisition. However, the difference between the two techniques is that DENSE decodes motion information from the phase data, while SENC depends on acquiring more than one image with different modulations (in the same direction) and extracting the motion information from the magnitude images. By the same line of thought, the relationship between HARP and DENSE can be explained. Both HARP and DENSE deal with the phase of the modulated images. However, HARP extracts the spectral peak of the tagged image using bandpass filter to create the HARP image, which looks very similar to the originally tagged image (shows parallel stripes at the position of taglines). On the other hand, DENSE restores the tagging (modulation) spectral peak at the k-space origin at the demodulation stage before data acquisition, and deals with the resulting phase information. Thus, the resulting DENSE magnitude image does not have the striped pattern shown in HARP.
The question to raise now is what next? What areas of improvements are most needed in CMR tagging, and what directions will outline the future of the technique? One imperative requirement is improving SNR. Advanced tagging techniques, e.g. HARP, DENSE, and SENC, share the limitation of low SNR. All of them have 50% cut in SNR due to the pulse sequence design or processing nature. Therefore, current real-time images have low spatial resolution, and high spatial resolution images suffer from low SNR. Thus, enhancing SNR will lead to better quality images and more accurate results. The current trend towards high-field (3.0T and above) clinical scanners will help improve SNR.
Another interesting development would be to have strain maps directly displayed on the scanner console on-the-fly. Unfortunately, current data processing techniques are conducted offline, even though some of them are simple and fast. The ability to provide online results will allow the operator to adjust the imaging parameters on the fly or switch between sequences during the CMR exam, which will allow for optimized imaging for each patient. This development needs the scanner software to be programmed to process the raw data and display the end results online.
One more trend for tagging improvement is modifying the pulse sequences to allow for acquiring composite information in the same scan. Some examples have been presented about combining viability and function information in DENSE and SENC. The major advantage of such techniques, besides reducing scan time, is alleviating misregistration problems, which allows for more accurate correlation between different measurements. More research is needed in this direction to help more understand different heart diseases.
Finally, more large studies that include CMR tagging should be conducted to create a database of the ranges of different regional myocardial measurements in different heart diseases. This database would act as a reference, against which patient results could be compared for quick assessment of the patient condition.
Author's information
The author received his Master and PhD degrees from Johns Hopkins University on medical imaging. He currently works as an Assistant Professor of Radiology in University of Florida, USA. The author has numerous publications in the field of CMR, and provides scientific revision for IEEE, MRM, JCMR, and ISMRM in this field.
Authors' Affiliations
(1)
Department of Radiology, University of Florida - Jacksonville, USA
Copyright
© Ibrahim; licensee BioMed Central Ltd. 2011
This article is published under license to BioMed Central Ltd. This is an Open Access article distributed under the terms of the Creative Commons Attribution License (http://creativecommons.org/licenses/by/2.0), which permits unrestricted use, distribution, and reproduction in any medium, provided the original work is properly cited.