Highlights of the 16th annual scientific sessions of the Society for Cardiovascular Magnetic Resonance
John-Paul Carpenter

†

1,

Amit R Patel

†

2 and

Juliano Lara Fernandes

†

3

Email author
Journal of Cardiovascular Magnetic Resonance
2013
15:60
Received: 3 March 2013
Accepted: 13 June 2013
Published: 19 July 2013
Abstract
The 16th Annual Scientific Sessions of the Society for Cardiovascular Magnetic Resonance (SCMR) took place in San Francisco, USA at the end of January 2013. With a faculty of experts from across the world, this congress provided a wealth of insight into cutting-edge research and technological development. This review article intends to provide a highlight of what represented the most significant advances in the field of cardiovascular magnetic resonance (CMR) during this year's meeting.
Keywords
Cardiovascular magnetic resonanceHeart
Introduction
This year's SCMR Annual Scientific Sessions were attended by a record number of 1427participants. The number of abstracts presented during the meeting also grew significantly from previous editions with a total of 602 abstracts being shown. Many of these new abstracts were introduced during the SCMR/International Society for Magnetic Resonance in Medicine (ISMRM) Jointly Sponsored Workshop "New Horizons in High-field Cardiovascular Imaging: Promises and Progress" as well as in the new ePosterGallery.
In this article, we have tried to cover most of the themes presented during the five days of the event summarizing the topics into technical/imaging methods and clinical applications. Throughout the meeting, the SCMR Program Committee ensured that all of the major areas of interest were covered with an invited lecture session to complement the scientific abstract presentations. All abstracts presented during the meeting can be accessed in the special supplement of the Journal of Cardiovascular Magnetic Resonance [1]. Many of the invited lectures and oral abstract sessions were recorded and are available at http://www.scmr.org.
Review
Details of the SCMR Gold Medal award for outstanding contribution to the field of CMR (awarded to Professor Stefan Neubauer), the best oral presentations and abstract award winners for both SCMR annual scientific sessions and the SCMR/ISMRM workshop are given in Tables
1
and
2
. The winning authors of the Gerald Pohost award for best Journal of Cardiovascular Magnetic Resonance (JCMR) manuscript in 2012 are shown in Table
3
.
Table 1
16th SCMR annual scientific sessions – awards
| Award | Recipient | Institution | Subject |
| --- | --- | --- | --- |
| SCMR Gold Medal | Professor Stefan Neubauer | Oxford University | For outstanding contribution to the field of CMR |
| Early career award – basic science | Behzad Sharif | Cedars-Sinai Medical Center | Eliminating dark-rim artifacts in first-pass myocardial perfusion imaging (O3) |
| Early career award – translational | James Harrison | King'sCollege London | Magnetic resonance imaging of acute and chronic atrial ablation injury – a histological validation study (O18) |
| Early career award – clinical | Saira Dass | The John Radcliffe Hospital | Patients with dilated cardiomyopathy (DCM) have appropriate myocardial oxygenation response to vasodilator stress (O68) |
| Moderated poster session 1 | Kathryn Broadhouse | Imperial College London | Quantification of aortic pulse wave velocity in preterm infants using 4D phase contrast MRI (M7) |
| Moderated postersession 2 | Daniel Kuetting | Universityof Bonn | Assessment of cardiac dyssynchrony: a comparison of velocity encoded imaging and feature tracking analysis (M11) |
| Best technologist abstract | Celia O'Meara | UniversityCollege London Hospitals | Initial experience of imaging cardiac sarcoidosis using hybrid PET-MR – a technologist's case study (T1) |
| Best SCMR web case of the year | Rob Huggett | Russells Hall Hospital, UK | Post pericardiectomy for constriction – a late complication |
Table 2
SCMR/ISMRM workshop abstract awards
| Award | Recipient | Institution | Manuscript title |
| --- | --- | --- | --- |
| Best Oral Abstract | Gabriel Camargo | Clinica de Diagnostico por Imagem, Rio de Janeiro, Brazil | Myocardial Iron Quantification Using Modified Look-Locker Inversion Recovery (MOLLI) T1 Mapping at 3 Tesla |
| Best Poster | Johannes Krug | Otto-von-Guericke University of Magdeburg | Improved ECG Based Gating in Ultra High Field Cardiac MRI Using an Independent Component Analysis Approach |
Table 3
Gerald Pohost award for best Journal of Cardiovascular Magnetic Resonance (JCMR) manuscript in 2012
| Award | Recipient | Institution | Manuscript title |
| --- | --- | --- | --- |
| First place | Jurg Schwitter | University Hospital, Lausanne | Superior diagnostic performance of perfusion-cardiovascular magnetic resonance versus SPECT to detect coronary artery disease: The secondary endpoints of the multicenter multivendor MR-IMPACT II (Magnetic Resonance Imaging for Myocardial Perfusion Assessment in Coronary Artery Disease Trial). [2] |
| Second place | Peter Kellman | National Institutes of Health (NIH) | Extracellular volume fraction mapping in the myocardium, part 1: evaluation of an automated method. [3] |
| Third place | Choukri Mekkaoui | Harvard Medical School | Fiber architecture in remodeled myocardium revealed with a quantitative diffusion CMR tractography framework and histological validation. [4] |
Technical advances/imaging methods
This year's SCMR/ISMRM pre-Sessions workshop focused on the development of high-field CMR, an increasing area of interest as scanners move from 1.5 T to 3.0 T and even 7.0 T systems [
5
,
6
]. Challenging problems with high field strengths currently involve the development of specific transmit/receive coils to allow assessment of 23Na-MRI as well as CMR-spectroscopy, new imaging sequences to take advantage of the increase in signal-to-noise ratio (SNR) as well as better ways to handle ECG gating. In that regard, Ferreira et al. presented a new free-breathing navigator sequence to assess cardiac diffusion tensor imaging (DTI) at 3 T to characterize myocardial fiber disarray patterns as has recently been published [
7
–
9
] while Teh et al. demonstrated a new accelerated diffusion-weighted fast spin echo sequence that resulted in an 8-fold increase in acquisition time in a mouse model using 9.4 T scanning [
10
]. DTI was the subject of one of three plenary lectures delivered by Dudley Pennell at the opening of the main meeting (
http://scmr.org/Education/CMR-online-video-on-demand-lectures/3072/3248/3252.html
) – Figure
1
. As mentioned above, ECG gating becomes more difficult with increasing field strength due to magnetohydrodynamic effects of the higher magnetic fields. To circumvent that problem, Krug et al. demonstrated the problems encountered with regular vectorcardiograms at 3.0 and 7.0 T proposing an independent component analysis alternative [
11
] and Tse et al. presented a new 3D-QRS method using 12-lead ECG gating inside the magnet to allow for real-time gating at 3.0 T in patients with complex heart rates such as premature ventricular beats, atrial fibrillation and significant beat-to-beat variations [
12
].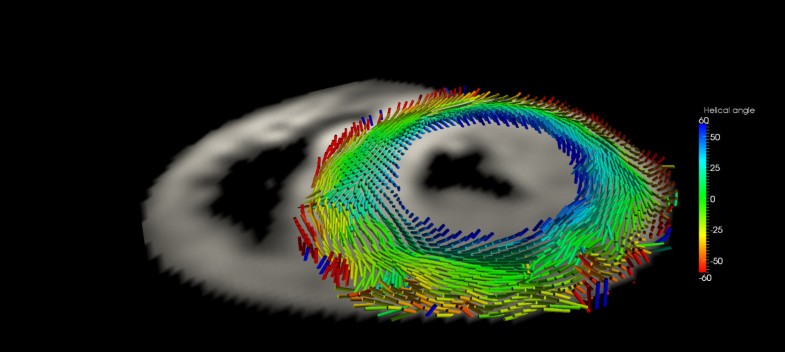 Implementation of CMR into routine clinical practice
In addition to many technical developments, this year's SCMR also featured several presentations showing the central role of CMR in the management of the cardiovascular patient. One of the strengths of this year's conference was the introductory talk given by an expert in the field at the start of each of the oral abstract sessions. Raymond Kwong succinctly summarized the available evidence from the last 25 years on how the development of CMR has helped diagnosis, determine prognosis and provide an impact on diagnostic thinking, therapeutic actions and patient outcomes. Anya Wagner presented the most recent results of the EuroCMR registry covering 27,000 patients from 57 European centers [36]. This has cemented CMR at the center of diagnostic imaging in Europe, proving that it is feasible and safe with 62% of the scans performed having an impact on patient management, the most common indication being for risk stratification in coronary artery disease. Florian Andre presented data from a cohort of more than a 1000 patients showing that measuring left ventricular ejection fraction by CMR reclassified many patients into different risk groups when compared to echocardiography [37]. Others have shown the potential clinical impact of more accurate measurement of ejection fraction by CMR on selecting patients who might benefit from defibrillator implantation [38]. Recently, it has been demonstrated that the addition of late gadolinium enhancement CMR adds further prognostic value over echocardiography alone [39]. Additionally, it is becoming increasingly recognized that using CMR in a cost-effective way can provide potential savings for healthcare providers [40].
Conclusions
In conclusion, the 2013 SCMR Scientific Sessions has consolidated a now long track record of successful meetings positioning CMR as a robust and prominent option in cardiovascular imaging. The technical advances highlighted here and the clinical applications ready to be implemented in daily routine presented at the meeting demonstrate that the method has never been so relevant and promising, with a continuous increase in the number of manuscripts published as well as a rising number of practitioners. SCMR deserves much recognition for this accomplishment and its meeting is certainly a reflection of that success.
Authors' Affiliations
(1)
Royal Brompton Hospital, London, UK
(2)
University of Chicago, Chicago, USA
(3)
University of Campinas, Campinas, Brazil
Copyright
© Carpenter et al.; licensee BioMed Central Ltd. 2013
This article is published under license to BioMed Central Ltd. This is an Open Access article distributed under the terms of the Creative Commons Attribution License (http://creativecommons.org/licenses/by/2.0), which permits unrestricted use, distribution, and reproduction in any medium, provided the original work is properly cited.