Repaired tetralogy of Fallot: the roles of cardiovascular magnetic resonance in evaluating pathophysiology and for pulmonary valve replacement decision support
Journal of Cardiovascular Magnetic Resonance
2011
13:9
Received: 8 December 2010
Accepted: 20 January 2011
Published: 20 January 2011
Abstract
Surgical management of tetralogy of Fallot (TOF) results in anatomic and functional abnormalities in the majority of patients. Although right ventricular volume load due to severe pulmonary regurgitation can be tolerated for many years, there is now evidence that the compensatory mechanisms of the right ventricular myocardium ultimately fail and that if the volume load is not eliminated or reduced by pulmonary valve replacement the dysfunction might be irreversible. Cardiovascular magnetic resonance (CMR) has evolved during the last 2 decades as the reference standard imaging modality to assess the anatomic and functional sequelae in patients with repaired TOF. This article reviews the pathophysiology of chronic right ventricular volume load after TOF repair and the risks and benefits of pulmonary valve replacement. The CMR techniques used to comprehensively evaluate the patient with repaired TOF are reviewed and the role of CMR in supporting clinical decisions regarding pulmonary valve replacement is discussed.
Keywords
Right Ventricular
Cardiovascular Magnetic Resonance
Late Gadolinium Enhancement
Pulmonary Valve
Right Ventricular Outflow Tract
Introduction
Although the management of tetralogy of Fallot (TOF) has evolved considerably since Blalock and Taussig described the first systemic artery-to-pulmonary artery shunt in 1945 and Lillehei and Varco reported the first repair by an open-heart procedure in 1954 [1–3], optimal surgical repair has remained elusive. While early surgical mortality decreased from 50% in the late 1950's to less than 2% in the modern surgical era [4–7], residual anatomic and hemodynamic abnormalities are nearly universal. As a result, the number of patients with repaired TOF, many of whom with considerable cardiac and non-cardiac disease burden, is growing rapidly [8, 9].
Right ventricular (RV) dilation from pulmonary regurgitation (PR), residual atrial and/or ventricular septal defect, tricuspid regurgitation, right ventricular outflow tract (RVOT) aneurysm, pulmonary artery stenosis, and tachyarrhythmias are some of the abnormalities frequently encountered in patients with repaired TOF. Although the hemodynamic burden associated with these anomalies is often tolerated well during childhood and adolescence, the incidences of arrhythmias, exercise intolerance, heart failure, and death nearly triple during the third postoperative decade and afterward [8–13]. Severe chronic PR--considered an important, treatable cause of RV dilatation and failure--has been the focus of many investigations in recent years. However, despite a growing body of literature on the management of severe PR after TOF repair, debate regarding the indications, methods, and optimal timing of pulmonary valve replacement (PVR) has persisted [14–17]. Cardiovascular magnetic resonance (CMR) has emerged as an essential diagnostic tool in this patient population because it overcomes many of the limitations of echocardiography, cardiac CT, and cardiac catheterization, while also providing unique quantitative data as well as prognostic information.
This article comprises two parts. The first part reviews the pathophysiology, natural history, and clinical challenges late after TOF repair. The second part discusses the role of CMR in clinical decision making with an emphasis on its role in supporting patient selection for PVR.
Pathophysiology of Repaired TOF
Natural History And Outcomes After Tof Repair
Early survival of patients with TOF is excellent with 1-2% operative mortality [68, 69]. Two large cohort studies of patients with repaired TOF have shown that survival continues at ~90% during the first two decades of life [8, 9]. However, mortality rate nearly triples during the third postoperative decade. Numerous studies have shown that late after TOF repair patients are at risk for exercise intolerance, heart failure, arrhythmias, and death [10, 47, 70–79]. In addition, pulmonary, renal, hepatic, musculoskeletal, and other non-cardiac morbidities often complicate the clinical course of these patients [47].
The common theme that has emerged from the literature on risk stratification of major adverse events (death, ventricular tachycardia, and heart failure) late after TOF repair is that there are 3 major categories of outcome predictors: 1) history (syncope, older age at repair); 2) electrophysiological markers (prolonged QRS duration, sustained ventricular tachycardia); and 3) hemodynamic sequelae of severe PR (RV dilatation, ventricular dysfunction, and regional wall motion abnormalities).
Multiple studies have addressed risk factors for sudden death and for tachyarrhythmias late after TOF repair. Gatzoulis et al. studied 793 patients from 6 centers [80]. They found that an older age at repair and QRS duration ≥180 ms were independent predictors of sudden death. Moderate or severe PR was the main hemodynamic abnormality in patients with ventricular tachycardia and sudden death, whereas tricuspid regurgitation was associated with supraventricular arrhythmias. Khairy et al., in a multicenter study of 252 patients with repaired TOF, found that a positive programmed ventricular stimulation study, history of syncope, moderate or severe pulmonary or tricuspid regurgitation, QRS duration ≥180 ms, cardiomegaly on chest radiogram (cardio-thoracic ratio ≥0.6), and multifocal premature ventricular contractions were associated with sudden death or clinical ventricular tachycardia [79]. Harrison et al. found that patients with sustained ventricular tachycardia were more likely to have RVOT aneurysms and severe PR [81]. Ghai et al., in a study that compared 12 adult patients who died late after TOF repair to 125 control patients, found that patients who died were more likely to have history of sustained ventricular tachycardia, prolonged QRS duration ≥180 ms, moderate or severe PR, and moderate or severe left ventricular dysfunction [59]. It is worth noting that in none of these studies was RV size or function quantified.
In a study that used CMR to measure PR and biventricular dimensions and function in 100 late survivors of TOF repair, RV and LV dysfunction were strongly associated with impaired clinical status, but the degree of PR was not [10]. Instead, the severity of PR was mainly related to the degree of RV enlargement, a finding that concurs with other studies that utilized CMR to assess these variables [49, 82]. Knauth et al., in a follow-up study of the previous cohort, found that severe RV dilatation (end-diastolic volume Z-score ≥7 measured by CMR) and ventricular dysfunction (LV EF <55% or RV EF <45%) were independent predictors of adverse outcomes (death, sustained ventricular tachycardia, heart failure) [47]. Other univariate predictors were older age at TOF repair and QRS duration ≥180 ms. Importantly, QRS duration correlated closely with RV end-diastolic volume and, therefore, lost statistical significance in a multivariate model. Other investigators have also reported a similarly close association between QRS duration and RV size [83, 84]. Myocardial fibrosis, RVOT aneurysm, and regional wall motion abnormalities have also been associated with symptoms, exercise intolerance, and arrhythmias [42, 45, 53, 85].
Treatment Strategies Late After Tof Repair
Indications and Timing of Pulmonary Valve Replacement
Recommendation for PVR in patients with repaired TOF and severe PR are based on risk/benefit analysis that takes into account the natural history and pathophysiology of the disease, procedural risks, and its potential benefits.
Role of CMR
Because it is not limited by acoustic window, not associated with exposure to ionizing radiation, and is noninvasive, CMR is ideally suited for longitudinal follow-up in patients with repaired TOF [109]. Since it provides accurate quantitative information on biventricular size and function, blood flow measurements, myocardial viability, and cardiovascular anatomy, in many centers CMR has become the preferred method of noninvasive imaging in patients with repaired TOF [10, 45, 50, 54, 97, 110–113]. At Children's Hospital Boston, postoperative TOF is the most common diagnosis in patients referred for CMR, accounting for ~23% of patients. However, comprehensive assessment of the patient with repaired TOF requires integration of information from clinical assessment (detailed history and physical examination) and laboratory investigations (ECG, Holter monitor, exercise test, and echocardiography). Computed tomography and radionuclear studies can be used when CMR is contraindicated or not available. Cardiac catheterization (with or without electrophysiological testing) is indicated in selected patients [17, 95, 114].
Future Directions
Research efforts in TOF aim to address the many facets of the anomaly. Examples include elucidating the genetic and developmental etiologies of the anomaly, refining the initial surgical management to minimize late complications, defining markers of late adverse outcomes, refining the criteria for PVR to optimize late outcomes, and developing new tools to address the failing RV before and after PVR. CMR plays an important role in several of these research fronts. For example, CMR is used to evaluate the function of tissue-engineered semilunar valve implanted in the pulmonary position in sheep [138]. This and similar technologies have the potential to change the way TOF is repaired by allowing the use of myocardial patches and bioengineered valves derived from the patient's own cells to reconstruct the RVOT. CMR contributes to this line of research by allowing in-vivo evaluation of structure and function of valves and ventricles.
Another research front in TOF is management of the failing RV late after repair. It has recently been shown that "standard" RV remodeling does not improve RV function in this group of patients [
95
]. Our group has conducted a series of experiments designed to develop a computational modeling approach to determine the efficacy and suitability of the various reconstructive options for the RV [
139
,
140
]. Using patient-specific CMR data of biventricular structure, deformation, and flow, RV-LV computer models were constructed. These models included fluid-structure interactions, two-layer RV-LV structure, anisotropic material properties, fiber orientation, and active contraction. The models were designed to simulate blood flow, ventricular motion, and stress-strain distribution to evaluate the effect of different remodeling procedures on RV function, and to seek an optimal RV volume and patch design to improve post-operative outcomes (Figure
21
, Additional file
5
). This and similar research efforts may ultimately improve surgical planning by identifying optimal individual solutions to RV remodeling based on patient-specific, CMR-derived computational models. Data from catheterization-CMR studies may provide more detailed information on RV mechanics (e.g., RV elastance or E
max
, ventricular-arterial coupling). Other advanced image analysis techniques such as CMR speckle tracking may overcome some of the limitations of RV tissue tagging and provide further insight into RV-LV mechanics in patients with repaired TOF (Figure
22
) [
141
].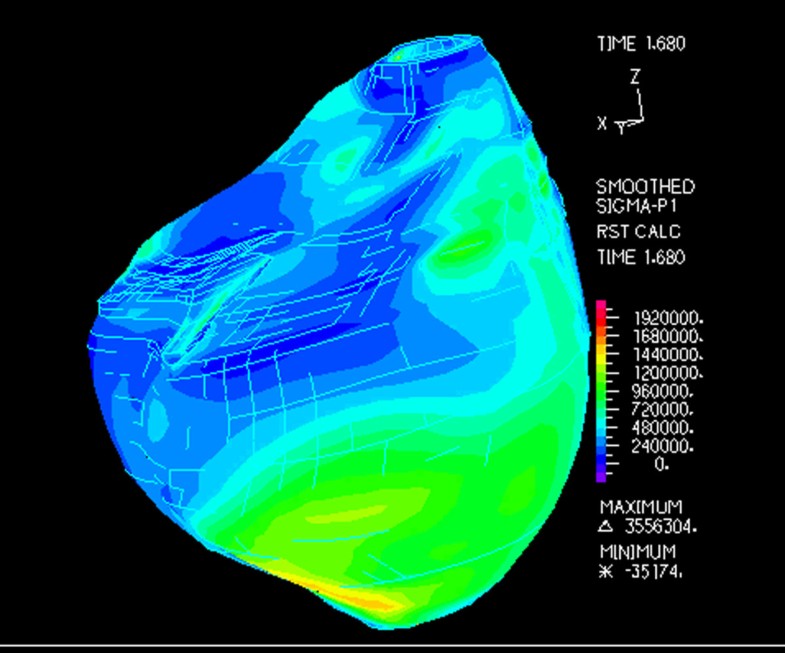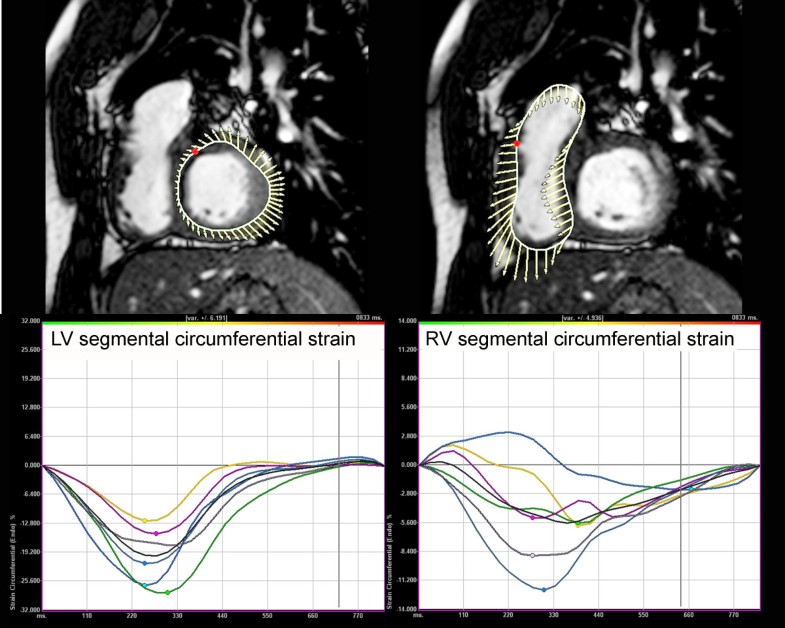 The most active clinical research efforts in repaired TOF continue to focus on refining the indications for PVR and developing better transcatheter and surgical techniques to address PR and other late complications. CMR plays a pivotal role in both fronts as the reference standard imaging tool for morphologic and functional assessments. As Table 3 demonstrates, past research efforts were dominated by small retrospective studies. Given that hard outcomes (e.g., death, ventricular tachycardia) after PVR are uncommon and it is unclear which surrogate outcomes properly reflect important outcomes, it is highly unlikely that single-center studies will provide meaningful answers. Undoubtedly, the next phase of clinical research aimed at identifying the optimal timing and method of restoring pulmonary valve competence will require analysis of large databases that include thousands patient years. This will require multicenter collaboration and, preferably, standardized prospectively acquired clinical and laboratory data, including CMR. Although a randomized clinical trial may appear to be an attractive research method to define the optimal timing of PVR, the design of such trial is challenging due to hurdles related to choice of outcomes, statistical power, and recruitment. However, once the state of knowledge in this area improves (e.g., identification of predictors of adverse outcomes after PVR and meaningful surrogate outcomes), it is conceivable that specific hypotheses can be formulated and then tested by a multicenter randomized trial. Undoubtedly, CMR will be an essential component of any such study.
Conclusions
The pathophysiology of repaired TOF is complex. Patients often tolerate the chronic volume load imposed by pulmonary regurgitation and, in some patients, by tricuspid regurgitation and residual intracardiac shunt(s), for many years. In other patients, the pathophysiology is further complicated by abnormalities in the pulmonary arterial tree. Over time, however, the risks of ventricular dysfunction, exercise intolerance, heart failure symptoms, arrhythmias, and death increase substantially. CMR has evolved to become a crucial diagnostic tool in this growing patient population. Key to optimal use of CMR in these patients is a comprehensive imaging protocol and implementation of steps to ensure consistency and reproducibility of measurements. Finally, CMR continues to play a key role in research efforts directed at improving outcomes of patients with tetralogy of Fallot.
Abbreviations
CMR:

cardiovascular magnetic resonance
LGE:

late gadolinium enhancement
LV:

left ventricle
PR:

pulmonary regurgitation
PVR:

pulmonary valve replacement
RV:

right ventricle
RVOT:

right ventricular outflow tract
TOF:

tetralogy of Fallot
Declarations
Acknowledgements and Funding
This work was supported in part by the National Institutes of Health (NIH/NHLBI 1 R01 HL089269-01A2) and by the Higgins Family Noninvasive Cardiac Imaging Research Fund.
Authors' Affiliations
(1)
Department of Cardiology, Children's Hospital Boston, Department of Pediatrics, Harvard Medical School, Boston, USA
Copyright
© Geva; licensee BioMed Central Ltd. 2011
This article is published under license to BioMed Central Ltd. This is an Open Access article distributed under the terms of the Creative Commons Attribution License (http://creativecommons.org/licenses/by/2.0), which permits unrestricted use, distribution, and reproduction in any medium, provided the original work is properly cited.