Myocardial arterial spin labeling
Journal of Cardiovascular Magnetic Resonance
2016
18:22
Received: 22 December 2015
Accepted: 22 March 2016
Published: 12 April 2016
Abstract
Arterial spin labeling (ASL) is a cardiovascular magnetic resonance (CMR) technique for mapping regional myocardial blood flow. It does not require any contrast agents, is compatible with stress testing, and can be performed repeatedly or even continuously. ASL-CMR has been performed with great success in small-animals, but sensitivity to date has been poor in large animals and humans and remains an active area of research. This review paper summarizes the development of ASL-CMR techniques, current state-of-the-art imaging methods, the latest findings from pre-clinical and clinical studies, and future directions. We also explain how successful developments in brain ASL and small-animal ASL-CMR have helped to inform developments in large animal and human ASL-CMR.
Keywords
Myocardial perfusionArterial spin labelingCardiovascular magnetic resonanceIschemic heart disease
Background
Arterial spin labeling is a cardiovascular magnetic resonance (CMR) technique for quantifying tissue blood flow, non-invasively and without contrast agents [
1
,
2
]. Radiofrequency pulses are used to modify the longitudinal magnetization of arterial blood, creating an endogenous label (or tracer) that decays with the time-constant equal to the T
1
relaxation time, about 1.5 seconds for blood at 3 Tesla. After a delay to allow labeled blood to flow into the target tissue, images are acquired that reflect inflow of labeled blood as well as static tissue whose magnetization exchanges with that of the inflowing blood. A second set of images is acquired in the absence of a preceding labeling pulse. The difference between these two image sets reflects the amount of labeled blood that has been delivered to the imaging region, and with appropriate labeling, imaging, and perfusion model, can be made directly proportional to tissue blood flow (in mL-blood per g-tissue per minute). This process is illustrated in Fig.
1
.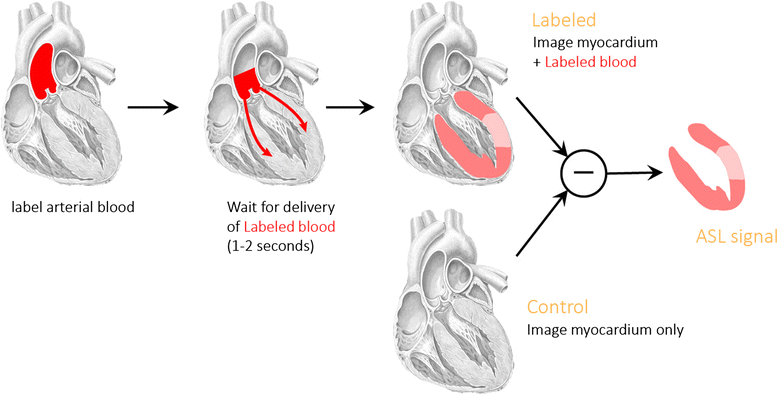 For myocardial perfusion applications, ASL is an attractive alternative to first-pass CMR and traditional nuclear medicine for two reasons. First, it does not require intravenous contrast agents or ionizing radionuclides, and therefore can be performed repeatedly or even continuously with no incremental risk to the patient. Second, it provides measurements that are directly proportional to myocardial blood flow as opposed to a relative measurement that requires designating an area of normal myocardium for comparison [3, 4]. Therefore, ASL could be more sensitive for detection of disease that reduces perfusion globally such as balanced ischemia, microvascular disease and multi-vessel disease.
Abbreviations
1.5 T:

1.5 Tesla
2D:

2-dimensional
3 T:

3 Tesla
ASL:

arterial spin labeling
ATT:

arterial transit time
BBB:

blood - brain barrier
BLOSM:

block low-rank sparsity with motion guidance
CAD:

coronary artery disease
CBF:

cerebral blood flow
CHD:

coronary heart disease
CKD:

chronic kidney disease
CMR:

cardiovascular magnetic resonance
ECG:

electrocardiogram
ESRD:

end-stage renal disease
EPI:

echo-planar Imaging
EPISTAR:

EPI signal tagging with alternating radiofrequency
FAIR:

flow-sensitive alternating inversion recovery
FLASH:

fast low angle shot
GBCA:

Gadolinium-based contrast agents
Gd:

Gadolinium
GRAPPA:

generalized autocalibrating partially parallel acquisitions
GRE:

gradient echo
HR:

heart rate
k-t PCA:

k-space-time principle component analysis
k-t SENSE:

k-space-time sensitivity encoding
LLFAIR:

Look-Locker flow-sensitive alternating inversion recovery
LLFAIRGE:

Look-Locker flow-sensitive alternating inversion recovery respiratory gated
LV:

left ventricle
MBF:

myocardial blood flow
MBV:

myocardial blood volume
nNOS:

neuronal nitric oxide synthase
PASL:

pulsed arterial spin labeling
PCASL:

psuedo-continuous arterial spin labeling
PET:

positron emission tomography
PN:

physiological noise
RF:

radiofrequency
SNR:

signal - to - noise ratio
spASL:

steady pulsed arterial spin labeling
SPECT:

single-photon emission computed tomography
SSFP:

steady - state free precession
Time-SLIP:

time-spatial inversion pulse
Declarations
Acknowledgements
We thank our many collaborators and funding sources. F.K. and T.T. thank Thibaut Capron, Julien Pugnaire, Monique Bernard, and funding from Centre National de la Recherche Scientifique (CNRS-UMR7339), Agence Nationale de la Recherche (ANR-14-CE17-0016-01 COFLORES) and Fondation de la Recherche Médicale (DBS20140930772). K.S.N. and T.J. thank Zungho Zun, Eric Wong, Gerald Pohost, Ramdas Pai, Padmini Varadarajan, Hung Phi Do, Vanessa Landes, Ahsan Javed, Andrew Yoon, and funding from the Wallace H. Coulter Foundation (Phase 1 and Phase 2 Translational Research Award) and American Heart Association (#13GRNT13850012). We acknowledge support from the Visitor Program of the Ming Hsieh Institute of the University of Southern California.
Open AccessThis article is distributed under the terms of the Creative Commons Attribution 4.0 International License (http://creativecommons.org/licenses/by/4.0/), which permits unrestricted use, distribution, and reproduction in any medium, provided you give appropriate credit to the original author(s) and the source, provide a link to the Creative Commons license, and indicate if changes were made. The Creative Commons Public Domain Dedication waiver (http://creativecommons.org/publicdomain/zero/1.0/) applies to the data made available in this article, unless otherwise stated.
Authors' Affiliations
(1)
Aix-Marseille Université, CNRS CRMBM UMR 7339, Centre de Résonance Magnétique Biologique et Médicale, Marseille, France
(2)
Department of Biomedical Engineering, University of Southern California, Los Angeles, USA
(3)
Ming Hsieh Department of Electrical Engineering, University of Southern California, Los Angeles, USA