Comprehensive 4D velocity mapping of the heart and great vessels by cardiovascular magnetic resonance
Journal of Cardiovascular Magnetic Resonance
2011
13:7
Received: 3 July 2010
Accepted: 14 January 2011
Published: 14 January 2011
Abstract
Background
Phase contrast cardiovascular magnetic resonance (CMR) is able to measure all three directional components of the velocities of blood flow relative to the three spatial dimensions and the time course of the heart cycle. In this article, methods used for the acquisition, visualization, and quantification of such datasets are reviewed and illustrated.
Methods
Currently, the acquisition of 3D cine (4D) phase contrast velocity data, synchronized relative to both cardiac and respiratory movements takes about ten minutes or more, even when using parallel imaging and optimized pulse sequence design. The large resulting datasets need appropriate post processing for the visualization of multidirectional flow, for example as vector fields, pathlines or streamlines, or for retrospective volumetric quantification.
Applications
Multidirectional velocity acquisitions have provided 3D visualization of large scale flow features of the healthy heart and great vessels, and have shown altered patterns of flow in abnormal chambers and vessels. Clinically relevant examples include retrograde streams in atheromatous descending aortas as potential thrombo-embolic pathways in patients with cryptogenic stroke and marked variations of flow visualized in common aortic pathologies. Compared to standard clinical tools, 4D velocity mapping offers the potential for retrospective quantification of flow and other hemodynamic parameters.
Conclusions
Multidirectional, 3D cine velocity acquisitions are contributing to the understanding of normal and pathologically altered blood flow features. Although more rapid and user-friendly strategies for acquisition and analysis may be needed before 4D velocity acquisitions come to be adopted in routine clinical CMR, their capacity to measure multidirectional flows throughout a study volume has contributed novel insights into cardiovascular fluid dynamics in health and disease.
Keywords
Cardiovascular Magnetic Resonance
Wall Shear Stress
Pulse Wave Velocity
Bicuspid Aortic Valve Patient
Emitter Plane
Introduction
Phase contrast (PC) cardiovascular magnetic resonance (CMR) can measure, non-invasively, all three directional components of the velocities of blood flow relative to all four spatio-temporal dimensions of the heart and great vessels. The underlying principles have been known and applied over several decades [1–6]. The mapping of just the component of time-resolved velocity directed perpendicularly through a 2D plane is widely used for clinical measurements of volume flow [7–10]. This approach allows measurements of forward, regurgitant and shunt flows in congenital and acquired heart disease [11–14], and in certain circumstances, measurements of jet velocity. However, such acquisitions require appropriate placement of the velocity mapping plane, and clearly have limitations relative to the multiple directions of flow through the heart and large vessels [15].
Alternatively, Doppler ultrasound can be employed to assess regional blood flow velocities. The technique is widely and routinely used in numerous applications and cardiovascular pathologies and has a number of advantages compared to MRI including widespread availability, ease of use, and no contraindications in case of pacemakers or metallic implants. However, Doppler ultrasound is also limited by its inter-observer variability and by detecting only the component of velocity directed to or from the transducer.
Computed tomography provides relatively rapid 3D scans with excellent spatial resolution that can show the intravascular distribution of contrast agent at a given moment, but without being able to measure the velocities of blood flow.
This review paper deals principally with the methods and applications of the more comprehensive, 3 dimensional, 3 directionally encoded, time resolved (cine) velocity acquisition[16, 17], which we will refer to as 4D velocity acquisition.
The concise naming of such acquisitions has varied between groups. While '4D' has come to be widely used and recognized, having the advantage of brevity, use of '3D cine' is arguably more correct and consistent with the use of '2D cine' to describe routine velocity mapping (see table
1
for a definition of terminology). It is important to be aware that the time dimension of this type of cine velocity acquisitions does not represent real time, but rather the time course of an effectively averaged heart cycle. Any instabilities or beat-to-beat variations of blood flow are not represented, as data contributing to each phase is gathered, by ECG triggering, from many heart cycles.
Table 1
Terminology regarding the dimensions and components of CMR velocity acquisitions.
Data acquisition method

Abbreviated description

Comment

3 dimensional, 3 directionally encoded, cine velocity acquisition

3D cine phase contrast,

3D cine velocity acquisition (more explicit)

or

4D velocity acquisition

(conveniently concise)

This is 'comprehensive' in the sense that all 3 directional components of velocity are measured with respect to all 3 spatial dimensions and the time course over the cardiac cycle.

2 dimensional, 1 directionally encoded (usually through-plane), cine velocity acquisition

2D cine phase contrast,

2D cine velocity mapping

Allows calculations of volume flow through a plane that transects a vessel.
Recent methodological advances including improved respiratory navigation, parallel imaging, or efficient radial k-space sampling allow good 4D velocity acquisition quality in acceptable time periods [18–20]. In combination with advanced flow visualization and quantification software, partially adapted from automotive and aerospace engineering, a tool for the studying multidirectional flow characteristics in the individual patients has been established [21–24].
In this article, the CMR methods used for 4D velocity acquisition, and the subsequent visualization and quantification of blood flow are reviewed. The value and limitations of this approach are considered in relation to a number of proposed clinical applications. We will focus on studies of blood flow in the thorax, although multidirectional velocity acquisitions can also be applied in other parts of the body such as the neck [25, 26], brain [27, 28] or liver [29], and, using a suitably low velocity encoding range, to studies of ventricular function [30–34].
Applications
Several studies have shown the potential of 4D velocity acquisition for detection of pathologically altered flow characteristics in the heart and adjacent large vessels, suggesting possible roles fluid dynamic factors in the initiation or progression of pathology. A summary of selected patient studies and their major findings is given in Table
4
.
Table 4
Summary of selected studies using 3 directionally encoded CMR velocity acquisitions in the heart and vessels.
| Anatomy | Study | Title | Subjects | Findings |
| --- | --- | --- | --- | --- |
| Heart | Kim et al. * J Am Coll Cardiol 1995 [81] | Left ventricular blood flow patterns in normal subjects: a quantitative analysis by three-dimensional magnetic resonance velocity mapping | n = 26 | Diastolic vortex formation in the left ventricle, in close temporal relation to the motion of the anterior mitral leaflet |
| | Kilner PJ et al. * Nature 2000 [79] | Asymmetric redirection of flow through the heart. | n = 22 | Asymmetric redirection of streaming blood in atrial and ventricular cavities of the adult human heart |
| | Fyrenius A et al. Heart 2001 [56] | Three dimensional flow in the human left atrium. | n = 11 | Global left atrial flow in the normal human heart comprises consistent patterns specific to the phase of the cardiac cycle |
| | Kozerke et al. J Magn Reson Imaging 2001 [23] | Visualization of Flow Patterns Distal to Aortic Valve Prostheses in Humans Using a Fast Approach for Cine 3D Velocity Mapping | n = 6 | Distinct flow patterns reflecting aortic valve design were observed close to the valve. Further downstream, flow patterns varied considerably indicating the impact of varying aortic anatomy |
| | Bolger AF et al. J Cardiovasc Magn Reson 2007 [75] | Transit of blood flow through the human left ventricle mapped by cardiovascular magnetic resonance. | n = 18 | Paths, compartmentalization and kinetic energy changes of blood flowing into the LV. |
| | Roes et al. Invest Radiol 2009 [91] | Flow assessment through four heart valves simultaneously using 3-dimensional 3-directional velocity-encoded magnetic resonance imaging with retrospective valve tracking in healthy volunteers and patients with valvular regurgitation | n = 29 | Net flow volumes through the 4 heart valves were compared in 22 healthy volunteers and in 29 patients with ischemic cardiomyopathy who were suspected of valvular regurgitation. |
| | Eriksson et al. J Cardiovasc Magn Reson 2010 [43] | Semi-automatic quantification of 4D left ventricular blood flow | n = 9 | Semi-automatic payhline analysis for the quantification of 4D blood flow resulted in accurate LV inflow and outflow volumes and high reproducibility |
| Large vessels | Kilner PJ et al. * Circulation 1993 [55] | Helical and retrograde secondary flow patterns in the aortic arch studied by three-directional MR velocity mapping. | n = 10 | Helical and retrograde streams are consistent features of intra-aortic flow in healthy subjects |
| | Bogren HG et al. ** J Thorac Cardiovasc Surg 1995 [110] | Magnetic resonance velocity vector mapping of blood flow in thoracic aortic aneurysms and grafts. | n = 13 | Altered flow patterns were found to be associated with altered vessel geometry |
| | Bogren HG et al. ** J Magn Reson Imaging 1997 [111] | Blood flow patterns in the thoracic aorta studied with three-directional MR velocity mapping: the effects of age and coronary artery disease. | n = 28 | Significantly different flow characteristics in normal subjects compared with patients and during ageing |
| | Kvitting et al. J Thorac Cardiovasc Surg 2004 [86] | Flow patterns in the aortic root and the aorta studied with time-resolved, 3-dimensional, phase-contrast magnetic resonance imaging: Implications for aortic valve-sparing surgery | n = 8 | Patients with Marfan syndrome 6 months after aortic valve-sparing surgery with straight Dacron grafts and normal volunteers |
| | Bogren HG et. Al ** J Magn Reson Imaging 2004[112] | 4D MR velocity mapping of blood flow patterns in the aorta in patients with atherosclerotic coronary artery disease compared to age-matched normal subjects. | n = 41 | Increased retrograde velocity in patients with atherosclerosis compared to normal subjects. The aging process has a similar effect on blood flow patterns as atherosclerosis. |
| | Markl M et al. J Thorac Cardiovasc Surg 2005 [85] | Time-resolved three-dimensional magnetic resonance velocity mapping of aortic flow in healthy volunteers and patients after valve-sparing aortic root replacement. | n = 22 | Altered aortic flow dynamics in patients undergoing various types of valve-sparing aortic root replacement. |
| | Reiter G, et al Circ Cardiovasc Imaging 2008 [88] | MR-derived 3D blood flow patterns in the main pulmonary artery as a marker of pulmonary hypertension and a measure of elevated mean pulmonary arterial pressure. | n = 48 | Vortices of blood flow in the main pulmonary artery enable the identification of manifest pulmonary hypertension. Elevated mean pulmonary arterial pressures is related to vortex duration |
| | Frydrychowicz A, et al. J Magn Reson Imaging 2009 [89] | Three-dimensional analysis of segmental wall shear stress in the aorta by flow-sensitive four-dimensional-MRI. | n = 31 | Normal distribution of vectorial WSS and OSI in the entire thoracic aorta derived from flow-sensitive 4D-MRI data |
| | Harloff A et al. Magn Reson Med 2010 [96] | In vivo assessment of wall shear stress in the atherosclerotic aorta using flow-sensitive 4D MRI. | n = 93 | Predictive value of WSS for plaque existence depends on the aortic segment. Locations of critical wall parameters move to neighboring segments of regions affected by atherosclerosis |
| | Hope MD et al. Radiology 2010 [58] | Bicuspid aortic valve: four-dimensional MR evaluation of ascending aortic systolic flow patterns. | n = 53 | Abnormal helical systolic flow in the ascending aorta of patients with a bicuspid aortic valve. |
| | Markl M et al. Magn Reson Med 2010 [68] | Estimation of global aortic pulse wave velocity by flow-sensitive 4D MRI. | n = 46 | Pulse wave velocity based on four-dimensional MRI data was higher in patients with atherosclerosis compared to age-matched controls and younger volunteers |
| | Hope MD et al. J Magn Reson Imaging 2010 [44] | Clinical evaluation of aortic coarctation with 4D flow MR imaging. | n = 34 | Hemodynamic significance was established by evaluating collateral blood flow. Distorted blood flow patterns in the descending aorta were detected after coarctation repair |
| | Harloff A et al. Stroke; 2010 [93] | Complex plaques in the proximal descending aorta: an underestimated embolic source of stroke. | n = 94 | Retrograde flow from complex plaques in the descending aorta can explain embolism to all brain territories as a new source of stroke. |
The following sections give an overview over the major findings and applications of 4D velocity acquisition for the assessment of the whole heart and adjacent large vessels.
Understanding Blood Flow in the Healthy Cardiovascular System
Heart
Multidirectional velocity mapping in healthy volunteers contributed visual evidence in support of a hypothesis concerning the functional advantages of the direction changes and asymmetries of flow which follow from the looped curvatures of the heart [79]. The left atrium tends to be regarded as a conduit during diastole and a reservoir during systole. 4D velocity acquisitions revealed vortical flow during systole and diastole [56]. The blood redirected in the principal vortex originated mainly from the left pulmonary veins. Inflow from the right veins joined the vortex periphery, between the vortex and the atrial wall. These consistent patterns and their progression through the cycle may help to minimize both stasis and energy dissipation in a healthy subject in sinus rhythm.
During ventricular diastole, atrial blood passes down through the mitral valve to enter the left ventricle. In the resting heart, this occurs in an early diastolic phase as the ventricle relaxes and recoils, and in late diastole as the left atrium contracts. The ratio between early and late diastolic inflow is an important clinical parameter in the evaluation of diastolic function. Using 4D velocity data, it was shown that early and late diastolic filling have different directions and locations of the peak velocity, which has implications for evaluation of diastolic function by Doppler ultrasound [80].
Flow patterns within the ventricles tend to be dominated by the diastolic inflow with asymmetric, regionally constrained ring vortices beginning to develop beneath both mitral and tricuspid leaflets [79, 81], as seen in figure 7 and additional file 4. The complex, mobile geometries of the ventricles and the two phases of resting inflow can generate additional vortices with variable size and position, which accelerate and decelerate over time [81]. Using pathline based analysis, it was found that in the normal heart about 1/3 of the left ventricular end-diastolic volume is Direct Flow, blood that enters the LV during diastole and leaves the LV during systole in the analyzed heart beat [43, 75, 76].
Large vessels
Several groups have reported the application of 4D velocity acquisition to the evaluation of normal flow characteristics and derived hemodynamic parameters in the large vessels (aorta and pulmonary artery) [15, 22, 44, 55, 82–84].
In the healthy thoracic aorta, characteristic flow patterns such as helical flow and mild early diastolic retrograde flow in the ascending aorta have been identified. Normal large scale aortic flow features include the following: During systole, left ventricular outflow initially generates flow that tends to be skewed towards the shorter, inner curvature. The peak velocity stream tends to migrate to the outer curvature, and later in systole, to curve postero-laterally, back towards the inner curvature in a right-handed helix in the ascending aorta and arch. Flow velocities are highest in the ascending aorta (up to about 150 cm/s in the slight vena contracta above the outflow tract and valve) and slightly lower in the arch, where flow enters the brachiocephalic branches. In the proximal descending aorta, velocities increase where streamlines tend to separate from the inner curvature, converging slightly towards the outer wall (see also color coding of streamlines and pathlines in figures 3 and 4). During early diastole, retrograde flow occurs along the inner curvatures of both the ascending and proximal descending arch. This may be a consequence of asymmetric forward momentum combined with the decline of net forward flow, and may contribute to diastolic filling of the coronary arteries [85, 86].
Studies investigating normal pulmonary arterial flow revealed relatively uniformly distributed velocities across the cross section of the main pulmonary artery in early systole. During late systolic deceleration, a relatively high velocity central stream tends to migrate towards the outer curvature of the antero-superior wall [87, 88]. A further change of direction into the right pulmonary artery is typically associated with right handed helical flow.
Recently, a number of studies have investigated derived parameters such as wall shear stress (WSS) and pulse wave velocity (PWV) in the healthy aorta. 4D velocity CMR was used to derive the normal distribution of vectorial WSS in the entire thoracic aorta. Marked regional variations of WSS found in these studies may help explain why atherosclerotic lesions tend to develop and progress at specific locations in the aorta such as the inner aortic curvature and supra-aortic branches [89]. The feasibility of aortic PWV estimation from 3D cine velocity data, exploiting its volumetric coverage, has been demonstrated, although temporal resolution remains suboptimal. The resulting PWV data reflecting global aortic compliance were in good agreement with previous 2D-PC studies [68].
Blood Flow in Cardiovascular Disease
Heart
A number of studies have investigated abnormal intracardiac flow. Considerable changes in the presence, position and extent of vortices, as well as relative size of the flow components have been found in patients with dilated cardiomyopathy [75, 76, 90]. The vortices, which in the normal ventricle are constrained by proximity of the walls, have space to develop in a dilated ventricle and higher blood volume to conserve rotational momentum from one heart beat to the next. This can manifest either as a large rotating vortex if inflow is relatively tangential, or as a propagating ring vortex if inflow is more apically directed. In addition to the expected increase in Residual Volume, related to the high end systolic volume of the cavity, other flow components show changes such as a decrease in the Direct Flow [75, 76].
Multidirectional velocity acquisitions can be used for assessments of valve abnormalities before surgery and during follow-up [
23
]. It has been shown that 4D velocity CMR with retrospective valve-tracking can be used to accurately quantify net flow volumes through all four heart valves in patients with valvular regurgitation [
74
]. Findings demonstrated analogous average net flow volume through all four valves and good intra- and interobserver agreement for the assessment of regurgitation fraction [
91
]. Valvular stenosis and regurgitation, with associated high velocity jet flow, can modify intracardiac flow patterns. Elevated turbulent intensity values have been found in the heart at the break down of these jets in mild aortic and severe mitral regurgitation (see also figure
11
and additional file
8
) [
73
,
76
]. Regurgitation through atrio-ventricular valves has been quantified using 4D velocity acquisition, potentially contributing to diagnosis and treatment planning in heart valve disease [
91
]. Vortices in the sinuses of Valsalva have been studied after different valve-sparing aortic root replacements [
85
,
86
] contributing to an ongoing discussion about the role of the sinuses and the importance of maintaining them in valve sparing surgical repair of aortic root ectasia. Blood flow patterns and turbulence intensity downstream from a prosthetic heart valve have been found to be dependent on the specific valve design [
92
]. Improved understanding of the hemodynamic consequences of these surgical procedures may contribute to surgical strategies that result in more physiological post operative flow.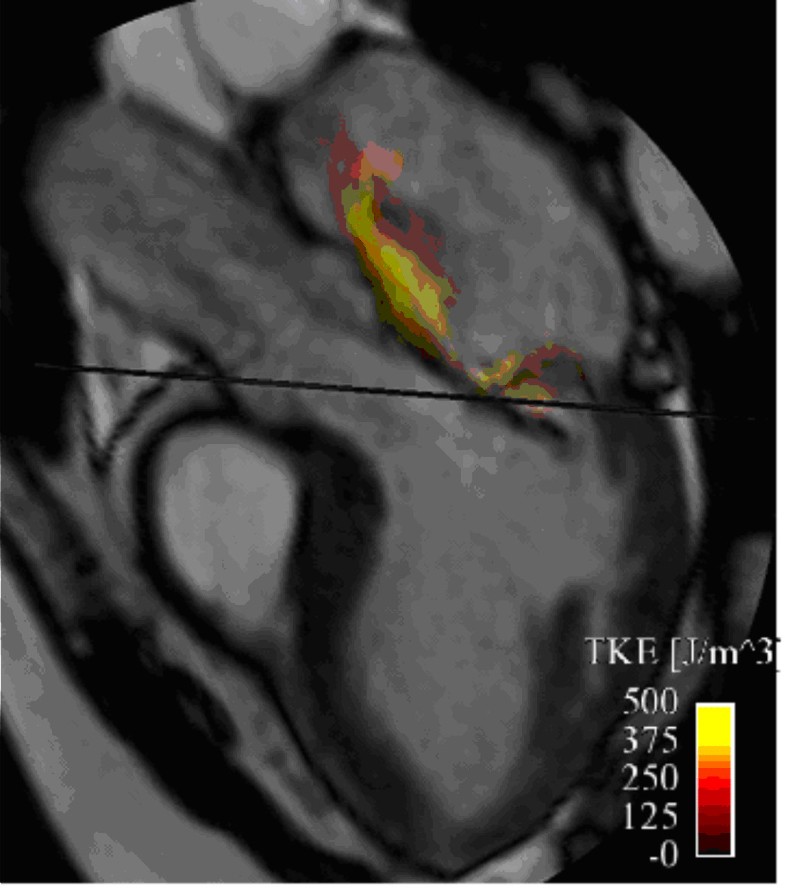 Additional file 8: Time-resolved volume rendering visualization of turbulence intensity (turbulent kinetic energy, TKE) in the left atrium of a patient with severe mitral regurgitation.(MPEG 4 MB)
Large vessels
A number of studies have described blood flow in patients with common vascular pathologies such as aortic atheroma, aneurysms, dissection, coarctation and graft repair, identifying regions of complex and potentially pathological flow [22, 23, 44, 57, 58, 84].
A study using 4D velocity acquisition provided novel evidence for a potential source of otherwise cryptogenic embolic stroke. Pathline visualization showed a high incidence of retrograde flow connecting complex atheromatous plaques in the proximal descending aorta with inflow to the carotid arteries. It suggested that descending aortic atheroma, even if located several centimeters distal to the left common carotid artery, should be regarded as a potential source of embolic stroke [93].
Other studies showed that relatively subtle geometric changes of the ascending aorta, for example age related ectasia or moderate aortic valve stenosis, resulted in marked alteration of flow patterns in and downstream of the affected region [
83
,
94
]. In patients with aneurysms, abnormally pronounced helical (Figure
8
) or vortical flow features were found (Figure
12
). Reports on patients with bicuspid aortic valves (BAV) illustrated the link between valve geometry and patterns of flow. It was postulated that the eccentricity of jets and abnormal helical systolic flow in the ascending aorta of BAV patients might help identify patients at risk for development of ascending aortic aneurysm [
58
]. It has been shown that pulmonary hypertension coincides with the appearance of vorticity in the dilated main pulmonary artery [
88
].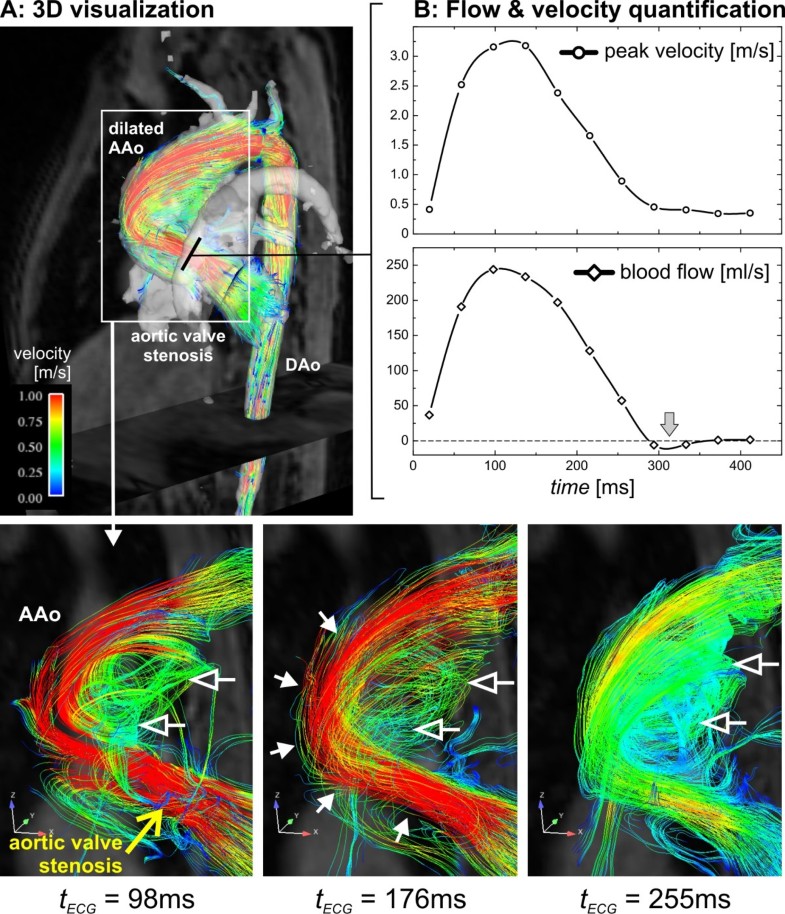 Findings in a patient with aortic valve stenosis and dilated ascending aorta are illustrated in figure 12. The 4D velocity data were used to quantify regional blood flow and peak velocities in good agreement with results from echocardiography (for details see figure 12 legend). The abnormal flow patterns (accelerated flow channel along the outer ascending aortic wall and formation of a large recirculating vortex) in the aorta illustrate the effect of the pathological valve function on large scale flow.
Such studies can help to identify regions of abnormal turbulence and shear rates. From the literature it is known that unfavorable shear forces near the vessel wall can change endothelial function and create areas at risk for vascular remodeling [95]. Flow abnormalities may thus contribute to the development of cardiovascular disease such as aortic aneurysms or atherosclerosis. The derivation of secondary flow and vessel wall parameters from the 4D velocity data (wall shear stress, pulse wave velocity, pressure difference maps, etc.) may help to quantify flow alterations and identify new pathogenetic characteristics or risk factors.
Initial studies in larger cohorts of patients with aortic atherosclerosis have confirmed the expected increase of global pulse wave velocity (i.e. stiffening of the aorta) related to age and presence of atherosclerosis [68]. Wall shear stress analysis revealed that potentially atherogenic wall parameters (low wall shear stress and high oscillatory shear index) were located adjacent to the atheroma. In addition, preliminary results indicate that the predictive value of wall shear stress for plaque existence may depend on the aortic segment [96]. However, regional variations in the instability of flow, which can be associated with local peaks or fluctuations of wall shear stress, remain effectively invisible to the 4D visualization methods used. Moreover, the current spatial resolution of 4D velocity data is insufficient to resolve small scale boundary layers of arterial velocity profiles. WSS values should therefore be considered estimates of the shear rate of the blood near the vessel wall.
The more intense, turbulent instabilities associated with jet flow beyond a stenosis have been investigated, as outlined above, by turbulent intensity analysis [72, 73]. Here abnormally rapid velocity fluctuations and gradients are associated with eddies and counter-eddies, generated in the para-jet shear layers and swept downstream. These dissipate kinetic energy as heat and results in a loss of pressure as well as large fluctuations in adjacent wall shear stress [97]. In figure 10, the velocity field at peak systole is visualized using streamlines while turbulence intensity is visualized by a volume rendering of the turbulent kinetic energy.
Studies in patients with aortic coarctation demonstrated that 4D velocity acquisition can help evaluate collateral blood flow as a potential measure of hemodynamic significance. Additionally, 3D visualization showed distorted flow patterns in the descending aorta after coarctation repair such as marked helical and vortical flow in regions of post-stenotic dilation [44].
Whole Heart and Large Vessels
By exploiting the trade-off that can be made between volume coverage and scan time, 3D flow maps covering the entire heart and surrounding large vessels can be acquired in a single acquisition. However, currently available techniques still require scan times of about 20-40 minutes for adequate spatial (~2-3 mm3) and temporal (40-50 ms) resolution.
Nevertheless, recent studies in normal subjects demonstrated that it is possible to characterize large scale flow through the entire heart and great vessels from a single free-breathing scan at a level of quantitative accuracy comparable to conventional 2D flow measurements [
19
,
87
]. The complete spatial and temporal coverage of the heart and surrounding vessels provides previously unattainable visualization of the changing, multidirectional flow fields as shown in figure
13
. The representation of instantaneous velocity directions in the heart and surrounding vessels was achieved by 3D streamline calculation. Emitter planes were placed in the left and right pulmonary veins, the left ventricle, the ascending aorta, the inferior and superior vena cava, and the main pulmonary artery. To improve the visibility of flow paths, traces along the measured velocities were color coded according to their anatomic origin.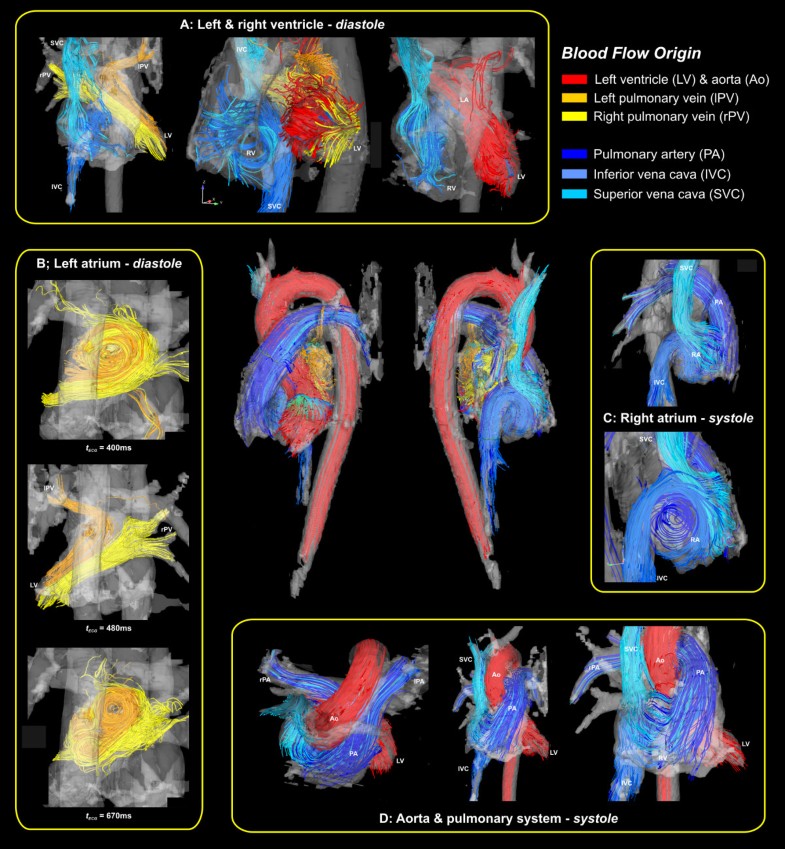 Such applications may be useful for evaluating abnormal flows in patients with more complex forms of congenital heart disease [
19
,
98
]. In these patients, the situation can be modified by surgical interventions. An example is shown in figure
14
showing flow paths after surgical correction of transposition of the great arteries. The altered cardiovascular geometry, with the pulmonary artery bifurcation straddling the aorta and flow acceleration in into the right and left branches can be appreciated.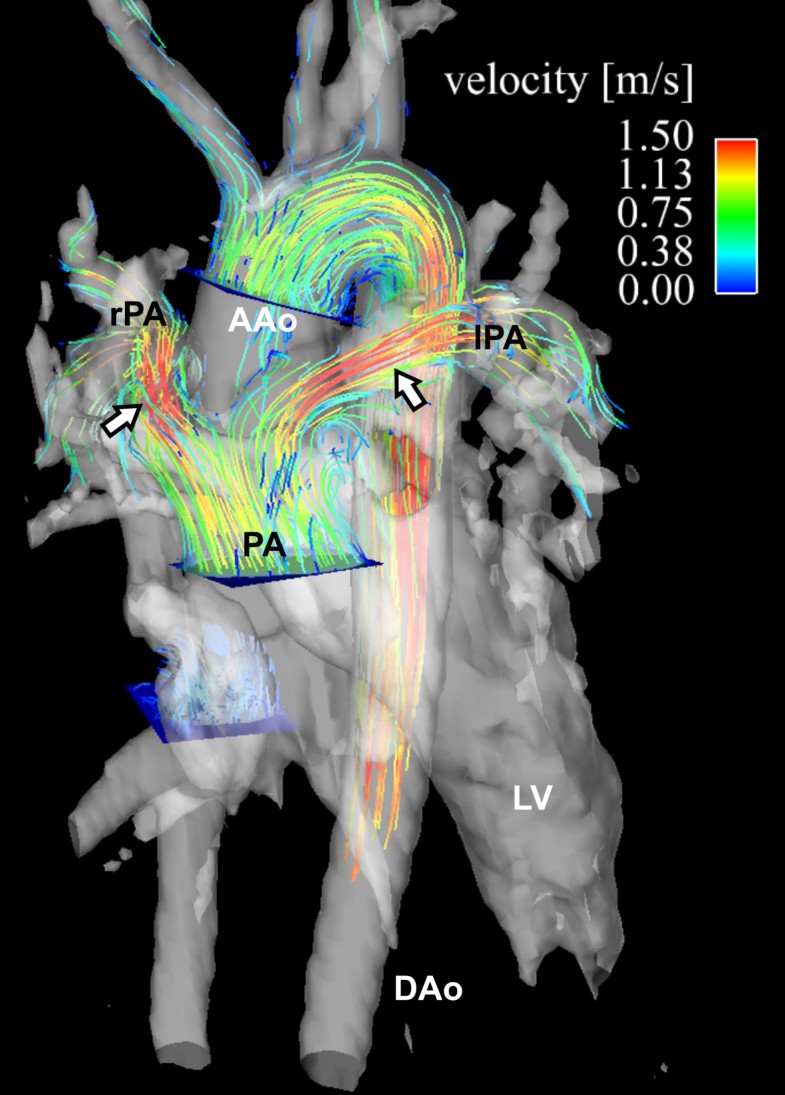 Discussion
4D velocity acquisitions provide a non-invasive method for the qualitative and quantitative characterization of blood flow in the heart and great vessels. A benefit compared to traditional 2D MR velocity mapping or Doppler ultrasound is provided full 3D coverage and the feasibility of retrospective analysis of flow at any location in the imaging volume. Visualization and quantification of cardiovascular flow and hemodynamic parameters such as wall shear rates or pressure gradients has improved and will likely continue to improve our understanding of normal and pathologically altered cardiovascular physiology.
For example, the retrograde streaming demonstrated in atheromatous descending aortas has brought to light a potential thrombo-embolic pathway in patients with otherwise cryptogenic stroke [93]. The technique may come to have roles in diagnosis and the planning of treatment. A number of studies have shown that relatively minor and unsuspicious alterations in cardiac and vascular anatomy such as a mild ascending aortic aneurysm or moderate valve disease resulted in surprisingly extensive alterations of flow. In addition, the ability to retrospectively quantify cardiovascular hemodynamics provides an advantage compared to standard diagnostic tools where often only qualitative measurements (e.g. valvular regurgitation) or simply anatomic dimensions (e.g. aneurysm diameter) are currently used. This points to a possible role for multidirectional flow velocity analysis rather than reliance on simple anatomical parameters in the evaluation and monitoring of treatment of cardiovascular disease with the goal of better risk stratify patients.
However, mainly because of the time and experience currently needed for appropriate acquisition and analysis, 4D acquisitions have yet to become accepted in routine clinical CMR practice as alternatives or adjuncts to more targeted combinations of breath-hold velocity map acquisitions. Echocardiography and Doppler ultrasound are still widely and routinely used for many of the indications targeted by 4D MR velocity mapping. Specifically in valvular disease where it is important to image the exact location of jet flow relative to the thin and mobile leaflets of valves echocardiography is currently more suitable than 4D velocity mapping. Nevertheless, 4D velocity acquisitions may be advantageous to measure flow through several valves and vessels in a single measurement, as may be needed in valve disease combined with a shunt lesion.
However, the diagnostic and predictive value of the flow visualizations and measurements need further investigation. Larger trials, including studies before and after therapy or during the progression of disease will be needed to evaluate the clinical usefulness 4D velocity acquisition.
It should be noted that similar 4D velocity mapping techniques have been applied in different vascular territories such as peripheral vessels [99], carotid arteries [25, 100], large intra-cranial arteries [27, 28, 101, 102], and to the velocities of myocardial movements and deformation [32–34]. 4D velocity acquisitions can be used independent from the used MRI platform without major differences with respect to possible implementations of the MR pulse sequence.
Limitations
A key limitation is the time taken to acquire and analyse 4D velocity datasets. The acquisition times may be too long for the tolerance of some patients, and irregular heart rate or breathing patterns tend to result in suboptimal data. Towards reduction of acquisition times, new spatio-temporal imaging acceleration techniques (k-t BLAST, k-t GRAPPA, etc.) are promising since redundancies in two spatial encoding and the temporal dimensions can be utilized to speed up data acquisition [103, 104]. It should be noted that a limitation of such techniques when applied to aortic flow acquisition may be related to temporal blurring which can lead to inaccuracy in flow acquisitions [105].
New methods based on the combination of phase contrast MRI and fast sampling strategies, e.g. echo-planar imaging and radial imaging with 3D PC-VIPR, have been reported and are promising for further reduction in total scan time and/or increased spatial or temporal resolution [20, 87]. A number of studies have already demonstrated the potential of radial imaging techniques for the assessment of vascular function with increased efficiency compared to conventional methods [20, 53, 106–108]. Particularly whole heart 4D velocity acquisitions with their long scan times which severely limit their clinical feasibility could benefit from new sampling and parallel imaging strategies. In this context, 4D velocity mapping has potential to benefit from imaging at higher field strength. Due to the small flip angles used radio frequency power deposition does not pose a major problem. The gain in signal-to-noise ratio (SNR) associated with high field CMR can be used for improved image quality and translates to reduced noise in the velocity encoded images. Recently reported results indicate a considerable gain in SNR, which may be used to increase spatial and/or temporal resolution or reduce the noise associated with parallel imaging [109].
Imaging at even higher magnetic field strength (7T) may thus be promising for achieving high spatial resolution and assessing small vascular structures (e.g. second and third branches of intra-cranial arteries) which are difficult to assess with currently existing 4D velocity implementations. One of the ultimate goals, the acquisition of time-resolved 3D hemodynamics in the coronary arteries, has to date not been accomplished. Due to their low diameter, complex structure, and particular substantial motion during the cardiac cycle, the assessment of coronary 4D velocities is expected to be challenging even at ultra-high fields. We speculate that a combination of spatio-temporal image acceleration, improved and reliable respiration synchronization, high field, and possibly even intra vascular contrast agents may be necessary.
The time needed for acquisition also means that, while relatively large scale cyclically repeating flows can be visualized, smaller scale flow instabilities are not. In the heart and large vessels, in some regions more than others, blood flow tends to fragment and mix through fluctuating eddy formation, particularly in regions of flow separation and high shear. These are inevitable given in the velocities, viscosity, dimensions, diameter-changes and direction-changes of normal as well as abnormal cardiovascular flow fields. Flow instabilities may be glimpsed in vivo as local variations of blood signal in breath-hold or real-time CMR cine images, particularly when flow in a dilated cavity is unusually slow. However, CMR lacks the spatio-temporal resolution to show all instabilities. They are generally too small and rapidly passing to be resolved, particularly by prolonged 4D velocity acquisitions. This has implications for the interpretation of some attempted measurements, notably those of wall shear stress. Powerful small scale velocity fluctuations, as present in disturbed or turbulent blood flow, can however be displayed from a 4D PC-MRI acquisition by quantification of the intravoxel standard deviation [72].
In addition to long acquisition times, another drawback of 4D velocity CMR is related to the complex and often time-consuming post acquisition data analysis. More automated methods for flow visualization and retrospective quantification would thus be helpful for applications within a clinical workflow. New software tools and algorithms need to be developed, for example to define standardized analysis planes in routinely acquired 4D velocity data. Similarly, for all aorta or cardiac studies, standard flow images might be generated automatically to expedite interpretation of the data sets.
The spatial resolution of 4D acquisitions is likely to be suboptimal for small vessel regions and jet flows, and this affects e.g. the accuracy of vascular segmentation by 3D phase contrast angiography from the same acquisition. The moving boundaries of the heart cavities and atrio-ventricular valves are relatively hard to determine by the approach. Precisely registered cine acquisitions could help, although this may depend on the use of a corresponding respiratory position.
Conclusion
Comprehensive 4D velocity CMR imaging, visualization strategies, and quantification of cardiovascular hemodynamics are contributing to the understanding of cardiac and vascular pathologies, but inherent limitations of the technique should be born in mind. Due to the time currently needed to acquire and analyse the datasets, they have yet to become accepted in routine clinical CMR practice as alternatives or adjuncts to targeted 2D breath hold velocity measurements of flow.
Declarations
Acknowledgements
Grant Support: M. Markl is supported by the Bundesministerium für Bildung und Forschung (BMBF), Grant # 01EV0706. P. Kilner is supported by the British Heart Foundation and the National Institutes of Health Research Cardiovascular Biomedical Research Unit at the Royal Brompton Hospital and Imperial College. T. Ebbers is supported by the Swedish Research Council and the Center for Industrial Information Technology (CENIIT) at Linköping University.
Authors' Affiliations
(1)
Department of Radiology, Medical Physics, University Hospital Freiburg, Germany
(2)
CMR Unit, Royal Brompton Hospital and Imperial College, London, UK
(3)
Center for Medical Image Science and Visualization, Linköping University, Sweden
Copyright
© Markl et al; licensee BioMed Central Ltd. 2011
This article is published under license to BioMed Central Ltd. This is an Open Access article distributed under the terms of the Creative Commons Attribution License (http://creativecommons.org/licenses/by/2.0), which permits unrestricted use, distribution, and reproduction in any medium, provided the original work is properly cited.